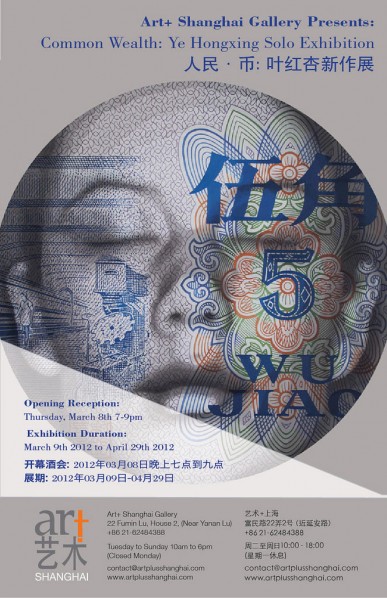 The solo exhibition of Ye Hongxing, Common Wealth, showcasing her new series in addition to earlier repertoire of paintings and sculptures presents from March 9th through April 29th, 2012 at Art+ Shanghai Gallery.
Ye Hongxing works reflect on the contradictions within society by representing a more personal struggle of the penetration of desire pitted against a longing for spiritual reclusion. In her earlier works she borrowed the visual mode of commercial billboards and light-boxes, which could easily communicate a message of modern-day consumption through advertising. By combing popular ads and icons with cultural motifs and symbols, her work could access the senses of her audience, who recognized a juxtaposition of contemporary society against more traditional culture values.
In her more recent works, Ye Hongxing uses the language of decorative symbolism, from both traditional and popular culture, to illustrate an increase of materialism in developing societies. Her latest paintings are concerned with contradicting definitions of wealth and progress, not only the commoditization of culture, but also the development of class divisions and national elitism within contemporary society. The simple and direct use of Chinese currency against a backdrop of her black and white portrait contemplates on the desire for and contradiction of, common wealth.
About the Artist
Born in Guangxi province China, Ye Hongxing graduated from the Central Academy of Fine Arts in Beijing with her master's degree in the painting department. After graduation she returned to Guangxi province where she was invited as an artist-in-residence to live and work in the Yuzile Sculpture Park in Guilin. After working with sculpture for a few years she left the park and moved permanently to Beijing in 2004. She is the recipient of several awards including the Dragonair Emerging Chinese Artist Award. She has exhibited and participated in art fairs throughout China and abroad with solo exhibitions in Europe and the United States.
Courtesy of Ye Hongxing and Art+ Shanghai Gallery, for further information please visit www.artplusshanghai.com.
Related posts: