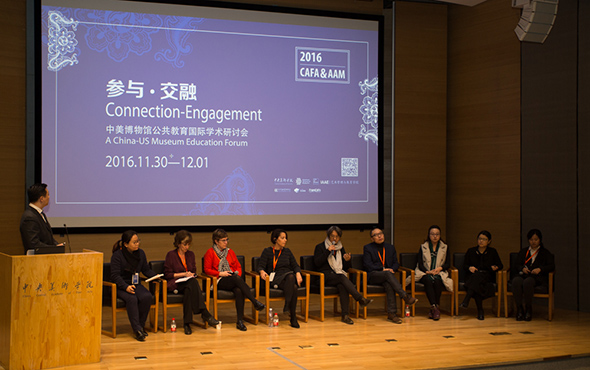 From November 30 to December 1, 2016, "Connection & Engagement: A Sino-US Museum Education Forum" hosted by the Central Academy of Fine Arts and the American Alliance of Museums, co-organized by CAFA Art Museum, and Institute of Arts Administration and Education of CAFA was held at the CAFA Art Museum. The program aimed at deepening international collaboration, optimizing the social functions of museums, advocating the inheritance and innovation of knowledge, and seeks exchanges and development of the museum fields in both the US and China.
This program brings together 15 experts from the US museums and 21 education leaders from Chinese museums for a forum composed of keynote presentations and academic discussions to share opinions on the theme of museum education worldwide. With a focus on theoretical research and the educational systems of museums, the forum sets out to interpret the hybrid relationship between museum education and contemporary art, to draw upon various opinions on strategies for engaging the public with contemporary art activities as well as the knowledge production in the museum field and to promote both academic and professional development in museum education towards better public cultural and social education services. At the same time, the program invites colleagues from various museums in China for a diverse and in-depth exchange, taking this as an opportunity to carry forward and further enrich our multifaceted history and culture.
At the forum, Kelly McKinley, Director of the Public Experience Development and Collection Center, Auckland Museum, California, USA gave a keynote speech, and introduced the changes and significances of the educational role of the museums throughout the world. Patricia Rodewald, General Counsel of the American Alliance of Museums in China, former Director of the Department of Education at the High Museum of Art, Atlanta, USA and Ren Rui, Director of the Public Education Department at CAFA Art Museum also gave a speech and thanked the effort of the staff and volunteers for successfully holding of the forum.
The forum is divided into four academic sections: "Contemporary Issues & Museums", "Audiences, Communities and Museum Interpretation", "Educational Systems and Museum Education", "Contemporary Artists and Public Engagement", invited scholars from different museums in China and the United States to give a keynote speech, followed by a free discussion, to have a more in-depth discussion on the topic.
At noon on December 1, a two-day academic forum ended. This Sino-US Museum Education Forum brings together for the first time China and US museum education leaders as well as a broader group of Chinese museum and art museum educators. As a pioneering practice with cultural confidence, this program hopes to make historical and practical contributions to bring vigor to the international museum culture.
Edited by Lin Jiabin, translated by Chen Peihua and edited by Sue/CAFA ART INFO
Photo by Hu Sichen/CAFA ART INFO
Related posts: