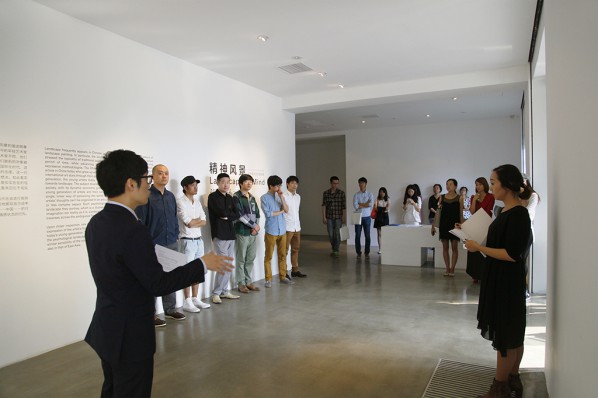 Follow the launch of "Geometry of Mind", British artist Conrad Shawcross's first exhibition in Asia, ARTMIA continues its concern for the inner world and presents a group exhibition entitled "Landscape of Mind" exploring the perspectives and development of young Chinese artists. These nine artists graduated from the Central Academy of Fine Arts, Chinese Academy of Fine Arts and Xi'an Academy of Fine Arts represent the generation of artists who were born in the 1980s, according to the Curator Koh Won-seok, they express their emotions and puzzlement with paintings and sculptures as well as video installations. The exhibition will remain on view till December 21, 2014.
Koh Won-seok talked about sophisticated landscapes which remain the favorite theme of young artists in China, but their landscapes (environments) are different from the previous generations, as the artists who were born in 1960s and 1970s had a clear mind about what landscapes look like, while the younger generation is really confused because society has exerted influence on them. Society has given them many opportunities but they have some limitations as young people, because the previous generations have achieved great success, but the younger generation cannot repeat it. It's quite a complex situation. Something very beautiful, but something gloomy, sometimes very clear but sometimes ambiguous, sometimes very western but sometimes very Chinese, all these ideas are presented in their works. They make use of western materials, painting, video and installations as they are influenced by the western art. He hopes to catch the double entity in their works, in the younger generation. This young generation cares about the environment, even though they are greatly influenced by the west, they still care about China. He believes that the future of young Chinese artists is going to be prosperous, they will develop their concepts.
Landscape frequently appears in Chinese art history, which is imbued with traditions of landscape painting. In particular, the landscape in Chinese contemporary art has always stressed the typical nature of traditional painting that's been passed down throughout a long period of time, which advances while also experimenting with various contemporary expressive methodologies. The Chinese landscape has a different meaning to the young artists in China today who grew up witnessing the artists of the previous generation become international art stars through their power of cynicism. As opposed to the artists of the prior generation, the young artists today, mostly born in 1980s, don't display a clear attitude towards landscape. The subject diversified and the situation became complex. The Chinese society, with its dynamic economic growth and direction towards globalism, shaped the young generation of artists and their complex, multi-dimensional attitude rather than a single, linear way of perceiving the world around them. They're simultaneously excited about the new opportunities yielded in such perpetual growth, and disappointed by the entry barrier that's already been formed and solidified. Dynamic and impregnable, the Chinese landscape today fills the young artists with illusions and expectations at times, and despair and disappointment at others.
Living the age of pluralism, the artists' thoughts can't be organized in an articulate manner, and tend to demonstrate a more or less complex aspect. Such a psychological condition is appropriately reflected in the landscape they portray, which is a dualistic and indefinite subject that is neither a perfect imagination nor reality as it is. Landscape, imbued with psychological emotions, repeatedly traverses across the ambiguous fissure between reality and imaginary.
This special exhibition focuses on the landscape as a means to reflect the psychological conditions of young Chinese artists today. Mostly born in 1980s, and with established art practice, the participating artists' depictions of the landscape are rendered through various genres including painting, ceramic, installation, photography and video, etc. The participating artists tend to be willing to engage with the multi-layered aspect of contemporary landscape, as opposed to turning away from it. They skillfully apply material and techniques most commonly used in the Western art world, employing oil paint for paintings, and video and photography to capture reality. Nevertheless, the artists show traces of their concerns in thinking about the Chinese identity.
At a glimpse, the exhibited works all seem to be realistic representations. Upon closer inspection, however, one can read the psychological mindset of the artist, which is an expression of the artist's fundamental outlook on his time, as well as a frank perspective of today's young generation. This exhibition is greatly meaningful in the sense that observing the psychological landscape of the participating artists is related to reading the diverse yet similar sensibility of the young generation of people today living not only in China's reality but also in that of East Asia.
About the exhibition
Date: 20 Sep – 21 Dec 2014
Venue: ARTMIA Gallery
Opening: 20 Sep 2014 Sat 16:00
Tel: 010-84573782
Add: 261 Caochangdi Airport Service Road, Chaoyang District, Beijing
Media contact
Curating: Koh Won-seok (koh@artmia.net)
PR: Joo Mijung (joo@artmia.net), Du Mengxi(dumentxi@artmia.net)
Photogragher: Zhang Baochuan
Image courtesy of the artists and ARTMIA Gallery, for further information please visit http://artmia.net.
Related posts: