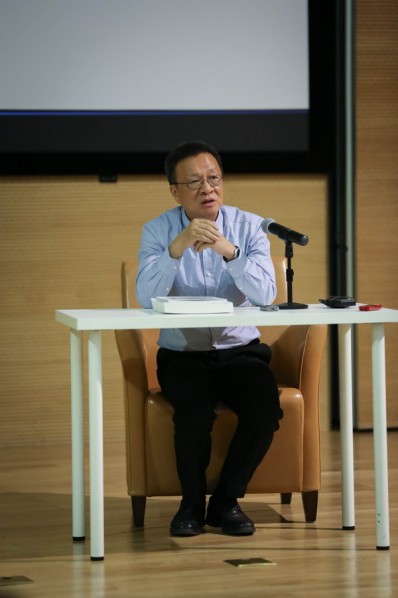 At 18:30 pm, on June 18, 2013, hosted by CAFA and CAFA Art Museum, organized by the School of Architecture, CAFA, in cooperation with TEXTENT Society, a lecture entitled "Contemporary Architectural Trends – CAFAM (13) by Wang Shouzhi" was held at the Auditorium of CAFAM, presided over by Prof. Lv Pinjing, Dean of the School of Architecture, CAFA.
Wang Shouzhi, an expert of theory and design history, is one the important founders of modern design and the education of modern design. As a Fulbright scholar, he has been engaged in the design theory and teaching at the University of Chester, Pennsylvania State College and University of Wisconsin-Madison School, since 1987. Currently he is a tenured professor of American Art Center College of Design, the champion of design education in the USA, professor of Southern California Institute of Architecture, Dean of Cheung Kong School of Art & Design, China Shantou University. At the same time, he serves as an advisor to the government and known corporations. Thus Wang Shouzhi is not only a theory researcher, but also a practitioner. Wang Shouzhi initially shared two things, firstly, "China in Memory – Works by Wang Shouzhi", his first solo exhibition in Beijing planned by "Downstairs Gallery, opened at15:00 on June 19, 2013. Secondly, he recommended that the students read his monograph on "History of Modern Architecture (Second Edition)", which has been revised and updated on the basis of the first criticized edition.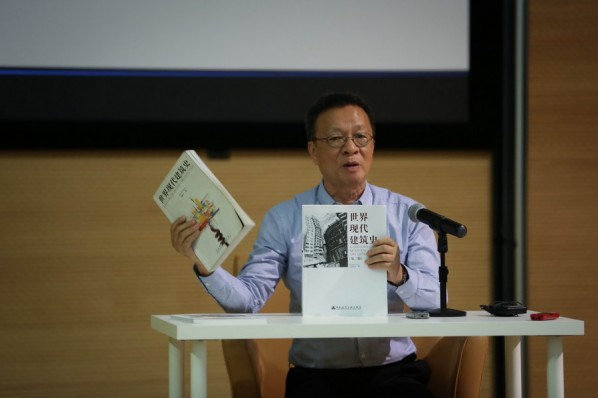 Professor Wang didn't screen any images, instead, he talked about several "principles", he stressed that, in studying history, he focused on the elaboration of "context". Initially he talked about the issues of history. Actually, there are some different genres in the study of design history. Usually, historical development is thought to be "linear development", but he believes that "linear development" is not able to fully reflect the laws of the century or cultural development, because society is diverse, collision, "linear history" or history without classification couldn't be enclosed by a large frame, filled with various historical data, which would confuse a generation of young people during the study. Similarly, architectural history is not yet a "linear history". He said, Chinese architectural historical books were mainly written by the people with a background in architectural study, as a scholar of historical study, he was inspired by the Venetian master Manfredo Tafuri, showing that an architect had more or less a potential bias to architecture, which made him/her loosen an objective sense.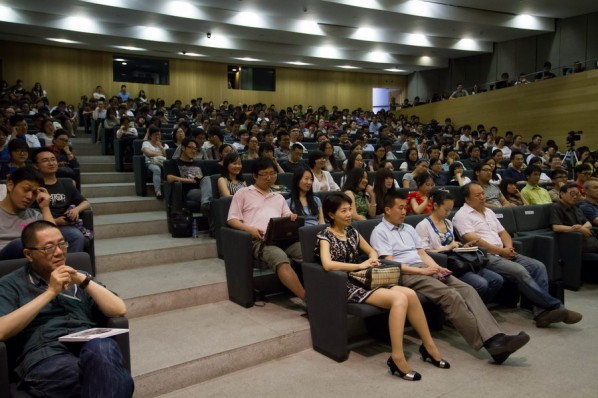 When talking about contemporary architectural trends, Professor Wang represented five subjects. He believes the development of contemporary architecture in Beijing was the most intense. Firstly, there were too many landmark buildings. He talked about three main issues of contemporary architecture in Beijing: the body was too big, too many noted foreign designers, rare architectural relations between the building and the city. Too many landmark buildings were produced in the current social situation "too much funding with a shortage of time and developed technology", which produced adverse effects on the distribution of social energy, resources and wealth. In addition, the people who wrote architectural history, desperately hoped to avoid transforming an architectural history into a "landmark architectural history".
Secondly, in the trend of styles, the coexistence of several styles emerges. Wang thought that it was necessary that there was a coexistence of several styles in the fields of art, architecture and design, rather than the situation being dominated by some genre, like the mainstream. He hoped that future architects would have a "compatibility mind".
Thirdly, parametric design became the protagonist. "Handiwork" was less and less used due to computer technology. Wang believed that, if parametric design which released humans' thinking, wasn't preformed based on cultural training, Chinese architecture would be pushed into a chaotic situation. There was a large number of money emerging in Chinese society, and the direction of Chinese architecture would be more elusive with the joint labors in the rapid development of a "large amount of money" and "parametric design".
Fourthly, a new trend of architectural genre emerged known as regionalism, which referred to some countries that began to look for a new architectural direction from their own national traditions and local traditional architecture, such as Bali, Indonesia, India, Sri Lanka, Thailand and so on, and it also spread to Australia and New Zealand.
Fifthly, pay attention to the development of sustainable buildings, namely the development of ecological buildings and green buildings. Wang referred to the international renowned Malaysian Chinese eco-architect Yang Jingwen, and said there were two problems with sustainable buildings, firstly, the technology of sustainable buildings is currently still immature; secondly, human science and technology has reached a very high standard, but it was a long way to apply the technology to sustainable buildings.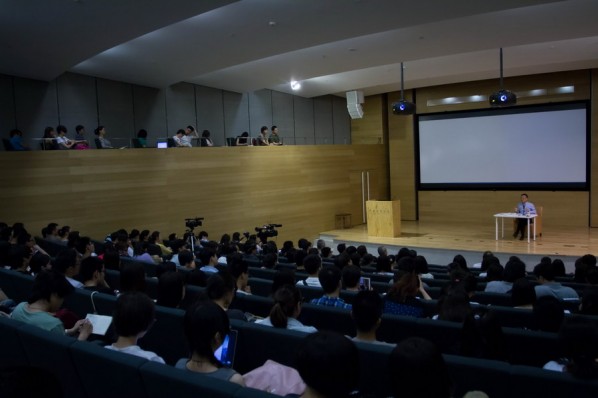 At the Q & A section, Wang Shouzhi was asked a lot of questions, for example, how to construct architecture with Chinese national characteristics? Wang Shouzhi said that Chinese architects' abilities were not the main problem, but the organization issue needs development. He was afraid that it would take time to hone the realization of Chinese national characteristics in the building.
Journalist: Zhou Mengyue, Photo: Hu Zhiheng/CAFA ART INFO
Translated by Chen Peihua and edited by Sue/CAFA ART INFO
Related posts: