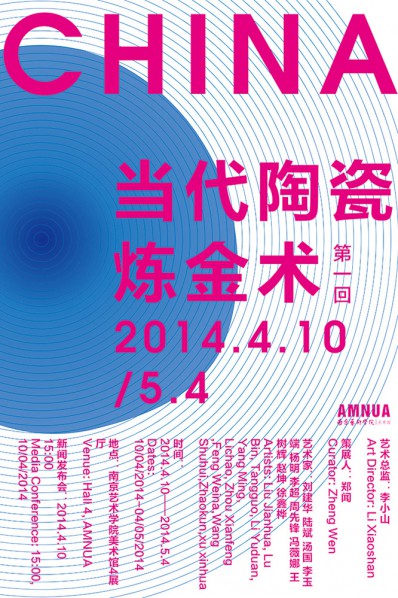 The Art Museum of Nanjing University of the Arts (AMNUA) is committed to an extensive focus on domestic and international contemporary art, at the same time it focuses on the keynote research in specific media art. Since it opened, AMNUA has continuously operated academic programs on exhibitions according to the theme of the medium, such as "AMNUA Image Files", "AMNUA Ink Files", and "AMNUA Spatial Art Series".
"Contemporary China's Alchemy" is a special research project on the most prestigious "ceramic art". AMNUA holds the "Contemporary China's Alchemy" that pulls away from the single practical and aesthetic position of interest, focusing on exploring the conceptual expression, sociological attention, and the metaphorical feature of the material in contemporary ceramic art. We hope that this ongoing study reflects the conceptual transformation of Chinese contemporary ceramic art.
Zhen Wen, Director of the Academic Department of AMNUA serves as the curator of the exhibition, and invites ten outstanding artists to attend the exhibition. It includes: internationally well-known Chinese conceptual ceramic artists Liu Jianhua and Lu Bin, the young ceramists Li Yuduan, Li Chao, Feng Weina, Zhao Kun, who are at a creative peak, Zhou Xianfeng and Wang Shuhui, using pottery and ceramics in the installation, as well as Tang Guo and Yang Ming, engaged in diversified creative approaches.
Thus, the exhibition does not only showcase ceramic sculpture, but also combines with many contemporary art categories such as video, painting, photography, installation and so on, together with interpreting "ceramic"– or the current new semantics of "CHINA". It will bring the audience a brand-new feeling and psychological shock.
About the exhibition
Art Director: Li Xiaoshan
Curator: Zheng Wen
Artists: Liu Jianhua, Lu Bin, Tang Guo, Li Yuduan, Yang Ming, Li Chao, Zhou Xianfeng, Feng Weina, Wang Shuhui, Zhao Kun, Xu Xinhua
Duration: April 10 – May 4, 2014
Venue: Hall 4, AMNUA
Press Conference: at 15:00 on April 10, 2014
Venue: Lecture Hall of the AMNUA
Exhibition Discussion: The Original Medium and Contemporary Concept of Alchemy
Host: Zheng Wen
Guests: Li Xiaoshan, Sun Zhenhua, Wu Lieyan, Zhang Chengzhi, Wang Yamin, Liu Jianhua, Lu Bin, Tang Guo, Li Yuduan, Yang Ming, Li Chao, Zhou Xianfeng, Feng Weina, Wang Shuhui, Zhao Kun
Time: 16:00 on April 10, 2014
Venue: Floor 2 in the public classroom of the AMNUA
Photo: AMNUA
Courtesy of the AMNUA, translated by Chen Peihua and edited by Sue/CAFA ART INFO, for further information please visit www.nuamuseum.org.

Related posts: