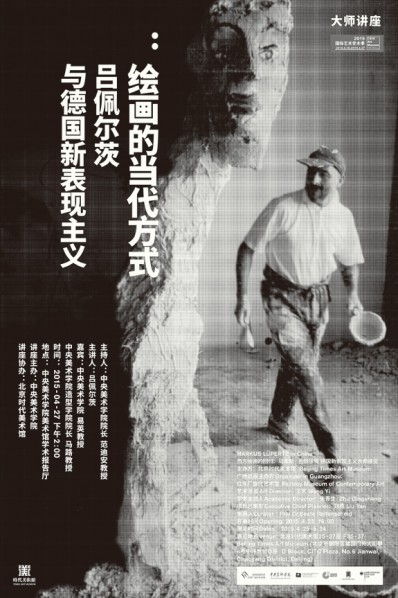 Markus Lüpertz was born in Reichenberg (now Liberec) in 1941, and he served as the Director of Kunstakademie Düsseldorf, Germany from 1988 to 2009. He has taught many representative artists in the German woodcut circles, such as Matthias Manson, Felix Druze and Marcus Oren. Lüpertz began his creation of art in the 1960s, had gained an international reputation in the 1980s, and he is known for being a member of the German Neo-Expressionism, together with Kiefer, Immendorff, Baselitz, Penck, Polk, and he is hailed as the German national treasured artist.
The lecture is themed "Contemporary Form of Painting", as the artist Lüpertz will combine his artistic experience and share his understanding of art. In the process of more than 50 years of artistic exploration, Lüpertz's art has formed his own unique style, containing both a great emotional tension, and a wealthy connotation of reality. German Neo-Expressionism, represented by Markus Lüpertz, had an important worldwide influence in the 1980s, it is not only a unique form of European art, breaking the American Pop Art which previously influenced Europe art and dominated the world, and also offers more sources and supplies to the expressive way of painting from the spiritual level.
About the Lecture
Speaker: Markus Lüpertz
Host: Fan Di'an
Guests: Ma Lu, Yi Ying
Organizer: CAFA
Co-organizer: Beijing Times Art Museum
Time: April 27, 2015, 14:00
Venue: Auditorium of CAFA Art Museum
About the Exhibition
Title: Markus Lüpertz in China
Duration: April 25 – May 24, 2015
Opening: 14:00 (symposium)/ 16:00 (opening ceremony) on April 25, 2015
Sponsor: Beijing Times Art Museum
Artistic Director: Wang Yi
Academic Director: LaoZhu
Executive Chief Planner: Liu Yan
Curator: Prof. Dr. Beate Reifenscheid
Venue: Beijing Times Art Museum
Address: D Block, CITC Plaza, No.6 Jianwai, Chaoyang District, Beijing
For further information please visit www.timesartmuseum.com
Special Support: Experimental Art Committee of China Artists Association/ Embassy of the Federal Republic of Germany in Beijing
Academic Activities Partners: CAFA / Center for Visual Studies at Peking University/ German Cultural Center in Beijing • Goethe Institute (China)
Three lectures will be respectively held in Peking University on April 26, CAFA on April 27 and Peking University on May 18.
Organizer of Guangzhou station: Redtory Museum of Contemporary Art
Duration: June 13 – August 3, 2015
Location: No. 128, Yuancun Si Heng Rd., Tianhe District, Guangzhou
For further information please visit www.redtory.com.cn/rednew_en
Courtesy of the artist and CAFA Art Museum, translated by Chen Peihua and edited by Sue/CAFA Art Museum, for further information please visit http://museum.cafa.com.cn.
Related posts: