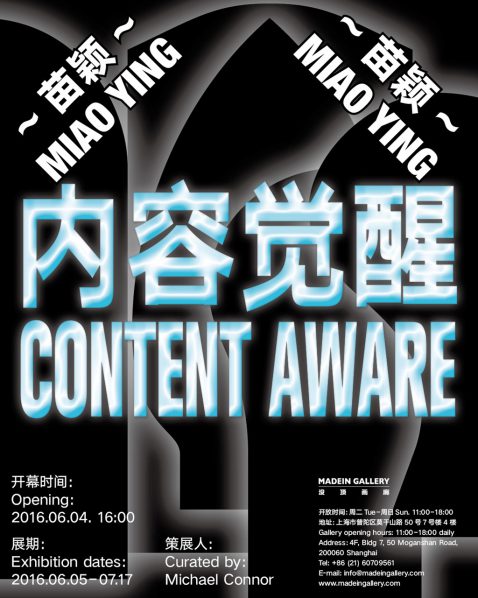 MadeIn Gallery is pleased to present Content-Aware, the first solo exhibition of Miao Ying at the gallery. Curated by Michael Connor, the exhibition will showcase a series of Miao Ying's latest works created in 2016.
Photoshop is going to look at your photo, and it's going to decide what it thinks should be in the area that you're filling, and the results are sometimes pretty surprising.
–A Homemade Video Tutorial for the 'Content-Aware Tool' on Youtube
Miao Ying's exhibition Content Aware takes the eponymous technology as the jumping-off point for an exploration of a visual culture in which images are produced hastily, without much regard for traditional ideas of taste or quality, in order to serve some immediate, temporary purpose.
This exhibition comes in the wake of an enormous wave of interest in "postinternet" art in exhibitions and fairs around the world. Though the term's definition is contested, postinternet artists often responded to and narrated the cultural and societal effects of internet saturation, particularly in the US and Europe. Postinternet art became associated with commercial aesthetics and slick photographic documentation circulated online. In place of this slickness and futurity, Miao's exhibition offers a sub-amateurism, and demands that it be understood as a set of new and evolving aesthetic conventions rather than their absence.
Several works in this exhibition involve examples of sub-amateurism: "features for dummies" in both professional graphic editing software such as Adobe Photoshop, and more user-friendly photo editing apps like MeituPic. In respond to the current situation in which social media pervades many aspects of daily life, and the technical skill required for image production and distribution are constantly lowered, the artist uses the term "Practical / Half-Assed Aesthetics" to describe an extreme internet pragmatism in which functionality is the sole decisive force, as well as to identify ways in which this lack of aesthetics is becoming an aesthetics of its own.
About the artist
Miao Ying is an artist who currently resides on The Internet, the Chinese Internet (the Great Fire Wall) and her smartphone. Her works have a strong awareness of mainstream technology and consciousness and its impact on our daily lives. She received her BFA from the China Academy of Fine Art's New Media Arts department in 2007, and her MFA from the School of Art and Design at SUNY Alfred University, with a focus in Electronic Integrated Arts in 2009.
Miao Ying's works have been exhibited at KW institute for Contemporary Art (Berlin 2016), the Chinese pavilion at the 56th Venice Biennale (Italy 2015), OCAT Shanghai (Shanghai 2015), Times Art Museum (Guangzhou 2015), CAFA Art Museum (Beijing 2015), Ullens Centre for Contemporary Art (Beijing 2014), State Gallery Linz (Linz 2011), Museum of Contemporary Art (Taipei 2008), Shanghai Art Museum (Shanghai 2007) and The Wrong—New Digital Art Biennale (online 2015). In 2016, she has been nominated for Prix YISHU 8 Chine 2016. In 2015, she was nominated for the TANC Asia Prize and the 3rd Huayu Youth Award.
About the curator
Michael Connor is Artistic Director of Rhizome at the New Museum, a digital art non-profit founded in 1996. He leads Rhizome's events program, journal, online exhibitions, and artists' commissions, and curates its digital art archive. Connor is Visiting Assistant Professor in the Department of Photography & Imaging at the Tisch School of the Arts at New York University. He lectures and writes widely on topics in digital art and the aesthetic implications of technology.
He has curated exhibitions and projects for Yarat (Baku), Cornerhouse (Manchester), the Museum of Moving Image (New York), ACMI (Melbourne), Bell Lightbox (Toronto), FACT (Liverpool), and BFI (London), etc. His recent writing includes an essay for MBCBFTW (Christoph Merion Verlag, 2016), an article on artist Jim Campbell, and a text on Jeremy Blake for the anthology Abstract Video (with Johanna Gosse, University of California Press, 2016). In 2014, his writing appeared in the anthology You Are Here: Art After the Internet, edited by Omar Kholeif.
About the exhibition

Opening: 2016.06.04 (Sat), 16:00
Dates: 2016.06.05-07.17
Curator: Michael Connor
Exhibition Venue: 4/F, Bldg 7, 50 Moganshan Road, Changning District, Shanghai
Tue – Sun 11:00-18:00
Exhibition Lecture: Half-Assed Aesthetics in the Age of the Sub-Amateur
Speakers: Michael Connor, Miao Ying
Date: 2016.06.07 (Tue) 19:00
Lecture Venue: OCAT Shanghai, 30 Wenan Road, Zhabei District, Shanghai
(Metro Line 8 Qufu Road Station Exit 2)
Courtesy of the artist ad MadeIn Gallery, for further information please visit www.madeingallery.com.
Related posts: