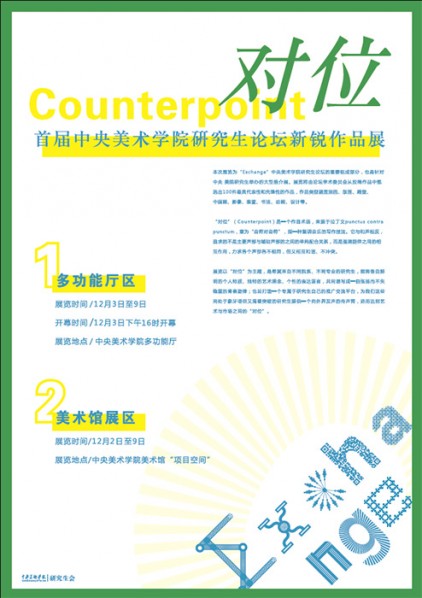 December 3, 2012, "Counterpoint: Cutting-edge Exhibition of Works by Postgraduates from CAFA" was open at the multi-purpose hall of Building No.5 at CAFA which will last for one week. According to the organizers of this exhibition, there is a collection of works from over 200 postgraduates studying at CAFA from which 110 works have been selected for the exhibition.
The transition from undergraduate to postgraduate does not mean the academic skills change but it does usher in a brand new journey in life. For one thing, the undergraduate study laid a solid foundation for them thus they have a better control with a clearer context endowed with academic research, which leads them into a relatively mature stage of creation; for another, after a comparatively long search for knowledge, this group of young guys retain their invincible spirits and ambition, they are eager to be recommended and be understood, to achieve the aspirations of their own work, as always, onto a broader stage.
Starting from the standpoint and point of view of the postgraduates, the exhibition caters for the promotion of works by postgraduates at CAFA, meanwhile it is an important part of the "Exchange"-Forum of the Postgraduates at the Central Academy of Fine Arts. It dedicates its efforts to the establishment of the platform for postgraduates at CAFA, showcasing their latest creations and highest level of creativity. Also, the exhibition invites renowned gallery owners, media journalists, curators, critics together with chiefs of well-known design companies and architects to visit the exhibition and communicate with each other. It aims to increase more opportunities for outstanding postgraduates to contact with the masses, to provide a fresh flood and more diversified options for the art market. "Counterpoint" is a composer's term derived from the Latin "punctus contra punctum" means "notes on notes" referring to a polyphony of writing techniques. It is contrary to harmony since it pursues not simply the cooperative relationship between the main parts and the secondary parts but the emphasis on the interaction with melodies. It strives to preserve the differences of each voice but in a harmonious way so they do not conflict with each other.
Themed "Counterpoint", it expects to bring postgraduates from different departments and specialties together to compose an unassuming yet stable youth melody with their distinctive personal traits, unique artistic philosophy and expressions with individual personality. Moreover, it intends to build a platform for the promotion and communication of postgraduates, providing a megaphone for those who still live in the ivory tower but are dying for a breakthrough, which will further reach the "counterpoint" between art and the market.
Structure
"Counterpoint: Cutting-edge Exhibition of Works by Postgraduates from CAFA"
Duration: December 3 – December 9
Venue: The Multi-Purpose Hall of the Central Academy of Fine Arts
Matching Tastes: Postgraduate Art Workshop
Art Workshop: November 21 – 30
Achievement Reports: December 3, 6:00pm, the Ground Floor of Red Chairs Lecture Hall
Reporting Exhibition: December 3 -9
Facing the Future: Serial Academic Lectures
Kan Tai-keung, "Dialogue", 10:00am on December at Lecture Hall of CAFA Art Museum;
Wang Shuibo, "My Film Journey" 18:30 on the evening of December 5 at Lecture Hall of CAFA Art Museum;
Symposium of Liu Libin and Chen Wenling, 18:30 on the evening of December 5, Lecture Hall, Building 5, CAFA;Arts institutions Salon, 14:00 on December 6th, Lecture Hall, Building 5, CAFA;Organizers: the Communist Youth League of China Central Academy of Fine Arts, the Graduate Student Council of the Central Academy of Fine Arts
About CAFA Postgraduate Association
CAFA Postgraduate Association was officially established since its first congress held on March 31, 2012. It helps increase awareness of postgraduate issues and works closely with other parts of the Students' Union and the University itself to ensure that postgraduate concerns help shape changes in study, networking, training, welfare, induction and all other areas of student life. It's divided into office, practicing branch, exhibiting branch, promoting branch, academic branch, living branch, connecting branch, recreational and sports branch and O-Art Magazine newsroom. Ever since its establishment, members of Postgraduate Association have jointly curated several important lectures such as "Liu Yong: As Beautiful as Paintings"; "Museums and Art History: Zhang Hongxing talks about his stay in UK for over Twenty Years", Zhang Hongxing serves as the Director of Chinese Department of Victoria & Albert; series lectures by Penny Spark, a famous scholar of design history and Vice-president of Kingston University; series lectures on "Zhuang Zhou", "Song dynasty history of Zen Buddhism in China (1252)" and so on by Zhang Wenjiang, a researcher from Institute of Literature, Shanghai Academy of Social Sciences.
Courtesy of CAFA ART INFO.
Related posts: