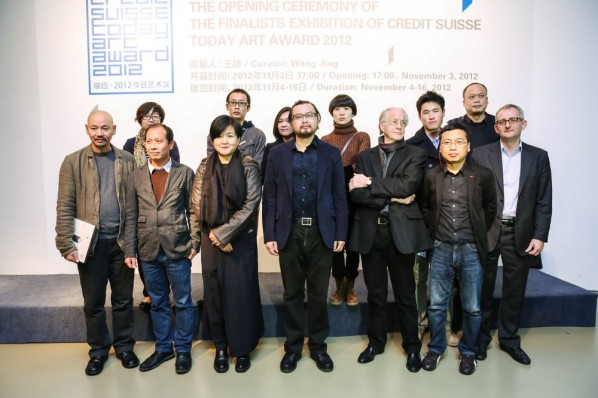 On November 3, 2012, Credit Suisse Today Art Award 2012 Finalists Exhibition sponsored by Today Art Museum and Credit Suisse and organized by Oriental Art – Masters opened at Today Art Museum. The exhibition will run from November 4 to November 16, during which 6 artists' display over 20 recent works. Different from the previous two exhibitions, the winner of Today Art Award 2012 was unveiled to the press and the public right on the day of the opening ceremony. The artist Jiang Zhi won with his works of "unaccustomed time".
Credit Suisse Today Art Award 2012 still adopts the same review system as the previous years. The professional panel consisted of Hou Hanru, Huang Du, Zhang Qing, Tomas Rose, Andre Rogger and Zhang Zikang, making assessments from the following five aspects: innovation, thought ability, material application, art language independence and culture sustainability. Mr. Hou Hanru and Andre Rogge spoke at the award ceremony. Hou commented that this award has played a significant role for the art circles home and abroad to comprehend the development of the Chinese art circle. Meanwhile, he thought the support and cooperation of the Credit Suisse also set a good example for the dialogues between the Chinese contemporary art world and the outside world. The strong supports from the cultural institutions at home and abroad were not only directed towards the finalists, but it also emphasized the value of contemporary art with greater social language, which was really touching.
Eventually, Hu Xiaoyuan, Ji Yunfei, Jiang Zhi, Shao Yinong, Xu Tan and Zhang Enli become the finalists of the award of this year. The six artists have totally different art angles and unique working methods. After presenting the award, Jiang Zhi mentioned in his acceptance speech that he felt surprised to have won this award since every finalist was excellent. He believed that the winning the award could not be taken as an accurate assessment on an artist but was more like appreciation and encouragement. All the judges agreed that Jiang Zhi has paid long and in-depth attention to various contemporary social and cultural issues and he was adept at being linguistically diverse. From his profound criticism of social and personal psychology to his intervention in the tense relationship between artistic creation and social reality, his works feature great openness. His work exhibited in this exhibition themed "unaccustomed time" brought unexpected surprise and stimulation in the introspection on the meaning of life, which extraordinarily displayed his ability to control the visual languages and the maturity of his creations.
Photo by Hu Zhiheng/CAFA ART INFO
The First Domestic Contemporary Art Award Established by Art Museum
Today Art Award 2012 by Toady Art Museum and Credit Suisse is the first domestic contemporary art award established by a non-profit art museum. It was established in 2010 and facing worldwide Chinese artists. This award is presented to an artist with everlasting originality who dares to challenge traditional art definitions and makes contribution to the enlightenment and exploration of visual art and contemporary culture.
Today Art Award Providing an International Platform for Artists
As the first non-governmental public-interest art museum in China, Today Art Museum has established an image of the explorer and representative of Contemporary Chinese art both domestically and internationally after the efforts and developments in recent years. Today Art Museum has been providing artists with the widest range of support for their creations and progress. Credit Suisse has been an ardent supporter for cultural events and has sponsored various reputable cultural deeds during the past few decades. Credit Suisse is enhancing its cultural sponsorship on a global basis. Credit Suisse Today Art Award 2012 together with Today Art Museum not only inspires the highly talented artists but raises the public awareness and interest in contemporary art.
Right at the initial period of the cooperation, Dr. Urs Buchman, General Manager of Corporate Banking Asia Pacific of Credit Suisse, said: "It is our great honor to work with Today Art Museum, especially on this event that supports contemporary artists by providing them a world recognized platform. This cooperation with Today Art Museum is a sufficient demonstration of Credit Suisse's philosophy to sponsor the worldwide cultural deeds. The cultivation of contemporary Chinese art is highly valued in order to continue our diversified culture in the future. Visual art is a major area of sponsorship for Credit Suisse. We strive to establish long-term partnership with major cultural institutions to support their future planning and create more space for inspirations."
Since 2010, Today Art Museum and Credit Suisse has established a 3-year strategic partnership. During this period of partnership, as the exclusive strategic partner of Today Art Museum, Credit Suisse has provided great support for the award and exhibitions.
Finalists Redefining Parameters of Contemporary Visual Cultural Works
From the works of this year's finalists (Hu Xiaoyuan, Ji Yunfei, Jiang Zhi, Shao Yinong, Xu Tan and Zhang Enli), we can see the artists use different medium languages and unique working methods to vividly redefine the parameters of contemporary visual cultural works.
Hu Xiaoyuan has an outstanding sensitivity and self-awareness of "form". From the formal aspect of her installation works and paintings, "form" is directly connected to her personal experience of daily activities. The inclination of her works embodies the 1970s young artist's concern on the subtle relation between the present psychological reality and existence of the individual in China. Ji Yunfei adopts the medium of traditional paper and ink but he is never confined to historical restraints. He tends to bring the past texts to his works, through which he states and discusses the negative experiences. The texts may belong to the East or the West, ranging from art, literature to movies. The texts may be real or totally imaginary. They may be the elite person's tradition or just folk stuff. Different from other artists focusing on ordinary stuff, Jiang Zhi always puts emphasis on the targetted objects. Under the background of experimental art in the 1990s, he has never directly applied realistic expressions, which makes his works attractive and expressive.
Shao Yinong's works are at a manageable slow rhythm, which maximizes the approach of the ideal traditionally context. His works are highly accomplished. He treats his visual art works elaborately even if they are beyond conceptual expression. Xu Tan has been working on the activity of key words research and a survey since 2006. The art project of Searching for Key Words is constantly conducted among people from different fields and backgrounds. The project consists of interview videos of people of different social classes. According to different criteria, 100 key words are extracted upon analysis from the videos. The key words reveal the values and drivers of contemporary Chinese society, which are helpful to us to have a further understanding of Chinese collective social consciousness. At first glance, Zhang Enli's works contain nothing special only ordinary things painted on large canvases. Daily necessities, ordinary scenes, the method of leaving out blank space and the way of painting colors are Zhang Enli's painting characteristics. However, what his works intend to express is far more than what we see. Just like people's comments on Turner's use of the blank space, "they concern the significant or similarly significant paintings. As for where the significance hides, we need to stop to see and think."
Jiang Zhi, the winner, has his unique understanding of life.
The professional panel gave the following comments on Jiang Zhi's works:The finalists of this year's Today Art Award are the most excellent artists who prove the best performance in multivariate language application and represent the outstanding creation achievements of Chinese contemporary art. Through thorough and intense discussions, the panel hereby declares that Jiang Zhi wins this year's Today Art Award. Jiang Zhi has been focusing on various social and cultural topics. He uses multivariate languages and cares for the patterns of contemporary art. Jiang Zhi's works are full of his personal features. We can see from his works the unique critique on social problems and language. He expresses his unique understanding and attitude toward life. He is not confined to personal affections and cultural attitudes that can arouse the audience's sympathy. His works mainly feature openness with a critique on the intense relationship between art creation and social reality from the perspective of social and individual psychology. His finalist work bring the visitors unexpected surprises and deeply rethink the significance of life, which highly express his outstanding visual language skills and the maturity of his creation.
Credit Suisse Today Art Award 2012 Finalists Exhibition
Sponsored by: Today Art Museum
Strategic partner of Today Art Museum: Credit Suisse
Organized by: Oriental Art – Masters
Finalists (listed by alphabetic order): Hu Xiaoyuan, Ji Yunfei, Jiang Zhi, Shao Yinong, Xu Tan and Zhang Enli.
Opening Ceremony: November 3, 17:00
Exhibition Time: November 4 – November 16, 10:00-17:00
Venue: Exhibition Hall 3 of Today Art Museum
Tel: (010) 5876 9690
Fax: (010) 5876 0500
Courtesy of the artists and Today Art Museum, for further information please visit www.todayartmuseum.org.
Related posts: