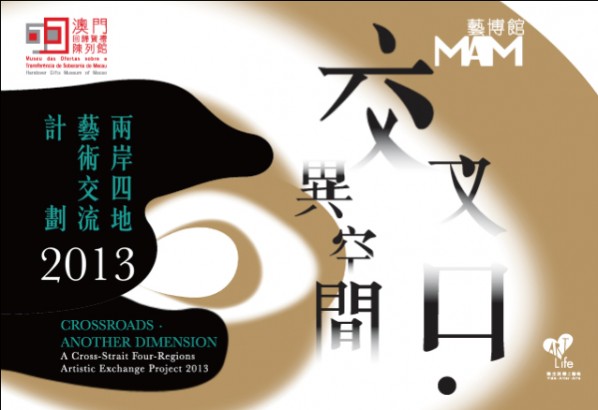 The 'Crossroads‧Another Dimension – A Cross-Strait Four-Regions Artistic Exchange Project 2013', organised by He Xiangning Art Museum of Shenzhen, Macao Museum of Art under the Civic and Municipal Affairs Bureau, Kaohsiung Museum of Fine Art of Taiwan, Art Promotion Office (APO) of the Leisure and Cultural Services of Hong Kong, tours to Macao as its 2nd stop from 18th July to 18th August 2013 at the Handover Gifts Museum of Macao.
This year, the 5th edition of the Project ushers in a new edition of 'Crossroads‧Another Dimension' to present the achievements observed from the individual development of the contemporary arts of the four regions and the process of mutual exchanges between these regions from an all-new perspective and horizon. Four artists from each region – Mainland China, Hong Kong, Macao and Taiwan – are invited to participate, including: Li Binyuan, Xu Bing, Xu Bacheng and Yin Xiuzhen; Konstantin Bessmertny, Lei Sio Chong Bianca, Peng Yun and Tong Chong; Chen Po-I, Tsui Kuang-yu, Labay Eyong and Lee Ming-tse; Kacey Wong, Leung Chi Wo, Kingsley Ng and Samson Wong.
'A Cross-strait Four-region Artistic Exchange Project' was initiated by the He Xiangning Art Museum of Shenzhen in 2008. Since then, totally 82 artists from the Cross-Strait regions, 6 museums, 26 curators and assistant curators have participated in this project. In this edition, the exhibition directors are respectively Le Zhengwei, Vice Director of the He Xiangning Art Museum, Chan Hou Seng, Director of the Macao Museum of Art, Peini Hsieh, Director of the Kaohsiung Museum of Fine Art, and Lesley Lau, the Chief Curator of the Art Promotion Office of the Leisure and Cultural Services of Hong Kong. The chief curator is Feng Boyi while the four curators from each region include Wang Dong (Shenzhen), Ng Fong Chao Noah (Macao), Iris Sie (Taiwan), and Ivy Lin (Hong Kong).
At one time, artists usually seek their inspiration and reference for art creation from their personal growth experience and living conditions, which was an utilisation of the resources of their native culture. However, the Cross-Strait Four-region young artists nowadays have changed from the old way to the new: they constantly travel locally, Cross-Strait, and internationally to participate in creative activities, artist-in-residence, or exhibitions. Most of the time during the year, they stay or travel among different places. In the environment of non-native culture, they create works that, in certain extent, are related to the place they are staying.
This kind of art creation and display cannot simply be described as a modern derivative from a traditional, regional and existing culture – It is a recurrence of cultural globalisation and localisation of Cross-Strait Four Regions after they have experienced 'Crossroads' and 'Another Dimension', also the result of collision and adjustment through this global exchange. Audiences will witness the formation of this kind of 'cross-boundary creation' in the exhibition.
Courtesy Macao Museum of Art, for further information please visit www.mam.gov.mo.
Related posts: