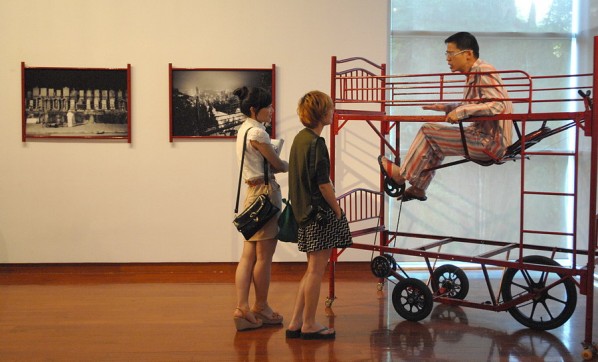 Jointly sponsored by the He Xiangning Art Museum, Macao Museum of Art, Kaohsiung Museum,of Fine Arts and the Art Promotion Office, Le Zhengwei, Chen Haoxing, Xie Peini and Lesley Liu served as Exhibition Directors, Feng Boyi as main curator, in cooperation with Wang Dong (China Mainland), Noah Ng Fong Chao ( Macau), Xie Peini (Kaohsiung), Ivy Lin (Hong Kong), to plan the exhibition "Crossroads · Another Dimension: The Cross-Strait Four-Regions Artistic Exchange Project 2013", successfully opened at the He Xiangning Art Museum at 17:00 on June 1, 2013. At the opening ceremony, honored guests gathered along with Shenzhen multiple leaders, local curators, and representatives of artists to hear a speech and then congratulated the success of the exhibition, finally, Le Zhengwei, Director of the museum expressed his gratitude to the sponsors.
This theme of "Crossroads · Another Dimension" refers to the constant flow and transfiguration of the existence and creation space of the artists, along with the globalization and the reality and situation of the cross-strait and four regions. The new existence of diversity, fluidity and uncertainty is the way of life of this generation, creative concepts and the presentation of language, rather than a concept of the transfiguration in space. Artists include Xu Bing, Yin Xiuzhen, Xu Bacheng and Li Binyuan, from the mainland; Constantine, Bianca Lei, Peng Yun and Tang Zhong, from Macau; Chen Boyi, Tsui Kuang-Yu, Lin Jiewen, Li Mingze, from Taiwan; Kacey Wong, Leung Chi Wo, Kingsley Ng, Yang Jiahui, from Hong Kong.
On the eve of the opening, journalists interviewed Li Binyuan, who expressed his pleasure in participating in the Cross-Strait Four-Regions Artistic Exchange Project 2013, and he hopes to have a deeper exchange with other artists.
In the first round of Cross-Strait Four-Regions Artistic Exchange Project, which was planned and presided over by Prof. Li Gongming, it was jointly organized by the He Xiangning Art museum and the Cultural Studies of Hong Kong and Taiwan, Guangzhou Academy of Fine Arts, offered a lecture, entitled "Time • Intervention • Transformation: Artistic Practice and Social Transformation of the Cross-Strait and Four-Regions" was held in the Consultation Room in the He Xiangning Art Museum from June 2 through to June 3, 2013.
On the core issue of the relationship between artistic practice and social transformation, more than a dozen experts and scholars from Cross-strait four-regions, came together to explore and build forward-looking and academic artistic creation and an exchange mechanism in several regions.
The lively discussion arose out of the thinking of the establishment and upgrading of the mechanisms of the next exhibition and discussion. The second session of the discussion will be held in Hong Kong and presided over by Prof. Chan Yuk, from the Chinese University of Hong Kong. The proceedings of the discussion are expected to be published in 2014.
In addition, He Xiangning Art Museum also set up a link for interaction between artists and the audience , and is about to organize a series of public educational activities for adults and children aiming to be more interactive performances between the Cross-Strait Four-Regions Artistic Exchange and the public.
Durations and locations of the touring exhibitions are as follows:
Shenzhen: He Xiangning Art Museum – June 1 – June 30, 2013
Macau: Macau Museum of Art – July 17 – August 18, 2013 Taiwan: Kaohsiung Museum – September 7- November 3, 2013
Hong Kong: Hong Kong City Hall – January 18 – February 13, 2014
A Cross-Strait Four-Regions Artistic Exchange Project 2013, which was launched in 2008, has been successfully held five times, respectively in cooperation with six art museums and institutes from Hong Kong, Macao and Taiwan is involved with 82 artists and 26 curators, gaining a certain appeal and brand power. Relying on the location in Shenzhen, its intention is to create an effective exchange mechanism of geo-cultural significance for contemporary art.
Text by Chen Chuching/ CAFA ART INFO
Translated by Sophia and edited by Sue/CAFA ART INFO
Photo courtesy He Xiangning Art Museum
Related posts: