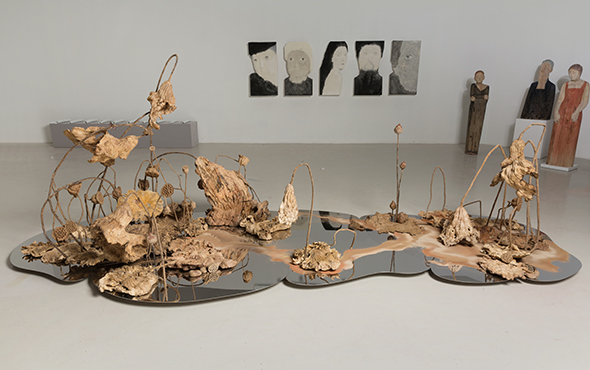 Born in Qiqihar, Heilongjiang Province, Cui Ailan is a graduate of CAFA in 2017, learning from the Associate Professor Zhou Simin. She graduated from the Department of Sculpture, CAFA in 2014, with a bachelor's degree, and graduated from the Department of Sculpture, CAFA in 2017, with a master's degree. Cui Ailan's graduation work is the wood carving of "Silence of Nirvana".
Interview Time: May 27, 2017
Interviewee: Cui Ailan (hereinafter referred to as Cui)
Interviewer: Lai Yaqian (hereinafter referred to as CAFA ART INFO)
Editor: Lin Jiabin
Translated by Chen Peihua and edited by Sue/CAFA ART INFO
Cui Ailan, who is a graduate of the Department of Sculpture, CAFA in 2017, has spent 8 years in CAFA, and her graduation creation "Science of Nirvana" was created in Jianchuan, Yunnan Province and Beijing. Cui Ailan has been to Jianchuan to sketch before embarking on her graduation creation, she went deep into Jianchuan for research and creation and also benefited from the cooperation projects of the Department of Sculpture, CAFA with Jianchuan. For Cui Ailan's work, she uses the Zen words to describe it as: The lotus leaves are born in the rotten wood, lotuses are born in the lotus leaves, water is born in lotus, water is from ashes to ashes, when life and death is exhausted, only silence remains, resulting in delightfully cool atmosphere.
CAFA ART INFO: What is the biggest impact on you by your tutor Zhou Simin during the 3 years of your postgraduate study?
Cui: My tutor is a female teacher, who gives me maternal love for many years. As I became acquainted with her over seven years, her care for me is unavoidable, which is like maternal care. Teacher Zhou does not only support us in study, she is also concerned about the life problems of a girl. She does not agree that we should only be engaged in art and miss our own lives, she believes that a wise woman can balance these two roles.
From the academic perspective, teacher Zhou has taught me to establish a rigorous working system. The working attitude of Zhou is extremely serious, and particularly as she is extremely rigorous in her writing, including using a format that strives for perfection, like an obsessive-compulsively disorder. Teacher Zhou is seriously concerned about the harvest of each course, and communicates with us, while she has been maintaining a great enthusiasm in teaching.
CAFA ART INFO: From your resume I learn that you went to Jianchuan, Yunnan Province to study, and later produced a wood carving of "The Fortunate Figure" and the graduation creation of "Silence of Nirvana", could you talk about the experience of Yunnan in detail?
Cui: I went to Yunnan Province last November, and began to decide on my graduation creation, I returned to Beijing at the end of March, to finish the latter work in the studio for one month, till the graduation exhibition started.
I mainly contacted local craftsmen and masters, because my graduation thesis is also about the development of handicrafts in Jianchuan. The pillar industry of Jianchuan is wood carving, so it is the town renouned for wood carving. The land to the Northwest of Yunnan is barren, and Jianchuan's wood carving is composed of many hollow surfaces mainly using flowers and birds as the theme, and the majority of the forms are architectural decorations and the derivative crafts, such as screens. In recent years, it started to have a diversified development. The craftsmanship of the local craftsmen are very good, and the young craftsmen will consider some questions, such as how to enhance the spirit of the work, and what is the difference between the artist and a craftsman in the end.
The factory where I made my graduation work was the factory where the students of our 2nd studio created the wood carvings last April. In one month of study, almost everyone could use "Jianchuan craftsmanship" to finish a work, and my work of "The Fortunate Figure" was finished in April.
CAFA ART INFO: What is the difference between "The Fortunate Figure" and the later graduation creation of the "Silence of Nirvana" in the craftsmanship and creative ideas?
Cui: It applied the system of hollowing in the work at that time, the form is more traditional, but many elements and logic are modern, the use of the traditional language to express the subject matter of the moment. When I went to Jianchuan again in November, I spent 20 days finishing the 40x80cm specification abstract work of "Little Rain" by hollowing out the wood and I then thought if I used the style of "The Fortunate Figure" to create the graduation creation, it would be too slow so I tried to do something new, and used the craftsmanship to create my own things. Residual lotus is the subject matter that emerged during these years, in fact, I think I can also create with this theme.
I would like to be able to reduce the humanistic feelings of the theme of "residual lotus", allowing the material itself to lead me to finish the work as my way of working. First of all, I found rotten tree trunks, I tried to remould one piece, and then I wanted to create a three-dimensional thin lotus leaf. After I finished the first lotus leaf, I found that a small lotus leaf would produce a lot of sawdust. For different types of wood or the same type of wood from different origins, their colors are different and show a range of "colors of five elements", after all types of sawdust were sifted, they become two things of different textures, some are thick and some are thin, and then I hierarchically applied these things.
CAFA ART INFO: Why did you choose the stainless steel mirror as a table to carry the work?
Cui: Choosing a stainless steel mirror was a final decision. I create works following the material, which is a process of finding the logic of material itself, I hope to discover what is linked with the material that I have. A tree grows to create raw materials, and then rots, finally becoming sawdust, which is like the process of studying Zen. The mirror perhaps can become the carrier bearing all things, Zen is the concept of "empty", which is related to "have" and "haven't", "haven't" is bigger than "have", so that "Silence of Nirvana" itself is an ultimate state, therefore I say that life and death are exhausted. There were reasons why I finally chose stainless steel: First of all, it is the thickness, it can be maintained in a thin volume, which can be slightly suspended, presenting an intangible feeling. Secondly, in considering transportation, glass and mirrors are fragile. The glass might have a bit of color, and the imaging is not clear, which also offers the spectator an ambiguous feeling. Thirdly, the upper part of the work is made of wood, which is a traditional material, so I choose the modern material of stainless steel, in order to keep in touch with the final moment.
Related posts: