The Ghosts of the Junkyard exhibition is the consequence of a conversation with an organiser at Creative Exchange and his eager desire to display the work after perusing Daniel Labrosse's portfolio.
As a young artist, Daniel Labrosse is establishing himself as an inspired artist that is delivering art which is pure creation while also appealing to everyone. When looking at one of his cityscapes you can find all sorts of ideas expressed, details of people going about their daily life or expressions of dislike, curious happenings and hours can drift away as one delves deeper into the intricate patterns.

Daniel Labrosse has known from the age of 3 that art would be where he would find his career and after leaving school started working on his art. At 18, in June 2016 he was selected for the open call at the Tate Modern in London having competed with hundreds of other upcoming artists and his work was projected onto the wall and then hung in the Uniqlo shop in Oxford Street in London. With such an accolade, Daniel felt proud and though he had only had one previous exhibition as part of the Budapest Design week held in Tesla. Kult this validated his decision to concentrate on art. Social media has been the vehicle for his discovery as Daniel has been posting his art since 2014 and this is where he was spotted and invited to create a debut Solo Show @Tesla.Kult which attracted nearly 100 people on the opening night to this new gallery where he exhibited his previous work.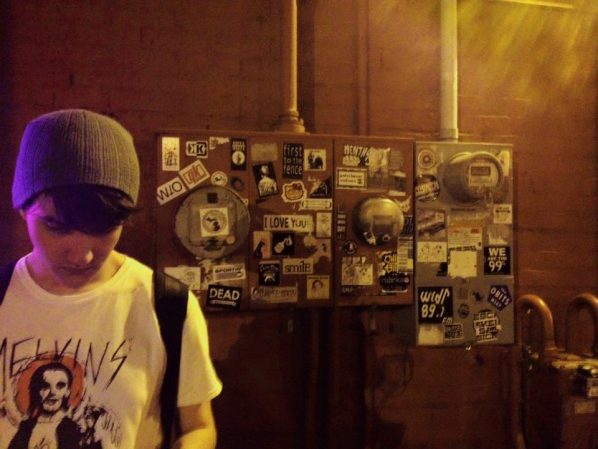 As Daniel passes through cities he gives stickers to people and leaves them in prominent places to brighten peoples' days, reaching out to the everyday person so everyone can consume art, can touch art, can feel art and may bring some colour and happiness to their day. Art is for everyone to enjoy, to get into.
Currently Daniel moves between his home in the old Jewish Ghetto area of Budapest which has a mixed, diverse culture and Leith in Edinburgh that is also a culturally diverse area, the people and lifestyles he comes across are depicted in the cityscapes.
In Daniel's sketchbook he works on the ideas and then develops them into colour via a digital pad technique. A recognition of Keith Harings's work can been seen in his work as well as inspiration from cartoons and comic books as well as Roger Ballen who has also influenced his art.
The current exhibition is a new dimension with wholly new work and social media has acted as the link for Daniel as he has worked with photos from strangers to create photo drawings through an artistic process, this is an experimental process that lends itself to powerful art works that hit a punch with colour and skill.
The future for Daniel is through technology and he has proved so far that by connecting with people on social media he can prompt an exhibition and involve the world in contributing photos that he can then adapt and be creative with. Daniel is of a generation that has grown up with the internet and he uses it to share his insights and ideas as well as expressing his artistic creations through public discourse and dialogue. Daniel is a devoted young practitioner using the internet's capacity to foster new interactions and relationships, using Instagram and other tools to create and develop art that crosses continents and opens borders to share and collaborate. This is art of today and the future. Daniel is not alienated from others but interacts with a group of friends in Budapest to create video games.
One day Daniel hopes to be making films or live animations but to acquaint yourself with his mesmerising art is a first step for this 19 year old who really has got a handle on the creative process and art that can grab you.
The exhibition is on till 28 October.
Text by Heather Yang and Image Courtesy of the Artist.
Related posts: