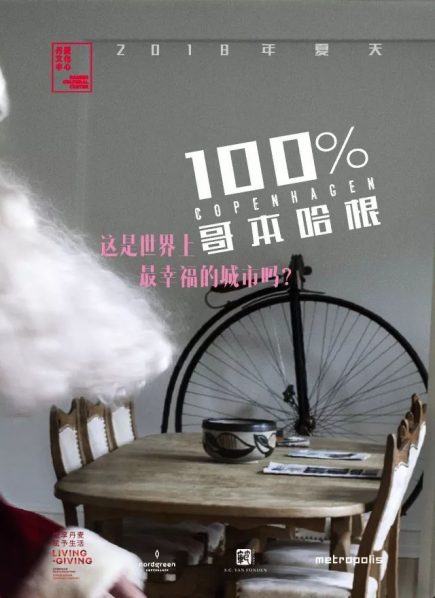 In 2018, Copenhagen is the official Guest City for Beijing Design Week. Under the theme 'Living is Giving', Chinese audiences and design professionals will get a chance to experience new concepts for life-style, sustainable living, recycling, community empowerment.
Danish Cultural Center will play a pivotal role in these activities. This is also the reason behind the next exhibition, which runs till mid-August.
100% Copenhagen is a look at the Danish capital from a different angle than the usual rankings which place Denmark on the top of any 'happiness index'. By asking the citizens of the 'the best city in the world' what is most important to their individual well-being, it highlights issues which normally don't appear in the conventional surveys. An alternative "happiness" report of the Danish capital indeed, but also a fascinating mental map of a city in search of meaning, identity and happiness.
The portrayed are ordinary citizens who demographically represent the city's population based on various statistics. Yet, each of the persons reveals an individual standpoint "representing" the most important social issues from a highly personal perspective: Lifestyle, Work, Relationship, Wealth, Discrimination, Urban Situation, Sustainability, and Diversity. The final result might render a fuller and more covering representation of our complex and continually changing urban society, thank we are normally able to grasp.
The interviews and photographs are the result of three-hour talks with each portrayed person. In every single case, the artist Maja Nydal Eriksen used their homes as the scenic setting for the photo. The concept behind 100% Copenhagen stems from a documentary theatre performance at The Royal Danish Theatre in 2013 by German theatre collective Rimini Protokoll and presented by Metropolis, Copenhagen International Theater.
The exhibition is designed and produced by Danish Cultural Center with support from SC Van Foundation and Nordgreen.
About the exhibition
Photos and Text:Maja Nydal Eriksen
Opening:May 20th, 2018
Address: Danish Cultural Center, 798 International Arts District, 706 Beiyi Jie
Courtesy of Danish Cultural Center.
Related posts: