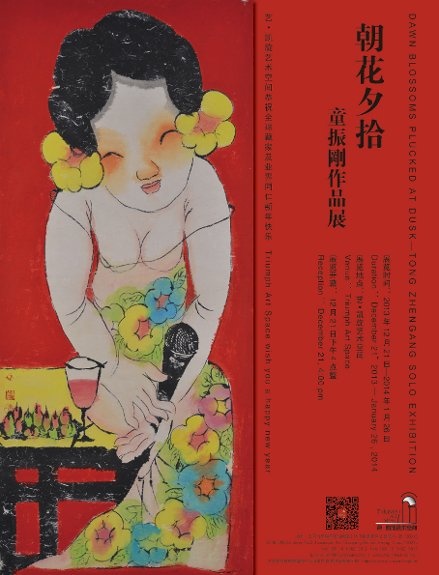 The exhibition "Dawn Blossoms Plucked at Dusk – Tong Zhengang Solo Exhibition" intents to demonstrate approximately twenty pieces of Tong's representative ink paintings and sculptures in different period.
Since he devoted in the art world in 80's, Tong has been persisting in his own artistic concept and undergone twenty years of thinking and practice. He keeps trying and evolving in order to express people staying in the rapidly-changed world are in dilemma. Tong's works reveal unique mental world, which allows viewers to perceive strong artistic atmosphere. Like Ante Glibota has once commanded that via his portrait paintings, nude paintings, landscape paintings, and still life paintings with his skilled technique, he has proved that even merely a person or an objective could gain brightness and construct a new world in the elegant poetic art and purity. That is a world that full of animals, cats, birds and people as beautiful as flowers, which led to numerous imagination. In fact, it is the persuasion toward visualization. Situating in visual, balance, peace, purity stay in a humorous co-existence. In Tong's ink paintings, women, even the world are not what they really are. Tong's artworks always constantly originates its meaning.
About the exhibition
Duration: Dec 21, 2013 – Jan 26, 2014
Venue: Triumph Art Space
Opening: Dec 21, 2013 Sat 16:00
Courtesy of the artist and Triumph Art Space, for further information please visit www.triumphart.com.cn.
Related posts: