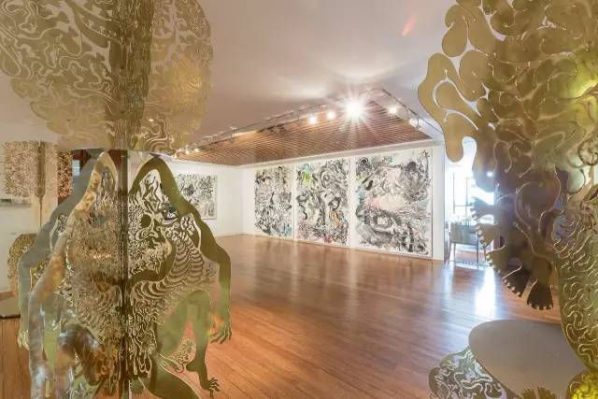 Wu Jian'an, born in 1980, is an associate professor in the School of Experimental Art, the Central Academy of Fine Arts in Beijing, and one of the artists selected for the China Pavilion in the 2017 Venice Biennale.
Displayed here are two sets of works that he has specially created for this exhibition space. 500 Brushstrokes fuses painting, papercut, and collage into a new form of two-dimensional art. The artist first draws random strokes on xuan paper with ink and watercolor. He then cuts out the brushstrokes and uses them to construct new compositions. Inspired by Handynasty bronze "money trees", Daydream Forest consists of mesmerizing 3D structures constructed from 2D images of fantastic beasts.
Both sets of works derive their concepts from the art of folk paper cuts but transform them into the language of contemporary art. Full of movement and dynamism, Wu Jian'an's art merges concrete and abstract forms to generate infinite transformations.
Curator Wu Hung
In 500 Brushstrokes the artist has commented that unlike his earlier paper cuts in which the individual units are used multiple times, each stroke is individual. The act of reassembling them into a collage symbolizes the fate of individuals in society.
Three tree-shaped brass sculptures from a group of seventeen. Each tree is divided into two sections, and each section is characterized by unique forms and figures. All these figures are derived from the paper cuts Wu Jian'an created during 2003-2004, especially during the SARS epidemic. The artist called them Daydreams, as if they were make-believe friends who accompanied him through that chaotic period.
About the exhibition
Dates: Jul 14, 2017 – Aug, 2017
Venue: University of Chicago Center in Beijing
Courtesy of the artist and University of Chicago Center in Beijing, for further information please visit www.uchicago.cn.
Related posts: