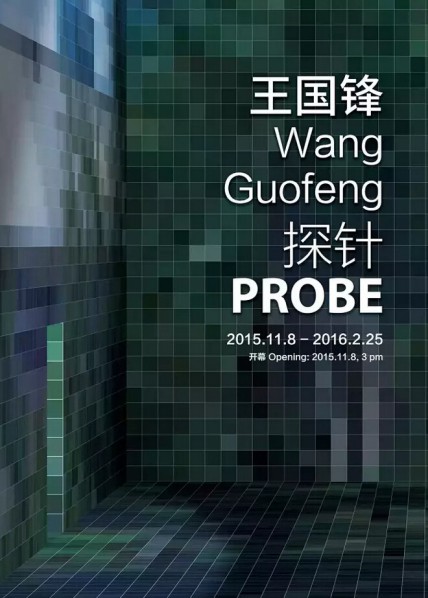 A well-established artist, Wang Guofeng (b.1967) has worked in a variety of media, from photography, video, drawing to installation. Photography has been his main artistic language since 2006. The imagery resulting from his practice mainly follows two orientations: one focuses on photographing the symbolic political spectacles; the other focuses on the creation of the image from a conceptual stance.
For his first solo show in Beijing, Wang Guofeng has completely broken himself free from his previous art form and practice. Moving away from his symbolic political iconography as well as his conceptualized two-dimensional imagery, he constructs an image into a complex three-dimensional space. By transforming a two-dimensional image into a spatial installation, he was able to reach into the core essence of the "image". With a digital camera, he shot an ordinary scenery from a window looking out from the gallery. This picture of the outside taken from the inside was then trans-located back into the interior space of the gallery. The artist enlarged the image to an extent that pixels were rendered visible and filled up the entire spatial structure. Through trans-location and transformation, he reveals and reinterprets the concept of "pixels" – the smallest and most fundamental element that constitutes an image–its structural core. His deep investigative methodology articulates the connotation of "Probe": investigation, inquiry, research, examination and survey.
Wang Guofeng was born in 1967 in Liaoning, China. He now lives and works in Beijing. He took part in numerous important domestic and international contemporary art exhibitions including:"Post Material" (Beijing, 2000), "Media City: The 2nd Seoul International Media Art Biennale" (Seoul Museum of Art, Korea, 2002), "When Latitudes Become Forms: Art in a Global Age" (Walker Art Center, US,2002), "Video Zone 2002″ (Tel Aviv, Israel, 2002), "Time after Time" (Yerba Buena Center for the Arts, US, 2003), "10th Biennale of Moving Images" (Geneva, Switzerland, 2003), "Chinese Experimental Film Festival" (Tate Modern, UK, 2003), "The 6th Shanghai Biennale" (Shanghai, 2006), "The 2nd Moscow Biennale of Contemporary Art"(Moscow, Russia, 2007), "The First Today's Documents" (Beijing, 2007), "The 2nd Today's Documents" (Beijing, 2010), "Contemporary Art of China and Japan" (Busan Museum of Art, Korea, 2010), "Image Anxiety – Spanish International Photography Festival 2012" (Madrid, Spain,2012), "Aura & Post Aura – The 1st Beijing International Photo Biennale" (Beijing,2013), "China Contemporary Photography 2009-2014" (Minsheng Art Museum, Shanghai, 2014), "NK Project" (Seoul Museum of Art, Korea, 2015), "Unfamiliar Asia–The 2nd Beijing International Photo Biennale" (Beijing, 2015).
He is also winner of "Artist of the Year" for the 8th AAC 2014 (Award of Art China – Photography) and was short-listed for the ING Real Photography Award in 2008.
About the exhibition
Date: 2015.11.08 Sun – 2016.02.25 Thu
Venue: De Sarthe Gallery Beijing
Address: 328-D Caochangdi, Chaoyang District, 100015 Beijing, China
Tel:+86 010-84182441
Opening Hours: Tuesday – Sunday, 10:30 am – 6:30 pm
Director: Vincent de Sarthe
Courtesy of the artist and De Sarthe Gallery Beijing, for futher information please visit http://desarthe.com/.
Related posts: