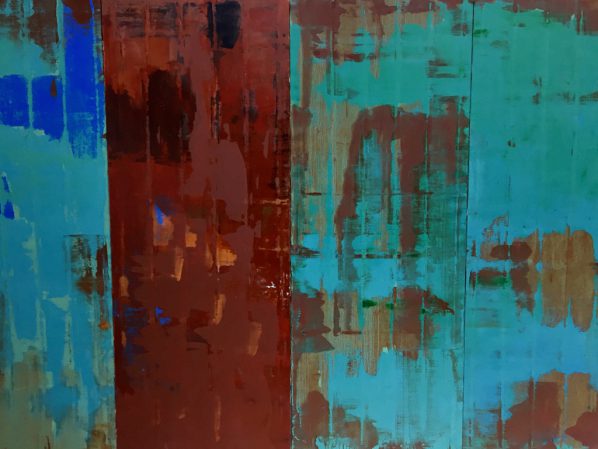 de Sarthe Gallery is pleased to announce the opening of Xin Yunpeng's first solo exhibition at the gallery on September 23rd. The exhibition features a completely new body of work and will run through November 12th, 2017.
Xin Yunpeng's artwork ranges from video and performance to site-specific installations in mixed media. Xin's work is often led by the belief that art should face society to offer new interpretations of human interaction. Many of the works in this exhibition see Xin making use of the physical space of the gallery to ignite considerations of spaces beyond the tangible physicality offered by his artworks—for instance, Two Roads, Two Mountains, a set of canvas panels installed in the main space of the gallery. In creating these works Xin first attached the canvases to corrugated metal panels, commonly used to cordon off construction sites and as other forms of physical separations, he then scraped paint down the face of the canvas, transferring the rust and marks from the metal onto the canvas. As signifiers of borders these painted panels create two roads, two spaces, one in which the viewer can walk and the other beyond reach, not visible but the presence of which is nonetheless signified.
For 144㎡ Xin references his Islamic Hui roots and layers a large Islamic style carpet onto a room of the gallery. Yet, as the carpet is too big for the space it completely engulfs the room, thus the carpet not only lies on the floor but also runs across the walls. Here Xin again plays with questions of space and borders. The carpet's design also hints at another interpretation, patterned across the carpet are a series of doors that traditionally dictate the position of prayer towards Mecca and the Kaaba. However, on entering this room the viewer becomes disorientated, in turn losing the sense of spatiality that the carpet usually enables. This spatial confusion directs the viewer to Xin's ruminations on the propensity of spaces and borders, both physical and non-physical, to dictate our behavior and foster interpersonal difference.
Of the three video works presented here, the main film has a loosely narrative format, following the faint mumblings of Xin's mother as she prays, although the viewer can see only a set of windows in Xin's house. At the end of the video Xin enters the room to tell his mother that the rain, which the viewer can also hear, is subsiding so he is going out. A second video again focuses on this curtained window, installed here on two separate screens, slightly out of time with each other, creating a sequential movement between the two screens. The same technique is used in the third video also presented across two screens, here Xin films a conveyer belt of dirty dishes in a large department store. In all of these videos Xin's use of spatial illusion – of spatial play – is prevalent.
Xin's works are often built out of personal experiences, but offer insights that can be universally applied. Through creating experiences that are both familiar and foreign in the confined space, Xin's work inventively questions the reasons for interpersonal differences in society. In these new works by playing with the physical space of the gallery, Xin offers suggestions of time and space beyond the gallery space, offering the viewer artworks that intelligently straddle their physicality and Xin's conceptual message.
About the artist
Xin Yunpeng was born in Beijing in 1982 and graduated from the sculpture department at the Central Academy of Fine Arts in 2007 with a BFA. He is currently working and living in Beijing. Recent exhibitions include: all men are created equal, Hunsand Space, Beijing, China (2016); No News Is Good News, Inside-Out Art Museum, Beijing, China (2014); I Don't Know Where to Take You Yet, A4 Contemporary Arts Center, Chengdu, China (2013); and Hello, World, Yan Club Arts Center "Look Art Space," Beijing, China (2013). He has also exhibited internationally in group shows including: Without Leaving Any Traces, Mocube, Beijing, China (2017); Reversal Ritual, de Sarthe Gallery, Hong Kong (2017); Exotic Stranger, Galerie Paris-Beijing, Beijing, China (2016); China Whispers: Recent Works from the Sigg & M+ Collections, Kunstmuseum Bern, Bern, Switzerland (2016); ON | OFF: China's Young Artists in Concept and Practice, Ullens Center for Contemporary Art (UCCA), Beijing, China (2013).
About the exhibition
Duration: 23 September – 12 November, 2017
Opening: 23 September, 16:30 – 18:30
Media Preview: 23 September, 16:00
Location: 328-D, Caochangdi, Chaoyang District, 100015 Beijing, China (de Sarthe Gallery)
Courtesy of the artist and de Sarthe Gallery, for further information please contact Catherine Huang | catherine@desarthe.com | +86 13671043227 or visit www.desarthe.com.
Related posts: