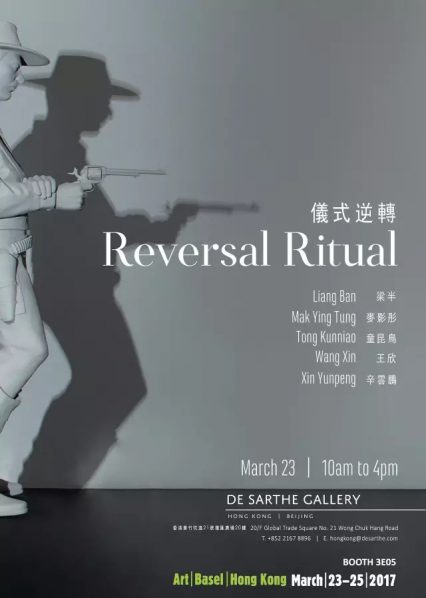 de Sarthe Gallery is proud to unveil its new gallery space in Wong Chuk Hang. Encompassing 10,000 square feet and spread across the entire 20th floor in the Global Trade Square building, the expansion will be inaugurated by Reversal Ritual, a group exhibition of five emerging Chinese and Hong Kong artists Liang Ban, Mak Ying Tung, Tong Kunniao, Wang Xin, and Xin Yunpeng. The exhibition runs from 20th March to 13th May 2017.
Reversal Ritual is a group exhibition organized by gallery directors Willem Molesworth and Vincent de Sarthe to inaugurate the new Hong Kong space. It includes work by Liang Ban, Mak Ying Tung, Tong Kunniao, Wang Xin and Xin Yunpeng. The show addresses the concept of "carnivalesque" developed by 20th century literary critic Mikhail Bakhtin as it pertains to artwork created by an emerging generation of young Chinese artists today. In reference to the comically festive events depicted by 16th century novelist François Rabelais, Bakhtin asserts that the carnival was an expression of an alternative world liberated from the social, political, cultural and religious structures of the time. His concept, often considered as a utopian antidote to repressive forms of power, serves as a celebration of the possibility for change, however transitory in nature. The exhibition aims to highlight how several young Chinese artists have begun to express themselves through similar means in reaction to the newly established order of Chinese society. The show features multiple site-specific installations as well as participatory artwork.
The exhibition embraces the new space, which features 4 meter ceilings and incorporates breathtaking views of Hong Kong's lush natural landscape. It is the result of many months of strategic development for the Gallery and the considered expansion is a reflection of founder Pascal de Sarthe's vision of developing more discourse driven exhibitions, focused on the contemporary by representing mid-career and emerging artists from the region and across the globe.
Celebrating the launch of his new space, Pascal de Sarthe notes, "After six successful years in Hong Kong and with the rapid growth of our Beijing gallery, we've been prompted to expand."
"With over 26 galleries and other art institutions in Wong Chuk Hang, we have chosen to embrace the energy of the area by establishing a generous space that is unrivalled in the city. The enhanced display capabilities will provide our artists with more freedom to create compelling narratives, while at the same time enabling masterpieces to be honoured in a museum-quality setting. Investing in the new space reflects our ongoing commitment to Hong Kong as the cultural hub of Asia."
About the exhibition
Opening: 23rd March, 10:00AM – 4:00PM
Duration: 20th March – 13th May, 2017
Venue: de Sarthe Gallery
Location: 20/F, Global Trade Square, 21 Wong Chuk Hang Road, Hong Kong (de Sarthe Gallery)
Courtesy of the artists and de Sarthe Gallery, for further information please visit www.desarthe.com.
Related posts: