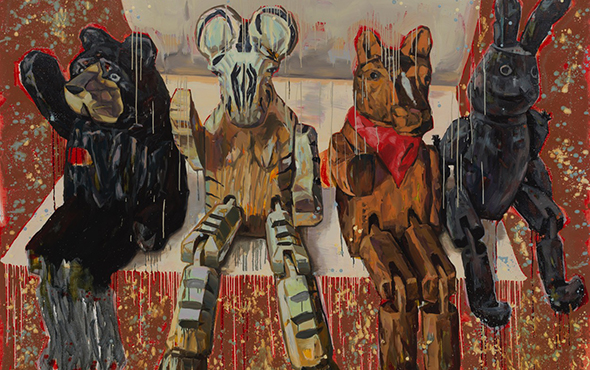 At 4:30 pm on March 24, 2018, "Rabbit on the run – Chen Xi's new works" kicked off at Beijing Minsheng Art Museum. This exhibition is the latest achievement from the "Contemporary Artist Case Study Series" by the Beijing Minsheng Art Museum. It is jointly organized by China Minsheng Bank, Beijjing Minsheng Art Museum and Central Academy of Fine Arts, and co-organized by the Beijing Minsheng Foundation for Arts and Culture, and it is curated by Lu Peng. The honored guests from the cultural & art circles, art museums and the related media attended the opening ceremony.
At the opening ceremony, Zhou Xujun, Director of Beijing Minsheng Art Museum welcomed the honored guests that were participating in the exhibition. Zhou Xujun said that Chen Xi's artistic career has always been in a state of actively subverting and deconstructing herself. It features a new creative direction that started in 2013 in the exhibition. Faced with the impact of globalization and the time of rapid changes, in the face of potential threats such as environmental deterioration and artificial intelligence, Chen Xi used a rabbit in her artistic creation to reflect the difficulties people are facing, also reflecting her energy as inspired by the complex world.
The curator of the exhibition Lu Peng said that many people had a certain degree of familiarity with Chen Xi's previous artistic creations, but this exhibition is a systematic presentation of her new creations in recent years. He invited everyone to go to the gallery and make his own interpretation of Chen Xi's creation and at the same time, he hoped everyone would put forward his suggestions and ideas for this exhibition.
Wang Chunchen, Deputy Director of CAFA Art Museum said that the significance of Chen Xi's artistic creation was "escape" instead of "running away". She has dismissed the repetition of artistic techniques in artistic creation. In fact, she has established a large target for her work, and it was extraordinary for a person who has been engaged in painting for many years. At the same time, Wang Chunchen said that Chen Xi's exhibition made him feel a force that was moving forward, rushing towards the future instead of running back to the past.
The artist Chen Xi expressed her sincere thanks to the audience at the end of the opening ceremony. Chen said that it was a reflection of her status at this stage. "Rabbit" is both from her own mind and other people through her viewpoint. She also said that she would continue to maintain many emotions, and continue to explore and run.
The Beijing Minsheng Art Museum also held an academic seminar on this exhibition before the opening ceremony. It was hosted by the curator Lu Peng, Zhou Xujun, Director of Beijing Minsheng Art Museum, and critics Wang Chunchen, He Guiyan, Duan Jun, Liu Libin, Li Guohua, Lan Qingwei, Xie Suzhen, Shu Kewen, Ai Lei'er, Yin Ji, and artists Chen Xi, Wang Guangyi, Zhang Xiaogang, Song Yonghong, Meng Luding, and Zhan Wang attended the seminar and expressed their opinions on "What does contemporary art have to do?", "The Relationship between paintings and other materials", "Artists' opinions on the curating", and which aroused enthusiastic arguments and discussion.
As a well-known contemporary Chinese female artist, Chen Xi has been in a vigorous state of continuously subverting and deconstructing her own creative style during her artistic career of more than 30 years. Since 2013, Chen Xi has started to integrate and juxtapose the ancient & modern Chinese & foreign elements & symbols in her creation. The things that she saw in the media and the objects from her daily life are put together to create unexpected contradictions and conflict. It was particularly inspired by John Updike's Rabbit series and Joseph Beuys's "How to Explain Pictures to a Dead Hare", which she first read while at college, and she took the rabbit as a symbol for her paintings, to connect individual emotions, thoughts and the problems that humans are facing today. In Lu Peng's opinion, such a concatenation is a symbolic representation of the ancient & modern Chinese & foreign historical issues, and a problem in reality and a problem for the future of mankind.
It is a systematic presentation of Chen Xi's new works, covering easel paintings, manuscripts, sculptures, and installations. Lu Peng believes that this exhibition has summarized all the issues involved in Chen's previous artistic practices, and showing her confusion and the resistance to confusion. In the face of complex & difficult art problems, Chen Xi has always adhered to the subjectivity and fully demonstrated the possibilities of human life. This "rabbit on the run" has opened Chen Xi's new artistic practice and painting possibilities.
The exhibition remains on view till May 1, 2018.
Text and photo courtesy of the organizer, translated by Chen Peihua and edited by Sue/CAFA ART INFO
Related posts: