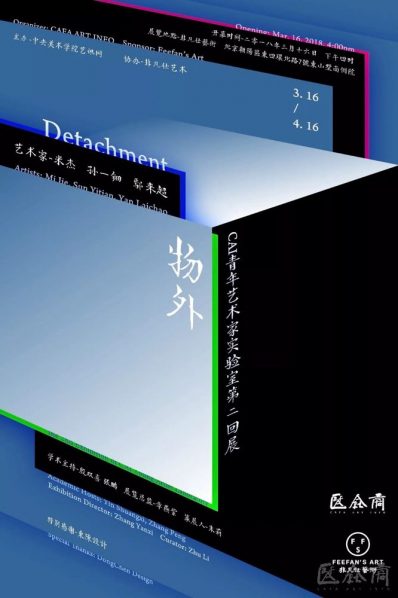 In 2017, CAFA ART INFO initiated the young artist exhibition project entitled "CAFA Young Artist Laboratory", which aims to present the status and ideas of contemporary young artists in the process of exploration and experimentation. Taking this exhibition plan as an opportunity, CAFA ART INFO has gone from online to offline, to closer observe the creative status of young art with the strategy of exhibition planning and thinking. In a "topic research" approach, it further explores the spirit and expression of contemporary artists. In 2018, CAFA ART INFO presents the second exhibition of "CAI Young Artist Laboratory", which will be unveiled on March 16 at Feefan's Art.
Detachment–The Second Exhibition of CAI Young Artist Laboratory (Preface)
The second exhibition of CAI Young Artist Laboratory, extends from self-knowledge to the broader "all things". Under the theme of "objects", through the artist's touch and gaze on abstract and concrete "objects", to discuss a creation with a head-up perspective, which prompts the conversion of some daily experiences, as well as the complicated relationship between objects, objects and things, objects and the world.
Three artists present their works through three different creative methods. Mi Jie explores the non-daily atmosphere of everyday things from an ordinary perspective, they are either meaningful or sad. Sun Yitian pays homage to natural objects and artifacts and she tries to find the hidden rules behind the objects through an exaggerated detailed depiction. Yan Laichao starts from the corporeality of materials, and he seeks to find an effective connection between the consciousness and visual space. Although all of their works describe "objects" or use "materials", they do not emphasize or focus on the object and material itself, but surpasses the surface layer of the multiplicity among objects, to reconstruct the meaning of material and existence through the examination of the minds and hands.
Mi Jie: Tour of the Body and Object
Mi Jie's recent works gradually withdraw from the narrative expression of the past, while characters retreat or disappear in the paintings, the common things which are visible everywhere become the protagonists. This series of intermittent paintings reflect his trivial life, showcasing a fragmented status of anxiety and division. As the creation in the transitional progress, this series of work carries traces of exploration which also continues his characteristics of being sensitive to the surrounding environment while being faithful to his inner feeling in his creations. These everyday things are not isolated existences. Instead, the human atmosphere is always revealed and "present", such a misplacement and absurdity are infinitely magnified, the portrait of object has become the portrait of a human again.
Sun Yitian: A pair of eyes viewing half the moon
Sun Yitian's creations always wear a cute, dreamy coat, which hides her ambition quite well. When we read again carefully, the bow and arrow are gradually pulled apart, thus you will feel the provocative giant in the center of her image that seems to devour you. Her attention to "things" started from the plants that grew brutally in Yunnan when she sketched there, the"violence and aggression" made her unforgettable, then she tried to record this feeling and quickly found a pure and powerful way of expression. There are two obvious clues to the creation of Yitian: warm natural objects and relatively cool artifacts. Any "object" could become the subject she can depict and any image could become a "monument". She uses the style of painting to find some secret connection behind the object and image: it seems to be touched but it cannot be described, while it seems to be specific but actually chaotic.
Yan Laichao: Shell of the Stream of Consciousness
Yan Laichao's creation has undergone a long exploration period. He has always been developing in a state of extreme contradiction and excitement, self-doubt and self-affirmation which could be found in his early works like "flying inspiration." He has always pursued the extreme which comes from his inherent resistance to order. "Mental Time" and "Space Time" series of works belong to his new explorations after he received his Master's Degree from Accademia di Belle Arti di Firenze, Italy. He was influenced by practices in Italian minimalism, space theory, Arte Povera, and their coincident art views. It took him several years to pick up the physical experiment of "using time to accumulate space", which opened up a new latitude. He has packed the unrestricted consciousness, dreams and imagination into this mysterious box and extended them into an infinite unknown space.
Text by Zhu Li, translated by Sue/CAFA ART INFO
March 2018
About the exhibition
Exhibition Title: Detachment–The Second Exhibition of CAI Young Artist Laboratory
Academic Hosts: Yin Shuangxi, Zhang Peng
Exhibition Director: Zhang Yanzi
Curator: Zhu Li
Artists: Mi Jie, Sun Yitian, Yan Laichao
Organizer: CAFA ART INFO
Sponsor: Feefan's Art
Exhibition Dates: Mar. 16 — Apr. 16, 2018
Opening: Mar. 16, 2018, 4:00pm
Venue: Feefan's Art (Dongshanshu Nanyuan, No.7 East 4th Ring North Road, Chaoyang District)
Special Thanks: Dongchen Design
Related posts: