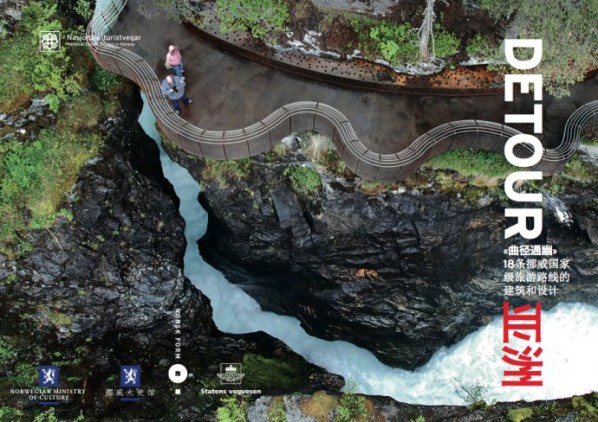 In recent years, Norway has been established as an innovative architectural pioneer, partly due to the more or less ambitious installations along the National Tourist Routes. DETOUR ASIA in Beijing is a collaboration with the School of Architecture, Central Academy of Fine Arts and the Norwegian Embassy. This provides a fabulous opportunity for audience in Beijing to feel what it is all about and from 2 to 18 December 2011 at the Central Academy of Fine Arts in Beijing.
Viewing platforms, rest places and service facilities have been designed by a host of Norwegian and international architects, landscape architects and designers. These installations are all part of the National Tourist Routes in Norway; a project that has been commissioned to the Norwegian Public Roads Administration by the Norwegian government. A selection of 18 stretches running through the very best of Norwegian nature is to fuel wanderlust and pleasant driving experiences. The aim is to strengthen local business and industry and help populate district areas.
Breathtaking Norwegian nature and the driving experience are main pillars of the National Tourist Routes in Norway, spectacular architecture its distinctive feature. In Norway there is a long tradition of adapting buildings to a rugged topography, a tradition that is redefined and refined by designers for the National Tourist Routes in Norway. Architecture facilitates experiences of scenery as well as being an attraction in its own right. Works of art along the road further enhance the identity of individual stretches.
So far the initiative has resulted in almost 200 completed projects involving more than 50 architects, landscape architects, designers and artists. A focus on innovation instead of cost efficiency has unleashed a flourish of creativity. The National Tourist Routes has been the springboard for the careers of several young architects.
Previous versions of the touring exhibition Detour have travelled around Europe and the USA since 2007 and have been seen by more than 120,000 people. At Expo 2010 in Shanghai it had 3.2 million visitors. DETOUR ASIA is a collaboration between Norsk Form – Foundation for Design and Architecture in Norway and the Norwegian Public Roads Administration through the National Tourist Routes in Norway. The international tour is funded by the Norwegian Ministry of Culture and the Norwegian Ministry of Foregin Affairs.
Norsk Form curators: Pia Bodahl and Ellen Margrethe Skilnand
Exhibition and graphic design: Jan Neste www.jnd.no
Texts: Per Ritzler, Norwegian Public Roads Administration – National Tourist Routes in Norway
Exhibition period: 2 – 18 December 2011
Exhibition venue: Exhibition Hall, 2nd Floor, Building No. 7, Central Academy of Fine Arts, No.8 Hua Jia Di Nan St., Chaoyang Dist., Beijing
Related posts: