As one of the first-generation abstract artists in China, Tan Ping has always worked in this art form. In addition to the value of the formal language as emphasized by the traditional abstract art, the most impressive thing in his work is "personal narrative" and the "emotional factor" that prevail in his images. For more than thirty years he has devoted himself to painting, Tan Ping, has an unique insight into the relationship between the artist and his work, i.e. compared with his achievement. He has paid more attention to the inner perception and expression than the process of painting.
December 7th, 2012, Tan Ping's solo exhibition "A Line" was opened in the National Art Museum of China. It is the first time that an abstract artist has held a solo exhibition in the Rotunda of this museum. +40m, a piece Tan Ping was invited to create as a commission for this exhibition, was on show. He intends to apply the purest wood engraving techniques and simplest colors of black and white, to express the most abundant life experience. "A Line", in a manner of speaking, he has almost achieved perfection in abstract art, extracting and collecting his cultivation and experiences over recent decades.
How could this piece of work, which challenges simultaneously the space and audience, be created? How could an artist whose origins lie in printmaking like him walk into abstract art step by step? You may find the answers from the conversation between Chen Qi and Tan Ping.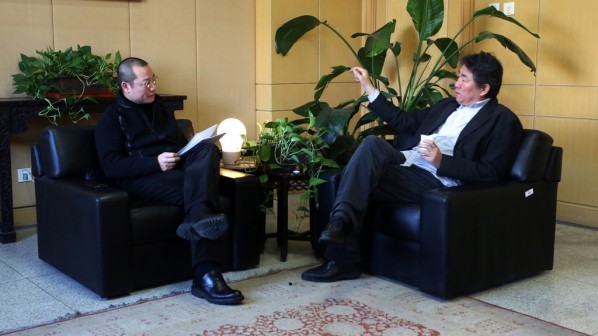 Host: Prof. Chen Qi, renowned artist and Artistic Director of CAFA ART INFO
Honored Guest: Prof. Tan Ping, well-known artist and Vice-president of CAFA
Related posts: