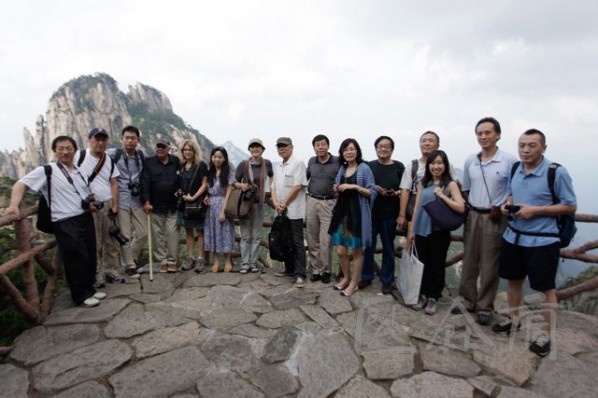 Co-organized by the Chinese State Council Information Office and the China National Tourism Administration, "Dialogues among the Chinese and Foreign Artists at Huangshan" was undertaken by the China Internet Information Center and The Art China Network. It was successfully held from July 10th through to July 15th at Huangshan, Anhui. During the six days, artists from China and foreign countries gave their in-depth description of the natural and cultural landscapes at Huangshan, and they also devoted profound discussions on Chinese and Western Art.
There were 16 artists who participated in this exchange programme, including John Walker (U.S.A.), Nicola Gray Lopez (U.S.A.), Lana Z Kaplan(U.S.A.), Gandalf Gavan Ricks (U.S.A.) and Wang Yuliang, Wang Susheng, Lu Xinhua, Li Fan, Yuan Zuo, Li Mu, Ma Kelyu, Liang Hao, Zhang Weiguo, Huo Ran, Yuan Leping and Xu Song. During their stay at Huangshan, they sketched everywhere around Huangshan in the daytime and had an art salon at night. With free and frank discussions, they shared artistic points of view and jointly completed the creative processes of many works.
On the fifth day, the seminar of "Dialogues among the Chinese and Foreign Artists at Huangshan" was held among the 16 artists and they discussed the theme of Chinese and Western Art. John Walker put forward that the "regionalism" in art is rarely mentioned nowadays and historically outstanding artists always grew from a region. Li Fan referenced words of Director Ang Lee with "I respect each other's culture but I will never forget my mother tongue." Lu Xinhua believes that the value of art is more rational, objectives from a historical point of view, whether it's Chinese or Western art, only art works which can touch the human soul finally had a niche in history.
When it's time for them to depart, they all found it hard to tear themselves from this group. Some exchanged their paintings as momentos. Foreign artists invited Chinese artists to reside at their own studios to create together while Chinese artists have invited foreign artists to give lectures at universities in China and share their philosophy of education.
This event was a successful attempt for the promotion of cultural and art exchanges between China and foreign countries as well as the international publicity of tourist scenes of Huangshan. It also harvested high praise from the artists. Themed art dialogues, the programme of "Walking Across China" has just started and it will move toward more well-known mountains and rivers, taking art as its bridge to promote landscapes in China and spread the Chinese culture to the world.
Related posts: