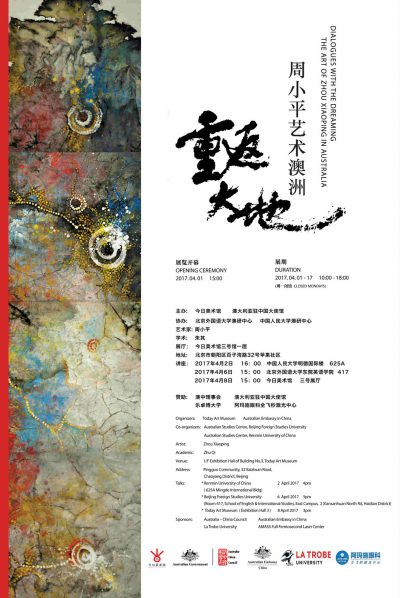 The Australian Embassy in China is pleased to support Dialogues with the Dreaming, the first major survey exhibition of Melbourne-based, Chinese-Australian artist Zhou Xiaoping in China. Dialogues with the Dreaming tells stories of connection between Chinese and Indigenous cultures through paintings, photographs and multimedia works spanning Zhou's three-decade long career in Australia.
Australia's Ambassador to China HE Ms Jan Adams AO PSM says, "Dialogues with the Dreaming provides audiences in China a window into the oldest living civilisation on earth, and forms a significant contribution to the growing cultural exchange between our two nations". Zhou's practice has developed through long-term collaborations with Indigenous artists in Arnhem Land and Central Australia. Having first arrived in Melbourne from Hefei, Anhui Province in 1988, Zhou has journeyed through some of Australia's remotest outback regions drawing inspiration from the landscape and cultures he encountered along the way.
Today Art Museum Director Dr Alex Gao says, "Zhou Xiaoping's artwork seamlessly integrates two seemingly unrelated cultures, and transcending time, region, race, language, explores humanity in the broader context of nature and the human endeavour of art".
Indigenous filmmaker and screen artist Curtis Taylor, who has worked with Zhou on past video projects, will travel to Beijing to participate in talks at Today Art Museum, and Rene Kulitja, whose work features in the Exhibition, will join the opening in Chengdu.
Many of Zhou's works, including those produced in collaboration with the late Ganalbingu painter Johnny Bulunbulun, explore ways in which Chinese and Indigenous origin stories cross over, the power of connection to country and historical trade links between Australia and China.
Dialogues with the Dreaming also acknowledges the formative friendship Zhou had with the late Walmajarri painter Jimmy Pike, with whom he organised the first exhibitions of Aboriginal art in China, at Jiulimi Gallery, Hefei (1996) and the National Gallery of China, Beijing (1999). Beijing audiences will be able to learn more about the story of this extraordinary artist through an edited excerpt of the 1989 documentary The Quest of Jimmy Pike, to be displayed as part of the Exhibition.
Many of these stories of cross-cultural friendship and collaboration can also be seen in Ochre and Ink (2012), the award-winning documentary telling the story of Zhou's collaboration with Indigenous artists, which will be exhibited as part of Dialogues with the Dreaming.
Dialogues with the Dreaming is presented by Today Art Museum, Beijing; Museum of Contemporary Art Chengdu and Modern Art Museum Jiangsu, Nanjing and supported by the Commonwealth through the Australia-China Council of the Department of Foreign Affairs and Trade, the Australian Embassy in Beijing; Australian Consulate-General in Chengdu and Jiangsu Provincial Federation of Literary and Art Circles.
About the exhibition
Dialogues with the Dreaming
1-17 April 2017
1st Floor Exhibition Hall, Building 3
Today Art Museum
Pingguo Community, 32 Baiziwan Rd, Beijing
EXHIBITION OPENING
1 April 2017, 3:00pm
MEDIA PREVIEW
1 April 2017, 2:15pm
RSVP required: Xiaojiao.Li@dfat.gov.au
PUBLIC PROGRAMS
Talk with artist Zhou Xiaoping & Indigenous Australian filmmaker Curtis Taylor
Renmin University of China
Sunday 2 April 2017, 4pm
625 A Mingde International Building
Talk with artist Zhou Xiaoping
Thursday 6 April 2017, 4pm
Beijing Foreign Studies University
Room 417, School of English and International Studies, East Campus
Exhibition floor talk with artist Zhou Xiaoping
Saturday 8 April 2017, 3pm
Today Art Museum
Exhibition Hall 3
RSVPs not required
For further information please contact Joanna Bayndrian T: +86 10 51404297 M: +86 13910822594 or E: Joanna.Bayndrian@dfat.gov.au (English)/Li Xiaojiao T: +86 10 51404395 M: +86 13810489563 E: Xiaojiao.Li@dfat.gov.au (Chinese).
Related posts: