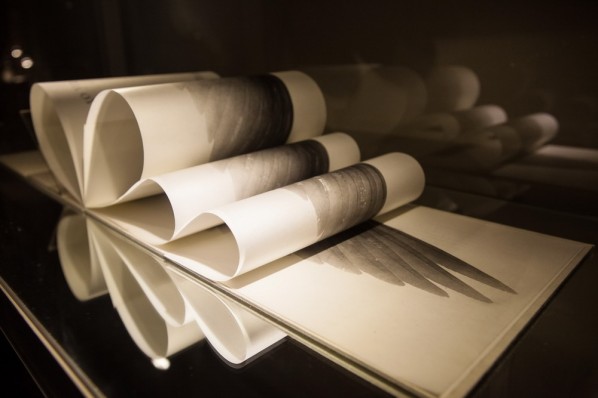 DIAMOND LEAVES: Artist Books from around the World was inaugurated on the afternoon of September 18th on the second floor of CAFA Art Museum. A successful collaboration between the Brooklyn Artists Alliance and the Central Academy of Fine Arts Museum in Beijing, the exhibition is curated by Xu Bing, a renowned artist and Vice-President of the Central Academy of Fine Arts, and Marshall Weber, an interdisciplinary artist and Directing Curator of Brooklyn; it is the first major museum exhibition of contemporary international Artist Books in China.
A decade in the making, the DIAMOND LEAVES exhibition showcases over 200 masterpieces of the Artist Book form created by more than 100 visual artists, some well known and some emerging, who approach the creation of Artist Books as an interdisciplinary and multi-media practice. Using collage, drawing, painting, photography, printmaking, and digital and social media, artists are creating books that provide us with complicated aesthetic experiences and push the boundaries of book design far beyond the limits of the conventional book's form. Just as photography liberated painting from its documentary function late in the 19th century, digital media has liberated the book from the burden of operating as a vehicle for text and data, spurring the renaissance of creative bookmaking celebrated by this exhibition.
Focusing on books created in the 21st century, the exhibit demonstrates how an Artist Book can function as both fine art and as an experimental laboratory for global visual language development. The exhibition consists of conceptually, materially and structurally ambitious hand-bound hardcover Artist Books published in limited editions of less than 100. Another component of the exhibit features a reconstruction of a Brooklyn-style bookstore of inexpensive, image-based, paperback, populist, intimate, and artist-produced Zines and comic books published in editions of over 100. Other exhibits components contain examples of the early 20th century Soviet constructivist books that revolutionized book and typography design, and a small exquisite selection of antique European and Asian illustrated books that show the trajectory from older book forms to contemporary Artist Books.
Photo by Hu Zhiheng/ CAFA ART INFO
Pan Gongkai addressed to the audience at the very beginning of the opening ceremony, "These artist books with historic significance and innovative spirit, will lead us into the historical context of this vibrant art, to expand an unusual visual review. We hope to bring you the great potential of artist book as a new type of contemporary artistic creation."
Xu Bing chaired the opening ceremony and he expressed that as the digital readings rapidly replaced printed media in recent years, "the artist book consequently plays the role of maintaining the cultural dignity of books other than the function of reading. Thus it gained a corresponding opportunity for development as an electronic book. In fact, today is an era experiencing the transformation of "reading materials," an era that books will finally be transformed into 'art' or 'symbol of art.'"
Similarly, Marshall Weber expressed his confidence in the future of Artists Books, "They are the design laboratories of 21th Century. They are open fields for play and exploration. New subject matter and new materials and technologies grow like succulent weeds in artists' studios and small presses around the world. The possibilities of interaction between the material book and the e-book and all the other "multi-platform" manifestations of digital technology are just starting to be explored. At this dynamic point in time the Artists Books have been revitalized as a chimera of visual art and literary media; its future potential appears to be unlimited."
John Koh, Chairman of Bernard Quaritch Limited who has supplied selfless support to the exhibition The Start of a Long Journey: The Excellent Graduation Works (2009-2011) in London again takes part in the DIAMOND LEAVES. He believes that "from the earliest days of printing, the twin focus of production for instruction and beauty are very much in evidence, a situation that continues to be the case even in modern times."
Jiang Xun, Director of Wen Jin Engraving Printing Museum interpreted "book scent" at the press conference as a phrase that has become an elegant way to describe a scholar's or a scholarly family's distinguished tradition. In an era that emphasized reading as the primary important scholarly pursuit, the ancient Chinese scholars, under the influences of Confucianism, Taoism and Buddhism, favored the artistic conception of reading, and even raised the status of reading up to the level of philosophical practice. Burning incense, pouring tea, sitting up and reading were considered as the most superior state, while the highest state of reading is: working with courageous men and reading word-free books.
FEATURED ARTISTS
Ryoko Adachi, John Cage, Chuck Close, Marcel DuChamp, Colette Fu, Guo Hongwei, Roy Lichtenstein, Vladimir Mayakovsky, Robert Motherwell, Méret Oppenheim, Raymond Pettibon, Aleksandr Rodchenko, Dieter Roth, Ed Ruscha, Veronika Schäpers, Kiki Smith, Sarah Sze, Jean Tinguely, Xu Bing, Chen Qi and over 100 other artists.
CATALOG
An accompanying full-color catalog published by ARTRON features essays by Mark Dimunation, Chief of the Rare Book and Special Collections Division of the Library of Congress; David Senior, Librarian and Bibliographer at the Museum of Modern Art, NYC, as well as both of the exhibition's curators.
DIAMOND LEAVES is sponsored by Artron Enterprises (Group) Limited, with support from the Wen Jin Engraving Printing Museum and generous loans of works from the Special Collections Division, Newark Public Library, Newark, New Jersey; John Koh of Bernard Quaritch Ltd., London, England; the Long Island University Brooklyn Campus Library Artist Books Collection; Stephen J. Beyer; the Brodsky Center for Innovative Editions at Rutgers, The State University of New Jersey; and and Wen Jin Engraving Printing Museum, Beijing, China.
Duration: September 18th—October 28th, 2012
Venue: Central Academy of Fine Arts Museum (CAFAM)
Address: No.8 Hua Jia Di Nan St., Chao Yang District, Beijing, China
For further information, please visit www.cafamuseum.org/en/ or www.booklyn.org.
Related posts: