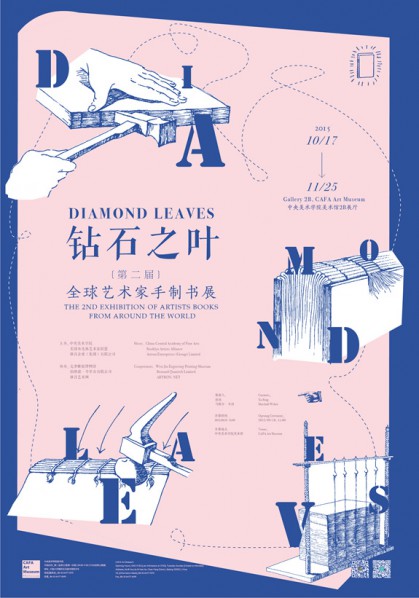 "Diamond Leaves" was initiated by Xu Bing, the first session was shown at CAFA Art Museum in September of 2012, and the exhibition was divided into one thematic exhibition, two special exhibitions and a peripheral exhibition. The first show allowed the art circles and the public in China to realize the comprehensive art media "artist book" as it has been developing around the world, and it also laid the foundation for a developed brand. The second exhibition is oriented towards artists in Asia, and Xu Bing said at the conference that, it hoped to gain back the Chinese cultural traits in the fields of papermaking, movable-type printing which had made great achievements since ancient times, while it also hoped that Chinese artists could consciously bring the national cultural identity into the production of an artist book, in order to make up the regret for only a few Chinese artists participating in the first exhibition of "Diamond Leaves".
"Diamond Leaves –The Second Exhibition of Artist Books from around the World" will be launched in October this year jointly curated by Xu Bing and John Koh (book collector, director of Bernard Quaritch, Ltd.) and it will continue as a triennial production. In addition to continuing the essential global thematic shows during the first term, it also calls for entries from Asia. Ultimately, the expert review panel will select 50 outstanding works for the Diamond Leaves exhibition.
Artist book
The Artist book is an artistic "leafing through" publication that uses this format as a means of engagement between reader and artist. It features the artist in, on and of a "book space," and the form freely transforms and integrates literal reading, visual enjoyment and the material. Artists working in this form make full use of the qualities of text, of poetry and painting, of material choices like the feel of paper or ink. These books are made by artists who personally type set, paint, print and bind their works. This kind of art truly represents our persistent love for reading, printing and the scent of ink, and creates a wonderful and attractive space between the pages we leaf through in reading artists' books.
Abstracted from the preface of the exhibition of "Diamond Leaves"
Awards:
I 50 outstanding works of all contributors' work are selected to attend the 2nd "Diamond Leaves"
II Among the all the exhibits (including the invitational exhibition section), 1 Lifetime Achievement Prize, 1 Gold Prize, 2 Silver Prize, 3 Bronze Prize
III The exhibition will publish a Chinese-English bilingual catalogue, and organize the related touring exhibition
About the exhibition
Exhibition Dates: October 17 (Saturday)—November 25 (Wednesday), 2015
Exhibition Venue: 2B Gallery, CAFA Art Museum
Opening Time: 3:00 p.m., October 23 (Friday), 2015
Opening Venue: The First Floor, CAFA Art Museum
Curators: Xu Bing, Chris Wainwright
Adviser: John Koh
Assistant Curator: Gao Gao
Organized by Central Academy of Fine Arts, China / Chelsea College of Arts, University of the Arts, London
Presented by CAFA Art Museum
Exclusive Support: Artron Art Group
Acknowledgement: FINESTRA ITALIANA
Courtesy of CAFA Art Museum, partially translated by Chen Peihua and edited by Sue/CAFA ART INFO
Related posts: