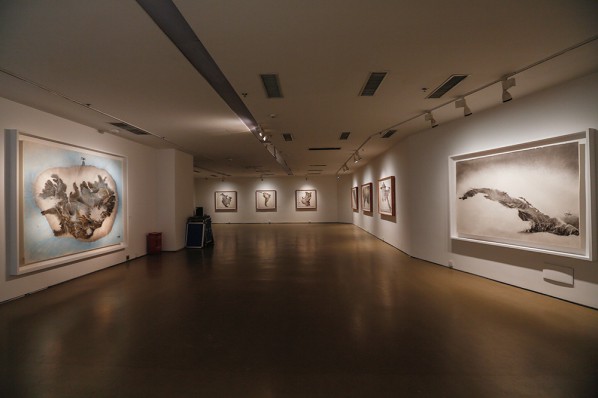 On the afternoon of April 26, 2014, "Post-Landscape Iconography Research"– Ding Bin and His Cartography was unveiled at the Today Art Museum. The exhibition academic director Yin Jinan, curator Wu Hongliang, and well-known artist Xu Bing attended the opening ceremony. The exhibition showcases artist Ding Bin's new works as created in recent years, these works present the new formal language of "landscape iconography" created in a contemporary context from a new angle, leading to the thought of iconography itself from the artistic conception of brush and ink of the traditional ink painting.
At the opening ceremony, Yin Jinan, Wu Hongliang, Xu Bing and artist Ding Bin gave a brief speech. Xu Bing said traditional Chinese landscape painting was now very mature, and presented the stylized and symbolic, thus it seemed naïve and immature for the descendants to try to explore it with new ink, so we are facing many challenges, but Ding Bin considered the tradition in his detailed creation. Curator Wu Hongliang believed that Ding Bin's creation made the rational world sentimental. But Ding Bin said that, he used the simplest way to express the issues of painting. Yin Jinan said "post-landscape iconography" was the main direction of his research in recent years, and Ding Bin was an artistic practice case of the "post-landscape" theoretical system.
Ding Bin was born in Beijing in 1960, graduated from the Department of Chinese Painting, CAFA, after graduation he held a dual exhibition together with his friend in 1985, which was called the earliest self planned and organized exhibition in Beijing after the reform and opening up. Over the years, Ding Bin continued to experiment and explored the development of the form in Chinese ink painting. Among, the series of "Map" breaks the traditional thinking of composition by using the perspective of vertically looking down. It uses the pictures taken by satellites, planes and other visionary aircraft, capturing the motif and compositions on the surface of the earth from a long distance, the schemes are more formalised, and the ravines and landforms are transformed into the texture and form of painting. This way breaks the aesthetic modelling tradition of landscape painting, and forms a new kind of visual pattern in ink landscape.
Exhibition Preface (by Yin Jinan)
Strictly speaking, post-landscape paintings should not be considered as paintings, but as iconography. It is no longer the traditional landscape painting per se, rather, it rejects its former definition. Ink and brush are central to traditional landscape painting imagery, executed through the artist's spirit. In other words, it uses ink to express the values of the literati. Post-shanshui iconography has not only stopped carrying forth the values of the literati, it has also deconstructed ink painting. In recent years, there are those who have already begun to experiment in this field in China. In 2011, a contemporary Chinese art exhibition, Shanshui was held at the Lucerne Art Museum in Switzerland, and some of the artworks in this exhibition are considered as "post-landscape iconography". Today, Ding Bin has provided us with new examples of such artistic practice.
This exhibition marks Ding Bin's first formal solo exhibition. He studied under Jia Youfu in his earlier years, on classical landscape painting and ink painting of the new China, and was peer of Chen Pingwei, a representative painter of the "New Literati paintings" at the Chinese Painting Department of the Central Academy of Fine Art. Ding has created a large number of works on monochromatic landscape paintings. In recent years he became infatuated with experimenting cartography through ink painting. He has thus departed from traditional painting methods, and boldly adopts the overlooking perspective perpendicular to the image. In sum, his artworks are angles to cartography and representations of ink painting.
Ding Bin's artworks are created through production methods, rather than the traditional writing and brushstrokes. Thus Ding Bin's works are iconographies rather than landscape paintings per se. It rejects both the traditional landscapes painting and landscape painting in general, thus I define it as "post-shanshui iconography". However compare to images of the landscape rendered through photography or mixed media, Ding Bin has not abandoned the material of traditional ink painting – paper and ink. He is an artist who produces the image of mountains and rivers with ink painting materials, which constitutes the significant attributes of his works. Due to the artist's familiarity of TV expressions, his works have appropriated the panoramic overview and certain methods of montage that also bring a sense of novelty to his works.
About the exhibition
Duration: April 26 – May 6, 2014
Venue: Today Art Museum – 1st floor exhibition hall of Building No.3
Opening: April 26, 2014 15:00
Gallery Opening Hours: 10:00-18:00, Closed on Tuesday
Tel: 010-58760600
Add: Pingod community, No.32 Baiziwan Road, Chaoyang District, Beijing
Courtesy of the artist and Today Art Museum, partially translated by Chen Peihua and edited by Sue/CAFA ART INFO.
Related posts: