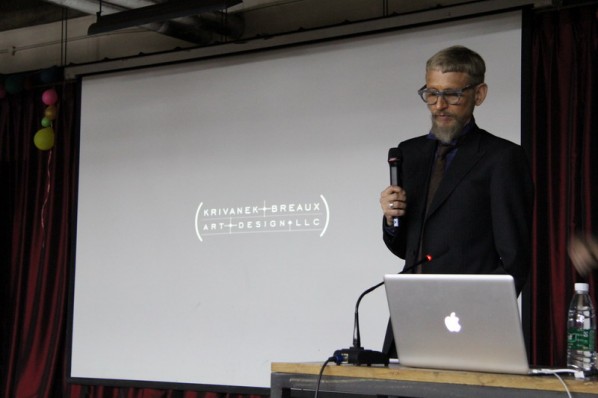 "Discovery of the Social Landscape" Lecture by Prof. BJ Krivanek from the School of the Art Institute of Chicago was held in the large amphitheater classroom of the School of Urban Design, CAFA, at 18:30, on April 1, 2013.
At the beginning of the lecture, Wang Zhong, Associate Dean of the School of Urban Design, offered a brief introduction to Prof. BJ Krivanek, as a tenured professor of the School of the Art Institute of Chicago, BJ has been involved in a lot of artistic practices such as public art, visual communication. Many of his public art projects may only last one or two weeks, or are the public art events of the character of a temporary performance, but very interesting.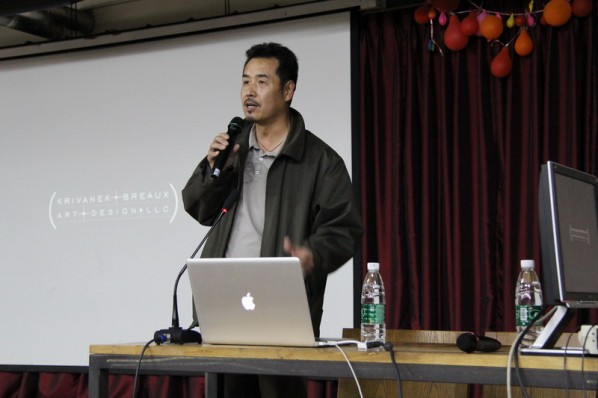 BJ said that along with his partners he had been trying to create conversions: activation of the space and community with permanent facilities, through a temporary project, such as performance events, and temporary buildings. They often used a metaphor structure to perform art and design, also using a lot of low-tech material media in the architectural space. His works often develop on a basic building structure, and integrate with the history and story of the community. The subject of discovery of the social landscape includes two meanings: firstly, discovery of the local culture; secondly, the derivative, to bury "thought bombs" in the community. He believed that public art was an interaction, integrating the lost language and memory through technical language and technology. He called himself a design artist, and he believed that there must be a revolutionary process, that plays a role in society.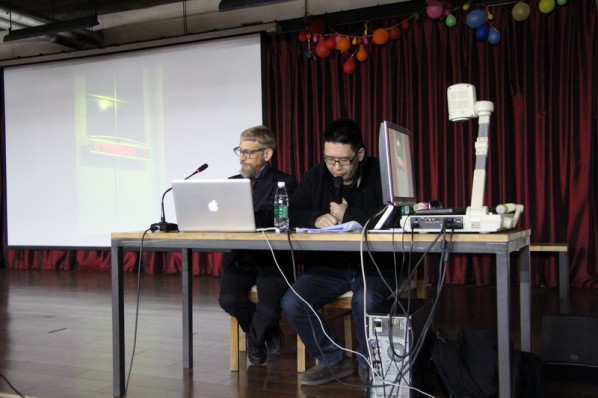 BJ said the text and inscriptions throughout history were important parts of the communication. Our public space is often filled with a variety of writing systems: mobile phones, computers, LED screens, cartoons, records, and so on. Science was destroying the historic urban structures with the use of text.
Afterwards BJ talked about the public art practice, his first public art project was a federal rescue plan. A collection of the voices of the homeless, made as an open structure of language. The homeless thus had a dialogue and exchange with the public, promotion of the voice of democracy, transforming the democratic voices into a monument with the use of scientific and technological means.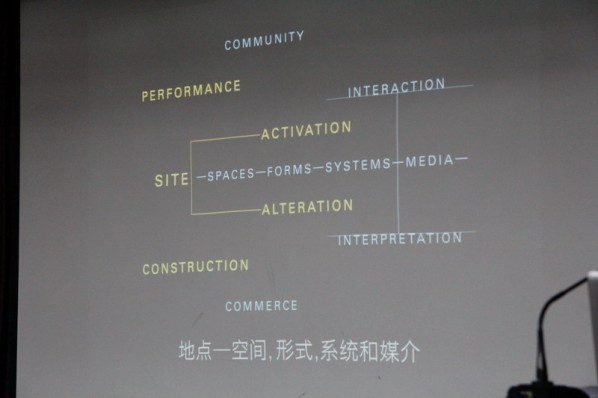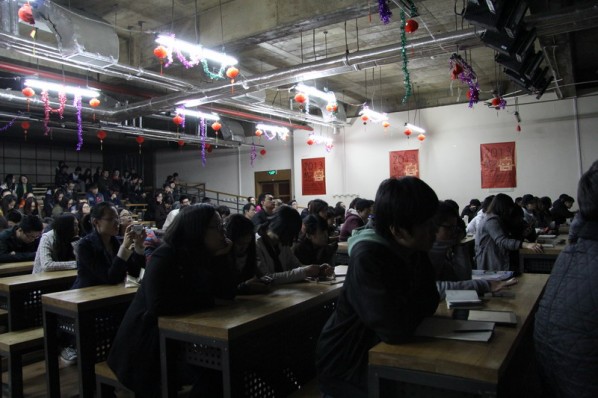 Later, BJ introduced mother river projects, in Los Angeles etc., as well as the finished projects that are rooted in local culture and in cooperation with the community. He said, in fact, during the design, rather than design, they were bargaining with the partners. Finally, he said, they believed that the public art design could clarify and deepen again the lost history and language of the city.
The lecture also enlightened the present students, who asked BJ a lot of questions about the vocabulary of artistic expression, American policy of public art, and application process for overseas study, and BJ patiently and sincerely answered their questions.
Text and image by Journalist Wang Haochen, translated by Chen Peihua/CAFA ART INFO
Related posts: