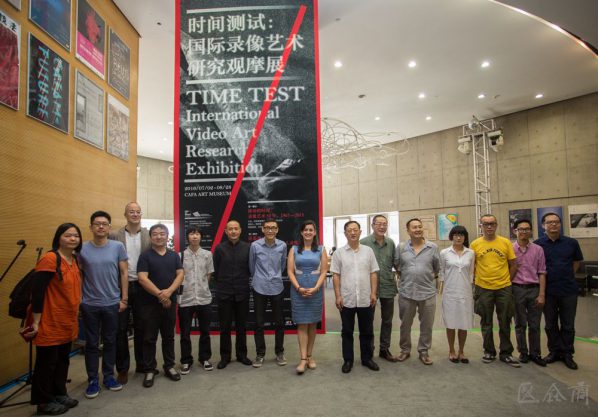 At 2:30 pm on July 2, 2016, Time Test – International Video Art Research Exhibition was unveiled at CAFA Art Museum. The exhibition is jointly hosted by Eli and Edythe Broad Art Museum at Michigan State University East Lansing, Michigan, U.S.A. and CAFA Art Museum, in the axis of the development course of the video art, the project presents more than 60 domestic and foreign artists with two collateral exhibitions echoing each other. The "Moving Time: Video Art at 50, 1965-2015" presents the greatly significant artworks of the last 50 years of Western video art development. "Screen Test: Chinese Video Art since the 1980s" focuses on organizing and reviewing the last thirty years of video art through representative Chinese voices through active moving image art.
In recent years, large-scale exhibitions on academic study, an historical overview, and specialized exhibition of video art have been held in both Western and non-Western countries. ZKM's 2006 exhibition entitled "Video Art in Germany From 1963 to the Present" is just one important example. The recent interest in the medium is intimately related to the development of contemporary art overall. On the one hand, the structure of contemporary art today is moving toward homogenization and focusing on mutually influential and related global events; On the other hand, in the course of rapid globalization, the art of non-Western countries is urgently searching for new ways of reconstructing and writing its own history. The study of video art, or to use the recently popular term "moving image," is still concentrated in core countries in Europe and America that are considered the source of modern art and its development, but the influence of this artistic form has increased in the Chinese-speaking world.
In the opening ceremony, Director of CAFA Art Museum Wang Huangsheng, curator Caitlín Doherty, curator Dong Bingfeng, and artist Song Dong respectively gave a speech. Wang Huangsheng said that since video art started in the 1950s and 1960s, it has positioned itself as the challenger criticizing thefilm industry and television culture, and the exhibition was thorough in selecting the node and representative artists, and then outlined the global development of video art. Curator Caitlín Doherty said that, the art had the ability to break the boundaries created by ideological and cultural differences, while the Western and Chinese cooperative mode of the exhibition itself was of globalization and integrative significance. Dong Bingfeng is the curator of "Screen Test: Chinese Video Art since the 1980s", he pointed out that: at present, Chinese video art is currently facing the fact that insufficient material and documentation had been collected and this exhibition aims at presenting comprehensive and integral elements into Chinese video art. The artist Song Dong was thorough in recalling his first video creation when talking about the popularization of video production in the current times of mobile phone usage. Through the exhibition itself, it was able to better present how the artists from different countries and cultural backgrounds understand and see the world through the medium of video.
"Moving Time: Video Art at 50, 1965-2015"
"Moving Time: Video Art at 50, 1965-2015" traces the impact various artists have had on the art form—from its birth in the 1960s with artists Andy Warhol and Nam June Paik, to the performance work of influential women artists such as Joan Jonas or the lesser-known works of international emerging artists which continue to push the medium forward today. The exhibition is one of the final shows envisioned by Broad MSU Founding Director Michael Rush prior to his passing earlier this year, and is curated by Caitlín Doherty, Broad MSU Curator and Deputy Director of Curatorial Affairs.
Video technology—once dominated solely by the film and television industry—first became accessible to visual artists in the mid-20th century, in the form of more affordable and easy-to-use portable devices. In just 50 years, the medium has been leveraged by artists across the globe to blur the boundaries between traditional artistic practices and inventive new methods of storytelling. "Moving Time" will ask visitors to both contemplate the progression of video art over time and simultaneously put works from various time periods in dialogue with one another. It will also feature five works from emerging, international contemporary video artists—including Sam Jury, Michelle Handelman, and Weng Yunpang. Each artist showcases his or her work alongside one "historic" work they cite as having been of particular influence to them during the course of their career.
"Screen Test: Chinese Video Art since the 1980s"
As a part of CAFA Art Museum's "Time Test: International Video Art" exhibition, "Screen Test: Chinese Video Art since the 1980s" focuses on organizing and reviewing the last thirty years of video art through representative Chinese voices that are active in moving image art. Within the title "Screen Test," the "screen" refers to the framed vehicle for the projection and presentation of the moving image, while "test" refers to the practice and manifestation of the medium in the multiple spaces in which art museums hold public education and discussion events. This concept attempts to break away from narrow understandings of video art and the excessive focus on the form, technique, and development of the medium. Instead, this art form is re-examined with the context of the art museum and broader public places, which also allows for the investigation of the closely-related media of documentaries, film and new media art, proposing a renewal of artistic ideas and posing a challenge to the sites of culture.
"Screen Test: Chinese Video Art Since the 1980s" is divided into three sections. The first section, entitled "The Infancy of Video Art," introduces the occurrence of video art in greater China and how it became an independent artistic medium and cultural theme. Participating artists include Zhang Peili, Wang Gongxin, Song Dong, Xu Tan, Xu Zhen, Li Yongbin, Wang Jianwei, Wang Jun-Jieh, Yuan Goang-Ming. In the second section, entitled "Media Experiment," video art developed in 1990s with the spread of personal computers and new media technology and the rise of the independent film movement and experimental films. Video art became an expanding aesthetic experiment and a radical transformation. Artists include Feng Mengbo, Jiao Yingqi, Qiu Zhijie, Cao Kai, Lin Ke, Cao Fei, Lu Yang, and Miao Ying. The third section, entitled "Transition to Film," encompasses films shot by artists or spatial film installations produced by film directors; both are becoming increasingly important themes in the moving image art of today. Film has become more than a medium of contemporary art; it is an important tool and methodology for witnessing, recording, participating, and acting in society. Participating artists include Jia Zhangke, Yang Fudong, Wang Bing, Ming Wong, Zhou Xiaohu, Mao Chenyu, Chen Chieh-jen, Cheng Ran, Hsu Che-Yu.
In addition, the Exhibition also includes the special unit of Hong Kong video art "Simultaneity – Reframing Hong Kong I". This is a program that proposes (historical) re-readings of artists' moving images from Hong Kong. By selecting video works of art, animation and documentary films produced by Hong Kong artists from 1989 to 2014, the program will reinterpret the experience of here and now by looking into the potentially excluded and forgotten images of Hong Kong. Participating Artists include Ellen Pau, Man Ching Ying Phoebe, Angela Su, May Fung, Jo Law, Choi Sai Ho, Lai Chiu-han Linda, Chan Chui Hing Nose, Chow Chun Fai, Mak Hoi Shan Anson, Silas Fong, MAP Office, Law Yuk Mui, Cheng Chi Lai Howard, João Vasco Paiva, Leung Chi Wo, Eric Siu, Art Jones, Wong Ping, Morgan Wong.
About the Exhibition
Moving Time: Video Art at 50, 1965–2015
Curator: Caitlín Doherty
Curatorial Assistant: Katja Rivera
Organized by the Eli and Edythe Broad Art Museum at Michigan State University East Lansing, Michigan, U.S.A.
Participating Artists (In alphabetical order by surname):
Marina Abramović, Charles Atlas, Mark Brownlow & Ingrid Kvale & Anuschka Schofield, Valie Export, Harun Farocki, Jean-Luc Godard, Michelle Handelman, Joan Jonas, Sam Jury, Chris Marker, Anne-Marie Miéville, Nástio Mosquito, Luis Felipe Ortega, Nam June Paik, Julian Rosefeldt, Martha Rosler, Michael Snow, Steina and Woody Vasulka, Bill Viola, Andy Warhol, Weng Yunpeng
Screen Test: Chinese Video Art Since 1980s
Curators: Dong Bingfeng, Wang Chunchen
Curatorial Assistant: Yi Yue
Organized by CAFA Art Museum, Beijing, China
Participating Artists (In alphabetical order by pinyin of surname):
Cao Fei, Cao Kai, Chen Chieh-jen, Cheng Ran, Feng Mengbo, Jia Zhangke, Jiao Yingqi, Hsu Che-Yu, Li Yongbin, Lin Ke, Lu Yang, Mao Chenyu (filmfarm), Miao Ying, Qiu Zhijie, Song Dong, Wang Bing, Wang Gongxin, Wang Jianwei, Wang Jun-Jieh, Ming Wong, Xu Tan, Xu Zhen, Yang Fudong, Yuan Goang-Ming, Zhang Peili, Zhou Xiaohu.
"Special Unit: Hong King Video Art" organized by Videotage
Text by Yu Ya, translated by Chen Peihua and edited by Sue/CAFA ART INFO
Photo by Hu Sichen
Related posts: