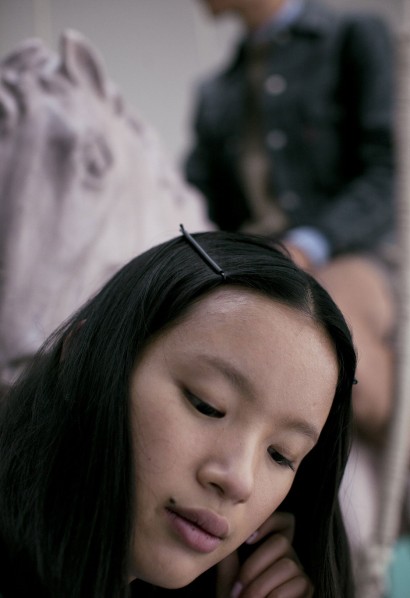 "Disruptive Desires, Tranquility and the Loss of Lucidity" is a series of multimedia works from artist Ran Huang and the title of his first solo show at Long March Space. This young artist is already known as an aggressive and progressive artist, and this exhibition comprises of his completely new works. Long March Space will also feature Ran Huang's works as an one-artist presentation at the Frieze Art Fair New York, May 2012.
Staged in the Long March Space main gallery, the exhibition Disruptive Desires, Tranquility, and the Loss of Lucidity presents a new film and various installation/sculptures that continue to respond to Ran Huang's feverish interest with the temptation and intoxication of inextricable corruption of aesthetics and morality.
The film "Disruptive Desires, Tranquility, and The Loss of Lucidity" elaborates upon the archetypal love story between two teenagers, whilst colluding with a deeply hidden ominous history underneath. The film tries to secure an ephemeral moment of beauty, while alluding to the illegibility of an experience that is solitary, brutish, nasty, short and pure. The ostensibly tranquil image of the film contradictorily involves an orgiastic approach to delirium and ecstatic perplexity. By substituting a dubious sense of romanticism for any actual image of transgression, Ran Huang urges us to communicate with the incompatibility of our aesthetically value and moral will, at the same time denying this possibility within the same system. The plausible image of beauty suited to our very taste of contemporaneity is ironically secured by the very insecurity that is denied by the aesthetical system itself.
The installation/sculpture piece "The Weakness of Will, and The Fear of Society" is a stable composition of intensely fragile materials gleaming and dizzying with gluttonies that conspire with risk and chance to indulge in the adultery between intolerable physical security and psychological insecurity. Huang's dissipation of the inherent syntax of the materials visualizes human conditions such as indifferent laughter, weakness, fear, confidence, love and will power into a cold moment of materialization.
Occupying an ever shifting and unstable ground in which we paradoxically seek permanence and stability, Ran Huang describes his work as an attempt to, "examine the point where we are voluntarily gelded by a secured experience of aesthetical insecurity. Like with religious enthusiasm, we choose to believe in some sort of aesthetical pragmatism rather than understand the inherent inadequacies and inextricability of the situation on our own. It seems that art never really cares about things around, what it really cares about is perhaps just an intoxicated feeling that comes from caring about things. "
Born in Xichang (Sichuan), China in 1982, Ran Huang has quickly established himself as a powerful young voice in the art scene in China with an impressive and critically acclaimed body of work that includes films, sculpture/installation, photographs and prints. Although Huang draws inspiration from a variety of philosophical and historical sources, his practice does not seek a promise or pretext for understanding by absorbing into any philosophical or critical thinking. Imaging the human conditions from within, his work can be a desire itself to battle with,which is replete with possibilities, but also frightening in its perishable security.
Ran Huang graduated with a first class BA Fine Art degree from Birmingham Institute of Art and Design (UK) in 2004. In 2007, after graduating from Goldsmiths College in London in 2007, Huang established his artistic practice in London where he shifted his wide-ranging practice into a more dynamic dimension, for the first time intertwining his works with the complexity of film language.
Ran Huang has participated in several international exhibitions and group shows including: the 13th Videonale, KunstMuseum, Bonn, Germany (2011), CREDIT SUISSE Today Art Award, Today Art Museum, Beijing, China (2011), Super-Organism CAFAM Biennale 2011, Central Academy of Fine Art Museum, Beijing, China (2011), Videonale Touring, GoMA Glasgow Gallery of Modern Art, Glasgow, UK (2011),Basel Film, curated by Marc Glöde, 42th Art Basel, Switzerland (2011), Beijing Voice: Together or Isolated, Pace Beijing, Beijing, China (2010), Projectables, 7th Mercosur Biennial, Museu de Arte do Rio Grande do Sul Ado Malagoli, Brazil (2009), and MOVE, Werkleitz, Halle, Germany (2009).
Opening Preview: 17:30 March 15, 2012
Dates: Mar 16, 2012–Apr 16, 2012
Venue: Long March Space
Courtesy of Huang Ran and Long March Space, for further information please visit www.longmarchspace.com
Related posts: