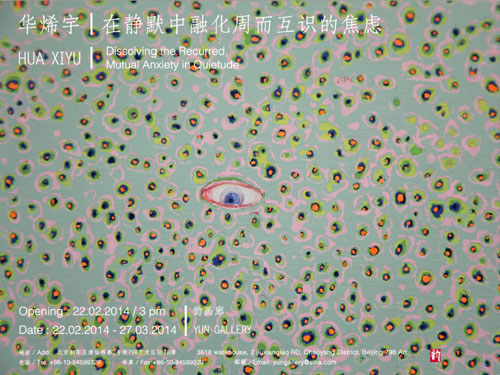 By Hua Xiyu
When there are certain changes in the environment, the adaptability of species also changes, just as the changes my life has gone through as I moved between different cities, from a life more akin to the primitive nature to a more urbanised one. In most cases, such urbanisation is a source of unrest for me, as it renders life increasingly monotonous. When human and other species are under unfavourable circumstances , the only thing they can do is to change themselves to adapt to the new environment, for example, growing longer hairs to keep themselves warm, or choosing to degenerate some body parts to make themselves comfortable. Evolution or devolution, the nature of such changes cannot be easily judged. The changes maybe just fitting to rise to the occasion, something you can hold on to at the moment. And one can only realise full potential when one feels in one's own elements.
About the artist
Hua Xiyu
1986 Born in Yunnan Lijiang China. Lives and works in Beijing.
Education
2013 Graduated from China Central Academy Of Fine Arts School of Design Visual Communication with Master Beijing China
2009 Graduated from Sichuan Fine Arts Institute, Visual Communication Department with BFA, Chongqing, China
Group Exhibitions
2013 The Start of a Long Journey 2013 CAFA, China
2013 Prix Yishu 8.Chine, China
2012 "Counterpoint" CAFA, Beijing
2012 "Brilliant Artist Books from around the World", Beijing
2012 "6 Tropical lab – land", Singapore
2010 "Little Things" Tan Ping Exhibition and students, Beijing
About the exhibition
Duration: Feb 22 – Mar 27, 2014
Venue: Yun Gallery
Opeing: Feb 22, 2014 Sat 3:00pm
Tel: 010-84599329
Add: 3818 Warehouse, 798 Art District, No. 2 Jiuxianqiao Road, Chaoyang District, Beijing
Courtesy of the artist and Yun Gallery.
Related posts: