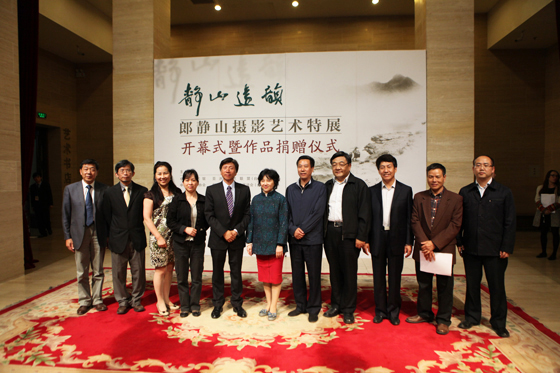 On the afternoon of October 11, 2013, "Distant Melody from Quiet Mountains – Special Exhibition of Lang Ching-shan Photography Art" presented at Hall 4, 6 in National Art Museum of China. The event is co-sponsored by the National Art Museum of China, China Photographers Association, Asian Film Art Association (Taiwan), Lang Ching-shan Institute for Developing Art and Culture (Taiwan), initially collectively features the works by Lang Ching-shan. It continues to October 30.
Lang Ching-shan was a respected leader in Chinese photography circles in the 20th Century, and had a reputation in photographic creation, education and social activities. As early as the 1920s, Lang integrated the Western photographic technology with Chinese traditional painting theory, by using alternately overlapping painting techniques and photographic darkroom exposure, to creatively develop the "Chinese Collection Photographic Art". In the 1930s, Lang was known as "Chinese First Photographer", later he was acclaimed as "The Father of Photography in Asia". It is at the 50th anniversary of the establishment of the National Art Museum of China, which launched a new collection program "Image China – 20th Century Noted Chinese Photographer", where Lang Ching-shan becomes first for all the collection exhibitions.
The exhibition is divided into three chapters, "Collection", "Humanities", "Painting Feeling", exhibiting 9 themes including Chinese mountains, people and nature, collective creativity, landscape of mainland, natives of Taiwan, photography of people, artistic breath, lines game, overlaying body shapes. "Collection" section mainly displays the creative darkroom skill "Collection Photography" by Lang Ching-shan, which uses multiple exposures that are overlapped and covered by different images, to create a relationship of the virtual and reality between the subject images and background. In the "Humanities" section, it is composed of two themes, including "Landscape of Mainland", and "Natives of Taiwan", while they belong to Lang Ching-shan's documentary photography series. "Painting Feeling" takes up a large number of works, and is divided into four themes including "Photography of People", "Artistic Breath", "Lines Game", "Overlaying Body Shapes", covering a large number of photography of people, as well as photography of mixed media creation with the use of lines, wigs, cottons, brushes and so on. In which "China" the most important work of photography in the history of China was transformed into a dynamic presentation of new media. In addition, it presents some precious documents and real items, all-round displaying Lang Ching-shan's photographic art.
In the opening ceremony, Lang Yuwen, daughter of Lang Ching-shan donated 134 works of photography by Lang to the nation, to the collection of the National Art Museum of China. They included 34 pieces of original works and 100 pieces of digital original. The 134 works fill with the empty space of the national collection of fine art.
During the opening of the exhibition, "Distant Melody from Quiet Mountains – Academic Discussion of Lang Ching-shan Photography Art" was held at the National Art Museum of China. Photographic scholars from the cross-strait had an academic discussion on Lang's photography art, discussing together the developing history of Chinese photography in the 20th century.
Journalist: Ye Yuanfeng, translated by Chen Peihua and edited by Sue/CAFA ART INFO
Related posts: