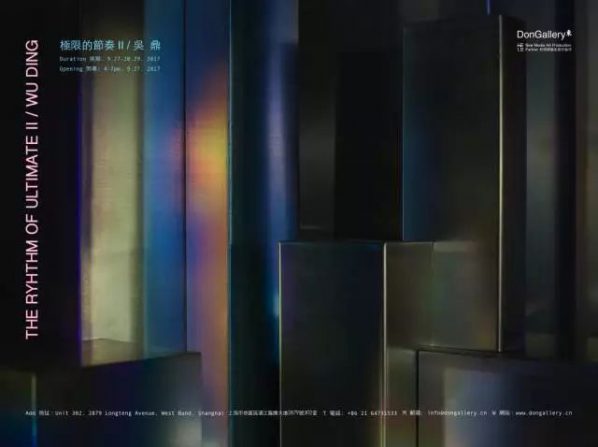 On Wednesday, 27 September 2017, Don Gallery will present "The Rhythm of Ultimate II" by Wu Ding, to introduce his recent practice of photography, video, sound, diagrammatic and textual works.
"The Rhythm of Ultimate" is underpinned by Wu's continuing interest in logging and monitoring a history of the standardization of perception developed for "optimal viewing" in today's visual culture. The notion of "ultimate" first projects a space curated by a collaborative action that delves into one's obedience to the order existing in the process of modularization during the dadaist era, while "rhythm" is designed to give a particular form to the state of purity that renders alluring danger and compulsion to its social architecture. Before, the preface of "The Rhythm of Ultimate" was revealed by L-Art Gallery in Chengdu (2016) and its first chapter was on show at Shanghai Minsheng Art Museum (2016).
In "The Rhythm of Ultimate II," Wu constitutes a narrative perspective to offer an inventive examination of the architectural significance of "ultimate" through a series of specific descriptions about stark buildings and interior rooms over those messy, labored and occupied one. But the fact is: such photogenic empty is delivered by a janitorial subject – a custodian cleaner or caretaker, who might act as a protagonist in the immersive environment of the exhibition, embracing the sterilized container of the gallery space to evoke an empathetic response to the modernized white-cube aesthetics. The fictional character plays a crucial role in the production and endurance of the exhibition, yet not equal to the artist himself. As a metaphor, it rather speaks to the relationship between an artist and the entire body of art by saying that the instrument of "ultimate" power is maintained and operated by the personnel. In this vein, what is the difference between a maintainer and an operator that attends to its "rhythm"?
About the exhibition
Dates: Sep 27, 2017 – Oct 29, 2017
Opening: Sep 27, 2017, 16:00, Wednesday
Venue: Don Gallery
Courtesy of the artist and Don Gallery, for further information please visit www.dongallery.cn.
Related posts: