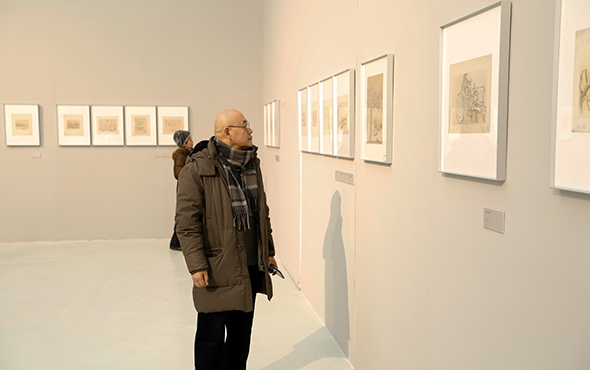 At 2:00 pm on January 23, 2018, "Is It Simply Sketching? – A Case Study of Ye Qianyu Part I" opened in gallery B on the 3rd floor of CAFA Art Museum. It is a part of the "Hundred Years of Glory CAFA·Masters", and it was chosen to receive financial support from the Ministry of Culture's "2017 National Art Museum Young Curators Support Plan". Ye Qianyu was a famous artist and art educator, whose achievements were reflected in many aspects, especially in comics, Chinese paintings and sketches. In this exhibition, it selects nearly 180 works to present the essence of Ye Qianyu's sketches, offering opportunities to the audience to re-understand Ye Qianyu's artistic ideas and artistic contributions. At the same time, the exhibition is unfolded through a seriies of questions, combined with the social, personal and artistic levels leading to a discussion, taking a new curatorial concept and way of research, to bring the audience different feelings and thinking.
Born in Tonglu, Zhejiang Province, Ye Qianyu (1907-1995) was a renowned artist and art educator at home and abroad. Affected by the family and folk art, he had a love for painting from childhood. Ye paid attention to the times and national destiny and life throughout his life, and drew these topics on paper. He gained fabulous achievements especially in comic art, Chinese painting and sketching. He was the forerunner of the modern Chinese comic. From 1927 to 1937, he was known for the comic serial entitled "Mr. Wang". Starting from the 1940s, he used Chinese traditional ink painting to create figure paintings, and he was well-known for creating figures dancing, which created a new realm, giving contributions to the innovation of Chinese painting. Sketching has run through almost all his life. It is both suitable for his creation and creating his own style, vividly expressing a fresh life.
The True "Master of Sketching"
In the bright exhibition space on the third floor of the CAFA Art Museum, some dark purple pink exhibition walls are well-spaced, to present a relaxed and quiet atmosphere for the exhibition. The opening ceremony of the exhibition was held at 2:00 pm, and Zhang Zikang, Director of the CAFA Art Museum, Prof. Chen Ping, Dean of the School of Chinese Painting, CAFA, Prof. Yin Shuangxi, from CAFA and Editor-in-Chief of "Art Research", Prof. Lou Jiaben, from CAFA, Ye Mingming, a representative of Ye Qianyu's family and his daughter, Jin Zhengping, his son-in-law, Li Wei, the young curator of the exhibition, etc., and the opening ceremony was hosted by Gao Gao, Assistant to the Director of the CAFA Art Museum, Head of the Curatorial Department.
Director Zhang Zikang gave a brief introduction to the exhibition, and said that "It is a display of sketching, and it is not easy for the curator to choose the works from nearly 6,000 works. Rather than the regular ways of presentation such as sorting works relying on time periods or art categories, it starts from questions and is then divided into 5 parts, asking questions at different levels, fully demonstrating Ye Qianyu's essence in sketches."
After Ye Qianyu was invited by Xu Beihong to teach in the National Beiping Art School in 1947, he remained there as a teacher for dozens of years. He was both a famous painter and art educator, with many outstanding students. Sketching is not only a creative material and an independent artform for him, after many explorations, he made full use of sketches and created a modern Chinese painting teaching system, that is the integration of "tradition, life and creation" and a modern Chinese painting teaching system with the integration of "copy, sketch and creation", which has a significant impact on the Chinese painting teaching system of CAFA. And then, Prof. Chen Ping shared the story of Ye Qianyu who laid the foundation of the teaching of the School of Chinese Painting, he said that Ye always gave the students an idea that "​creation should serve the people and society", which was still the important teaching philosophy of the School of Chinese Painting, while it also advocated students to develop the ability in independent thinking. Prof. Lou Jiaben delivered a speech and also encouraged young artists to put down the camera, practicing with the mind and hands, deepening their social observation, using their eyes to see, using their hands to draw and using minds to think.
Prof. Yin Shuangxi started with the story of when he happened to meet Ye Qianyu once in the canteen, and shared with people how to use this exhibition and sketches to understand Ye Qianyu, entering the artist's mind and art, then expounding the significance of sketch. Ye Mingming, a representative of Ye Qianyu's family and his daughter, brought two private collections of paintings, including the first Ye Qianyu's Sketches published in 1936, and the last few sketches which were finished in 1995, and the audience was touched by the affectionate communication. As Ye Mingming said, "Sketching is a creative way of connecting hands, minds and brains, which is impartible. My father had created more than 25,000 pieces. In the words of President Fan Di'an, he was a true 'master of sketching' and this spirit of art & the willpower of perseverance is worth learning."
It Is Not Simply Sketching
The main theme of the exhibition "Is It Simply Sketching?" is presented through questioning, which is very special. The exhibition is unfolded from the perspective of drawing the spirit, used as the clue, regarding time as the reference and comparing it with others. It is divided into five parts: original formation of sketching, social observation, showing special preferences, space for writing, forgetting the means by which the end is attained. It also creates an invisible interaction with audiences through questioning in each part, for example, what is the style of sketching of Ye Qianyu, from the first comics to comic sketches and then to the traditional Chinese painting? Whether people or things in life have any intrinsic influence on Ye Qianuyu's artistic thinking along with the change of social environment and ideological trends? Dance is Ye Qianju's favorite theme, how did he use and develop his own language to represent figures dancing and creating a new realm in Chinese painting? Through this way of questioning, the exhibition is categorized and sorted to present Ye Qianyu's paintings.
When the young curator Li Wei was interviewed by CAFA ART INFO, she told us some thoughts on the exhibition. She said that, as we expected, this exhibition put forward a series of questions in order to give everyone a different experience of viewing the exhibition. Mr. Ye always carried sketch books and paper during his life, using a large number of observations and ways of quickly recording to showcase his emotions of life, by a relaxed and refined way to capture the social outlooks, figures & stories, outlining rich content that is difficult to be summarized by using an exact answer, where each viewer can read different emotions and different artistic concepts.
The five parts display the sketches of different periods of Mr. Ye, combined with the related articles by Ye Qianyu, art chronology, theory of sketching, and life experiences, sorting internal and external causes in the evolution of style, to multi-dimensionally showcase how Ye Qianyu did use his way of "seeing, remembering and thinking" to constantly explore and develop the artistic practice, creating an unique style, laying the position of a master of sketching, when he faced different artistic conceptions and social environment.
"Is It Simply Sketching? – A Case Study of Ye Qianyu Part I" is held to coincide with the 110th anniversary of Ye Qianyu's birthday, but the exhibition is not only to commemorate it but it also hopes to explore spirit of Ye Qianyu to think of more possibilities for art, which has implications for the present time. It remains on view till February 25.
Text edited by Zhang Yizhi, translated by Chen Peihua and edited by Sue/CAFA ART INFO
Photo by Li Biao from CAFA Art Museum (images of the works courtesy of CAFA Art Museum)
Related posts: