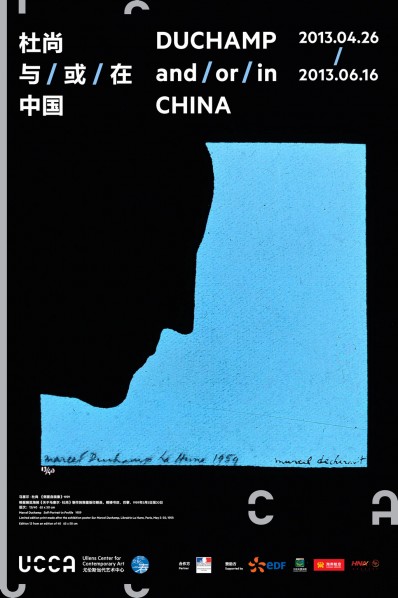 The Ullens Center for Contemporary Art is proud to present DUCHAMP and/or/in CHINA, an exhibition featuring works by Marcel Duchamp and Chinese artists influenced by his work. The exhibition centers on Duchamp's Boîte-en-valise, a "portable museum" consisting of miniature reproductions of his key works, shown for the first time in Beijing. Literally translated "box in a suitcase" this work serves as a centerpiece for the exhibition, with additional context provided by related Duchamp works and works by Chinese artists. Taking its title from the subtitle of the boîte-en-valise itself ("by or of Marcel Duchamp or RroseSelavy"), this exhibition is both the most comprehensive exhibition of Duchamp's work yet mounted in China, and an investigation into Duchamp's lingering influence on the development of contemporary art in China.
While the Boîte-en-valise will take center stage in the UCCA Long Gallery, it will be flanked by 30 other works by Duchamp, as well as works by more than 15 Chinese artists including Huang Yong Ping, Wu Shanzhuan, Wang Luyan, Song Dong, Lee Kit, and Ai Weiwei. The exhibition is curated by Francis Naumann and John Tancock, two New York-based scholar-curators who together have a deep knowledge of Duchamp and a strong understanding of contemporary Chinese art. On the selection of artists for the exhibition, Tancock notes that the artists featured are those who have "clearly demonstrated their interest in Duchamp or whose work seems to be in fundamental sympathy with his aims and methods". Duchamp'slegacy is so various and far-reaching it would be impossible to provide a complete survey of his impact on Chinese art. This exhibition seeks to shedlight on the ways in which some of the questions raised by Duchamp's work and central to the very ideas of modernity and conceptual art have travelled and been translated through the 20th and 21st centuries.
DUCHAMP and/or/in CHINA is presented in collaboration with the InstitutFrançais de Chine (IFC) as part of the 2013 Croisements festival.
THE BOX IN A VALISE
The Boîte-en-valise was begun in 1935 and completed in 1941. It was produced in an edition of 300 examples, but released in various formats through the remaining years of Duchamp's life, the edition finally completed after his death in 1968 by his widow, Alexina. The first 20 boxes in the edition were all placed in a leather suitcase hence the name, Box in a Valise, and considered "deluxe" because they each contain a unique item. The edition being presented at UCCA is notable for the bright red leather of the box, and contains 80 reproductions of different Duchamp works. A number of works reproduced for the valise will also be shown in other forms in this exhibition, including both an aquatint and pochoir version of Duchamp's Bride, and a pochoir version of Nude Descending a Staircase – a painting that caused great controversy when it appeared at the first Armory Show in New York in 1913, exactly a century ago. The pochoir method was used to make the reproductions for the valise, but separate hand-colored prints were also produced for sale in order to help fund the project.
In total, 31 Duchamp works will be shown, ranging from reproductions of paintings to magazine covers featuring ingenious typographic work and striking prints. Duchamp often asked the publishers of the art and literary magazines he designed for to run off extra rounds of copies for collection in his "museum". Etchings and posters from historic exhibitions complete the array of Duchamp pieces that will be shown at UCCA.
AND/OR/IN?
Duchamp's legacy in China is discernible both in terms of the take-up and development of specific ideas that his art put forward, as well as in echoes of his lifestyle and attitude to work that can be traced in the practice of certain contemporary artists.
In the 1980s, as China began to engage with the art history of the Western twentieth century, artists like Wu Shanzhuan and Huang Yong Ping found direct inspiration in Duchamp. Huang Yong Ping, who founded a Duchampian collective called Xiamen Dada in the mid-1980s before emigrating to Paris, reflected in 1987 that, "Only now am I really able to understand the state of mind that made Duchamp say, 'The traditional idea of the painter with his brush, his palette, his turpentine, is an idea which has already disappeared from my life.' This is a revolutionary and irreversible change for me."
Another artist who has repeatedly revisited Duchamp's legacy throughout his career is Ai Weiwei. Exposed to Duchamp during his decade-long sojourn in New York (1983-1993), Ai Weiwei has remarked that "The entire value of any work of art is only ever conceptual. After Duchamp, the existence of any art, its value, is entirely conceptual. Duchamp brought a new concept to modern art."
During the 1990s and early 2000s, a subsequent generation of Chinese artists including Yan Lei, Song Dong, and Zheng Guogu continued to mine Duchamp's influence. Yan Lei, who shows a painting from his 'Covers' series depicting Duchamp's Fountain as rendered on the cover of a Taschen monograph—an appropriation of an appropriation—and Zheng Guogu, who transformed a series of ordinary plastic bottles into brass at the turn of the twenty-first century, both echoing Duchamp's famous 'bottle rack' readymade and his sense of punnery with the title 'Let it Rust for another 2000 Years'.
Duchamp's legacy has also served as the inspiration for performances, some of which have directly engaged his works. In 2000, the artists Cai Yuan and Xi Jianjun staged a performance at the Tate Modern where they urinated on Duchamp's iconic readymade, Fountain, restoring the object to its original purpose. Wu Shanzhuan, for his part, realized a similar performance eight years earlier in Stockholm, Sweden. Meanwhile in Shanghai in 2004, a group of artists including Xu Zhen, Yang Zhenzhong, and Shi Yong staged a project titled "Dial 62761232 Courier Exhibition" for which numerous artists created works small enough to be fit into a single suitcase and transported around Shanghai by a courier, in a contemporary take on the Bôite-en-valise.
Even more recently, a younger group of artists including Zhao Zhao, Lee Kit, and Taca Sui have reflected on Duchamp, incorporating his influence into more meditative works. Some three decades after Duchamp's work was first introduced to China in early translations of Western art historical tomes, his life and work remain of deep interest to artists and intellectuals here.
The artists to be featured in DUCHAMP and/or/in CHINA are as follows: Marcel Duchamp (born 1887, Blainville-Crevon, France, d. 1968, New York), Huang Yong Ping (born 1954, Xiamen, Fujian Province), Wang Xingwei (born 1969, Shenyang, Liaoning Province), Wang Luyan (born 1956, Beijing), Wu Shanzhuan (born 1960, Zhoushan, Zhejiang Province), Zheng Guogu (born 1970, Yangjiang, Guangdong Province), Yan Lei (born 1965, Hebei Province), Polit-Sheer-Form:Song Dong (born 1966, Beijing), Xiao Yu (born 1965, Inner Mongolia), Leng Lin (born 1965, Beijing), Hong Hao (born 1965, Beijing), Liu Jianhua (born 1962, Ji'an, Jiangxi Province)
The artists and curators involved in the 2004 DIAL 62761232, Courier Exhibition are as follows: Lee Kit (born 1978, Hong Kong), Taca Sui (born 1984, Qingdao, Shandong), Ai Weiwei (born 1957, Beijing), Wang Jun-Jieh (born 1963, Taipei, Taiwan), Cai Yuan (born 1956) + Xi Jianjun (born 1962), Zhao Zhao (born 1982, Xinjiang Province) and Song Dong + Yin Xiuzhen (born 1963, Beijing).
About the curators
Francis M. Naumann is an independent scholar, curator and gallery owner, specializing in the art of the Dada and Surrealist periods. He is author of numerous articles, exhibition catalogues and books, including New York Dada 1915-25 (Harry N. Abrams, 1994), Marcel Duchamp: The Art of Making Art in the Age of Mechanical Reproduction (Harry N. Abrams, 1999), Wallace Putnam (Harry N. Abrams, 2002) and, most recently, Conversion to Modernism: The Early Work of Man Ray (Rutgers University Press, 2002). In 1996, he organized "Making Mischief: Dada Invades New York" for the Whitney Museum of American Art, and in 1997, "Beatrice Wood: A Centennial Tribute" for the American Craft Museum in New York. His most recent book is The Recurrent, Haunting Ghost: Essays on the Art, Life and Legacy of Marcel Duchamp (Readymade Press, 2012). He currently owns and operates his own gallery in New York City, which specializes in art from the Dada and Surrealist periods, as well as work by contemporary artists who possess related aesthetic sensibilities.
John L. Tancock received his MA from Downing College, Cambridge in 1967 and his PhD from the Courtauld Institute, University of London in 1967 for "The Sculpture of Auguste Rodin." From 1967 to 1972 he was Associate Curator and Curator of the Rodin Museum, Philadelphia Museum of Art. From 1972 to 2008 he was employed by Sotheby's in New York, first as Director of Contemporary Art from 1972 to 1977, then as Director of the department of Impressionist and Modern Painting from 1977 to 1993. He was President of Sotheby's Japan from 1993 to 1995, and also from 2005 to 2006. During his career at Sotheby's he was actively involved in many of the landmark sales of the period, from the Robert Scull auction in 1973 to the sale of Vincent van Gogh's Irises for the then record of $53.9 million, and the 1990 sale of Pierre-Auguste Renoir's Au Moulin de la Galette for $78.1 million.Since leaving Sotheby's,he is a Director of Chambers Fine Art New York and Beijing.
Courtesy of the Ullens Center for Contemporary Art, for further information please visit ucca.org.cn.
Related posts: