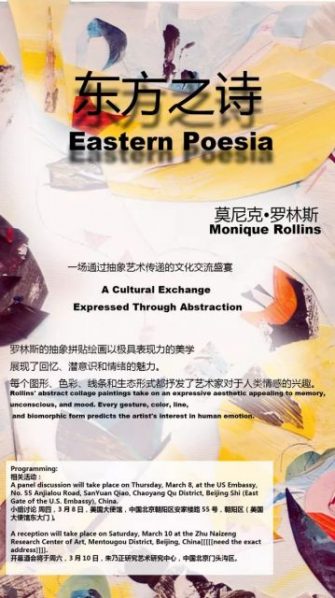 Eastern Poesia will be traveling to Beijing, China. Inspired by her experiences living in Beijing, native Delawarean Monique Rollins will present her exhibition of 22 collage paintings at the Zhu Naizeng Research Center of Art, March 10 through April 25, 2018. As part of the East/West cultural exchange, this exhibition is scheduled to travel to sites across the United States.
All the canvases in this exhibition reflect Rollins' experiences traveling abroad in Beijing as an artist-in-residence. That exposure to the East yield insights, encounters, and life lessons in the beauty and resiliency of the Chinese culture, which became the catalyst in her development as an artist and inspired her to create this new body of mature work. While living in China, Rollins saw how expanding industrial development transformed the urban landscape, and how modernity impacted the city.
Rollins' abstract collage paintings take on an expressive aesthetic appealing to memory, unconscious, and mood. Every gesture, color, line, and biomorphic form predicts the artist's interest in human emotion. Her distinctive combination of biomorphic and abstracted geometric forms allude to people, places, and events and reveals a profound influence by Abstract Expressionism characterized by expressive lines and shapes. Rollins' work presents an intimate expression of spontaneity and improvisation.
About the exhibition
Dates: March 10 – April 25, 2018
Venue: Zhu Naizheng Research Center of Art
Courtesy of the artist and Zhu Naizheng Research Center of Art.
Related posts: