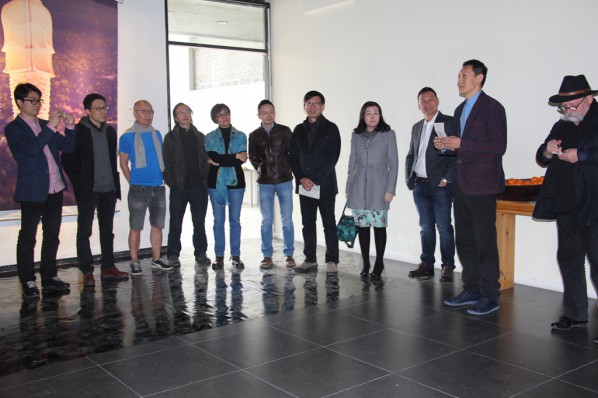 At 16:00 on April 10, 2015, "ECHO: Inside Out" LASALLE x CAFA Exchange Exhibition opened at the School of Design. The programme is completed by an interdisciplinary collaboration of bachelor and master candidates of the two schools. It is also a part of the series of activities from Singapore: Inside Out exhibition. The exhibition is planned and directed by Xiao Yong, Fei Jun, Jiang Li, the teachers from the School of Design, CAFA. Through a series of seminars, fieldtrips and discussion sessions, the exhibition first showcased at CAFA, selected students and faculty members shared their collaborative process and cross-cultural inspiration at the opening activity.
Professor Milenko Prvacki from the LASALLE College of the Arts together with the 14 teachers and students from CAFA participated into the exhibition and attended the opening ceremony. Wang Min, Dean of the School of Design, CAFA, and Zhou Zhenxing, Director of Greater China Region of Singapore Tourism Board addressed the opening ceremony on behalf of the guests. The students used video and multimedia to perform multicultural integration and the exchange experiences in both Beijing and Singapore.
The LASALLE x CAFA Exchange Programme is borne of an institutional partnership between the LASALLE College of the Arts (Singapore) and CAFA (China), and supported by the Singapore Tourism Board. Designed to encourage cross-disciplinary and cultural exchange, the programme adopts a collaborative and research approach for masters and graduates from LASALLE and CAFA to interact and produce artworks. This exchange programme is a partner event of Singapore: Inside Out, a traveling showcase of Singapore's contemporary creative talents in celebration of SG50.
Professor Milenko Prvacki from the LASALLE College of the Arts (Singapore) once compared it to hearing an echo in a forest. Such a metaphor on the act of an echo suggests the sonic system is not the only dimension of language and reminds us of the way in which there is a space between the original and its repetition.For art, it is actually a rich terrain of exploration for the arts.
ECHO: Inside Out draws together student artists from Singapore and China, bringing them together to learn about the varying cultures. At the same time, it provides these artists with the opportunity to collaborate and work across the boundaries of the country, bringing together differences. While, on the one hand, ECHO allows for the discovery and creation of a connection between two or more positions, on the other hand, it also createsan evident gap. This unreachable gap reveals the limits of translation – the echo is not the original sound and the copy is not the original. We see shadows, supplements and hybrids that appear to relate back to some point of reference and yet, at the same time, take on their autonomy and life after the fact.
The exhibition continues to April 26, and is going to be on display at LASALLE at the end of the year.
Text and photo by Bao Yawen, Liu Jingqian, translated by Chen Peihua and edited by Sue/CAFA ART INFO
Related posts: