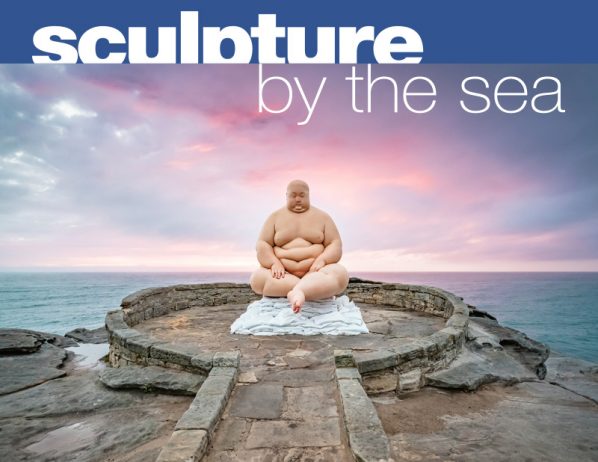 Sculpture by the Sea and China's foremost institution of modern art education, the Central Academy of Fine Arts (CAFA) in Beijing are showcasing eight sculptures by distinguished CAFA alumni and teachers at this year's Sculpture by the Sea, Bondi, the world's largest annual free outdoor sculpture exhibition.
"This showcase by CAFA will be the highlight of this year's exhibition, featuring eight leading Chinese sculptors who have not previously exhibited in Australia. From the visually arresting large naked figure by Mu Boyan to the poignant snow covered bicycle in marble by Cao Hui this is a very impressive collection of work," says David Handley, Founding Director of Sculpture by the Sea.
The CAFA artists to exhibit along Sydney's iconic Bondi to Tamarama coastal walk from 18 October – 4 November are:
Zhang Wei, Vice Director and Professor in the Sculpture Department at CAFA, will exhibit Layer of Mountains, a six metre long sculpture of a mountain chain;
Yu Fan, Vice Director and Professor in the Sculpture Department at CAFA, whose sculpture will emulate the form of a horse's reflection on water;
Artist Cao Hui, who graduated with a PhD from CAFA in 2014 and Associate Professor, is exhibiting a bicycle in marble after it has been left out in the snow;
Architect and teacher at CAFA's Public Art Studio, Hu Quanchun, will exhibit the sculpture Draw Houses and Make Houses, a collaboration with primary school students in Hunan, who drew houses from of their local area before they were demolished, with the aim of helping to preserve their memory of the area;
Jiang Jie, Professor of Sculpture at CAFA, is exhibiting The Butterfly Dream, a three metre sculpted butterfly form in copper that will be placed on Tamarama beach;
Professor, Dean and PhD Supervisor at CAFA, Lyu Pinchang, will be exhibiting Space Plan, a sculpture depicting the remains of a spacecraft orbiting the earth;
Mu Boyan's large naked figure to be sited at the end of the South Bondi headland titled Horizon, is inviting visitors to sit at peace to empty their minds;
Director of the First Studio of CAFA's Sculpture Department, Wang Wei, will exhibit Walking, a stunning five metre tall bronze sculpture of a walking man.
The partnership between Sculpture by the Sea and CAFA extends to the 3rd annual Sydney Sculpture Conference, 'Sculpture: A Universal Language', which is presented by Sculpture by the Sea and CAFA. The conference will be held on Monday 5 November 2018 at the Sydney Opera House, with talks and panel discussions by leading international and local sculptors, educators, curators and collectors. Professor Lyu Pinchang and CAFA's most renowned alumni artist Professor Sui Jianguo, who exhibited in Sculpture by the Sea, Bondi in 2004 and 2012, will speak at the conference alongside keynote talks by leading Australian artist Hossein Valamanesh and Professor Paul S.C.Tacon of Griffith University, on the Aboriginal rock art of Sydney.
"Sculpture by the Sea and the Sydney Sculpture Conference provide an opportunity to showcase Chinese sculpture to the Australian art world and the Australian public alike, and aid in the appreciation of public sculpture and cultural exchanges," said Professor Lyu Pinchang, Artist & Dean of Sculpture Department at CAFA. "We look forward to bringing together the international community to discuss sculpture education and the development of public sculpture with Chinese artists at the conference, and hope that the spirit of Sculpture by the Sea will be carried forward to become as a major event in China, as it is in Australia."
This year marks the 22nd year that Sydney's breathtaking 2km Bondi to Tamarama coastal walk has been transformed by Sculpture by the Sea, Bondi with the installation of over 100 sculptures by artists from across the world. The exhibition is free to the public and runs from Thursday 18 October until Sunday 4 November 2018.
For media enquiries, please contact: T: 02 8399 0626 or E: info@nixco.com.au
Courtesy of Sculpture by the Sea, for further information please visit https://sculpturebythesea.com.
Related posts: