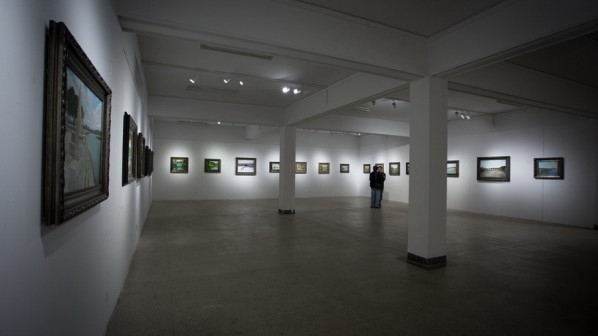 Jointly hosted by CAFA, Toyo Institute of Art and Design in Japan, and jointly organized by the School of Urban Design, CAFA and the High School Affiliated with CAFA, "Elegant Ancient Bridges – Guan Guangzhi, Guan Naiping, Zhai Xinjian and Zhai Bo's Exhibition" opened at the Teaching Exhibition Hall in CAFA at 14:00 on September 23, 2013. Jin Shangyi, Honorary Chairman of China Artists Association, Pan Gongkai, President of CAFA, Xu Zhong-ou, Zhang Weizhi, alumni of the High School Affiliated with CAFA, Ma Gang, President of the High School Affiliated with CAFA, Prof. Ren Daobin from China Academy of Art, etc., were invited to present at the opening ceremony.
Xu Zhong-ou wrote in the preface: "All the works exhibited in the 'Elegant Ancient Bridges' are the depictions of the ancient bridges by the artists, in order to express their sentiment and ambition, sentiment is the integration of the human's heart, humanity, and love, ambition is the attitude to nature, society, reality. One of the important connotations of Chinese culture is advocating the concept of the "integration of human and nature" that is the climate, geography, and human nature, it is necessary that human behavior must meet the norm of nature, to make everything develop in a proper way, peaceful society."
The four artists Guan Guangzhi, Guan Naiping, Zhai Xinjian and Zhai Bo focus on four different levels of visual language. In Guan Guangzhi's works, the pure charm of watercolor is full in between the shadows of the tree and waves of the lake, revealing the "texture" and "voice" of the subjects of watercolor; Zhai Xinjian's oil paintings there is a pursuit of a balance of proportions of bridges, landscapes and heaven in different textures and spaces; Guan Naiping's Chinese ink paintings are the seamless integration of pen and ink, shape, space, and lyric, rich in pens and implications. Zhai Bo's works were carefully refined and arranged in the history of the bridges and hurried pedestrians, by a beautiful mind. Speaking from the perspective of language or symbol, Guan Guangzhi was concerned with "pheme", Zhai Xinjian paid attention to rhythm, Guan Naiping was good at discourse, and Zhai Bo focused on "seme". Guan Guangzhi and Zhai Xinjian focused on expression, while Guan Naiping and Zhai Bo focused on content.
However, there's an in-depth common character of the four artists, that is, either they are immersed in expression, or focus on content, they all explore the form of language – expression-form and content-form, instead of the substance. They are exploring the language whose nature is the form instead of the substance. The mountains, waters, flowers, trees, grass and strands of humanity where air surrounded the bridges were divided into many basic elements in their eyes, and then imaginatively integrated again. Although we consciously or unconsciously evade Greimas's semiotic constraints, we can't evade the ensemble of the "meanings" by the four artists.
Guan Guangzhi
Guan Guangzhi was born in 1896 and passed away in 1958, the first generation of Chinese watercolor masters, a famous art educator. He went to study in the Royal Academy of Art in 1931, taught in Yenching University, National Beiping Art School, Fu Jen Catholic University, Tsinghua University and the Central Academy of Fine Arts, etc., after returning to China. In the 1930s and 1940s, he was known as "Southern Li and Northern Guan", among "Southern Li" is Li Jianchen, and "Northern Guan" is Guan Guangzhi, who had integrated Oriental and Western art, combining Western plastic concepts and traditional Chinese spirit, to create a watercolor of Oriental traditional cultural feature, lying a solid foundation for the later reproduction of watercolor paintings in China. Guan Guangzhi's etching "Bridge" was one of the earliest works to employ rosin power in etching to manifest life in China. Rustic style, superb skills, simple composition, giving people a strong appeal for traditional Chinese culture. Guan NaipingBorn in Beijing in 1945, Guan Naiping is currently a director professor of Toyo Institute of Art & Design in Japan, Chairman of Japan International Ink Exchange Association, Chairman of Japan Federation of Overseas Chinese artists, one of the first overseas consultants of All-China Federation of Returned Overseas.
Guan Naiping
He was born into a family of artists, his father Guan Guangzhi was the pioneer for Chinese etching painting, modern watercolor master. Guan Naiping had unconsciously touched art in his childhood, revealing his artistic talent. He had laid a solid foundation in painting at the High School Affiliated with CAFA, and oversea study in Japan after the "Cultural Revolution". In Guan's traditional Chinese paintings, his thoughts and studies starting from the "heavy ink color", and he had a clear understanding of the different spirits between Western and Oriental cultures in the world arts. After decades of unremitting hard work, that is to maintain and adhere to the ethnic theme of traditional Chinese culture, and also learning from thenpainting technique of expression of Western art, constructing a communication bridge between Western painting and Chinese painting.
Zhai Xinjian
Born in Tianjin in 1950, Zhai Xinjian graduated from the Department of Oil Painting, CAFA in 1981, stayed on to teach in the High School Affiliated with CAFA, currently he is a professor of CAFA, and a member of China Artists Association. Zhai Xinjian attaches great importance to the basic education, "Hugh Rivers are diverted from the origin, adults grow from the beginning", he believes that a good basic education is the source of all successes. He likes the classical art style of an oriental rhyme. Zhai Xinjian has trained many students, like a bridge leading the art students to the ideal shore.
Zhai Bo
Born in Beijing in 1978, Zhai Bo currently is the art director of and senior photographer at Beijing Advancing Visual Culture Communication Co. Ltd. In 1998 he was studying Computer Engineering in Beijing Information Science & Technology Institute, but later studied photographic art due to his favor in photography. He was admitted to the "Advanced Training Courses" held by the School of Photography, Beijing Film Academy in 2010. He won the title of Beijing Senior Photographer. His photographs "Lugouqiao Bridge" not only show Zhai Bo's photographic techniques and artistic aesthetic ideas but also highlight the beautiful artistic conception of the elegant ancient bridge.
The exhibition was closed on September 27.
Courtesy of the artists, translated by Chen Peihua and edited by Sue/CAFA ART INFO.
Related posts: