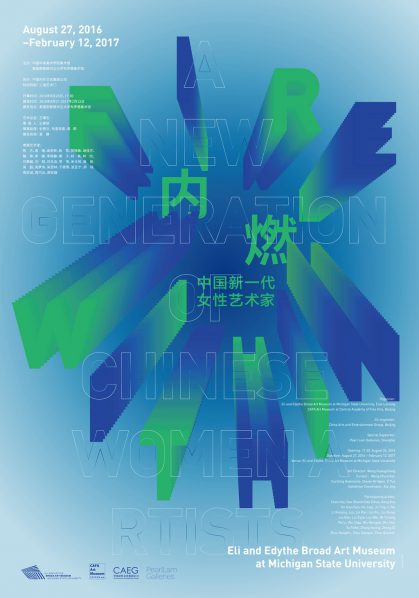 Curating Statement
Written by Wang Chunchen (Chief Curator and Head of the Curatorial Research Dept, CAFA Art Museum, Beijing; Adjunct Curator at the Eli and Edythe Broad Art Museum at Michigan State University)
The perception and understanding of self evolves with time. This is certainly true in the case of many Chinese women, who have and continue to experience a shifting sense of self-awareness in light of recent developments in China. At present, the status and valuation of women in society is one of the most important issues with regard to the greater social, political, economic, and cultural developments in the country. This changing sense of identity often finds an outlet in cultural expression and, specifically, the field of contemporary art. Such projects reveal new and expanded forms of artistic expression, specifically born out in the works of women artists who were previously relegated to a lesser position in society—and the arts.
With these considerations in mind, Fire Within: A New Generation of Chinese Women Artists focuses a critical lens on the artistic production of a group of highly talented, emerging women artists from China. Collectively, the artists in this exhibition investigate a wide range of themes and issues, including the aforementioned social status of women in China; cultural and gendered identity; interpersonal relationships; and social dynamics, alongside broader humanistic themes as well. Their probing investigations stir discussion and draw attention to their diverse and varied experiences. The title of the exhibition intends to communicate the urgency felt around these societal changes. The term "fire" refers to a sense of annihilation—the burning out and away of previously upheld gender differences and oppositions to gender equality. The term "within" points to the invigorated sense of self-awareness in the current generation of Chinese women artists, who look inward in order to project outward. As such, Fire Within confirms and shines a light on the valuable contributions made by women artists to society, asserting the need for wider public recognition of this reality.
The connection between Chinese women (more broadly) and the artists in this exhibition to the notions behind Fire Within are meaningful, yet paradoxical, too. On the one hand, many contemporary Chinese women have cultivated a greater sense of independence and self-reliance in recent years; on the other hand, as a result of different social variables, feminism has not been widely acknowledged nor accepted in China. In the field of art, many women artists prefer not to be identified as feminists and rarely do they ever refer to themselves in such a way. The reasons for this are complex, and may in fact stem from an embedded sense of gender discrimination that persists in the social subconscious. This problem stems from both public bias towards art by women and the very real concern on the part of women artists of becoming alienated from a field dominated historically by male artists. However, when stoked, the "fire within" can fuel the reconfiguration of this situation—giving power and voice to artists who have been marginalized as a result of their gender.
The works of the artists in this exhibition are critical in the sense that they offer new perspectives and ways of understanding social, cultural, economic, and political spheres of life, offering their aesthetically considered observations for further study and analysis. It is important to note that to organize an exhibition of art by women is not intended to highlight the differences in art made by women; instead, it is a genuine attempt to correct the misperception and devaluation of women artists in China. From a post-feminist perspective, the decision as to whether one should declare or reject feminism is inherently preconditioned on an understanding of the importance of feminism in and of itself. While seemingly paradoxical, it nonetheless reveals and underlines the importance of feminism and its growing acceptance in Chinese society—though also highlighting a need for further dialogue.
This exhibition at the Eli and Edythe Broad Art Museum at Michigan State University features artworks created by an emerging group of Chinese women artists and thus offers a great opportunity to initiate an international dialogue around the ideas presented above. Taken altogether, the works in the exhibition are marked by their engagement with issues germane to China: its history, traditions, and present-day developments. Furthermore, the artists have been selected for the underlying sense of honesty and lack of pretention in their works, in the hopes of having a more fruitful discussion that allows for intergenerational and cross-cultural dialogue. These artists are notable for their deep sense of individuality, and collectively they exercise the right to freely explore their artistic visions. In this way, this group of emerging Chinese women artists actively explore ever-widening horizons, offering their unique and nuanced interpretations of the world at large.
About the exhibition
Organizers: CAFA Art Museum at Central Academy of Fine Arts, Beijing
Eli and Edythe Broad Art Museum at Michigan State University, East Lansing
Co-organizers: China Arts and Entertainment Group, Beijing
Special Supporter: Pearl Lam Galleries, Shanghai
Opening: 17:30, August 26, 2016
Duration: August 27, 2016 – February 12, 2017
Venue: Eli and Edythe Broad Art Museum at Michigan State University
Art Director: Wang Huangsheng
Curator: Wang Chunchen
Curating Assistant: Steven Bridges, Yi Yue
Exhibition Coordinator: Xia Jing
Participating Artists:
Chen Hui, Gao Shanm Gao Sihua, Geng Xue, He Xiaochun, Hu Jiayi, Ju Ting, Li Na, Li Xiaojing, Lizi, Lin Ran, Lin Xin, Liu Qianyi, Liu Ren, Liu Yujie, Luo Wei, Mi Yuming, Pei Li, Wu Chao, Wu Mengshi, Wu Silin, Yu Feifei, Zhang Yaning, Zheng Qi, Zhou Hongbin, Zhou Qiaoyun, Zhou Qinshan
(In alphabetical order by surname)
Courtesy of the artists and CAFA Art Museum.
Related posts: