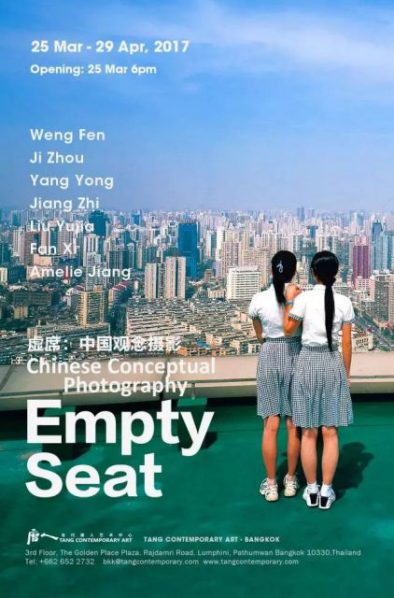 The exhibition brings together the conceptual artworks of Weng Fen, Ji Zhou, Yang Yong, Jiang Zhi, Liu Yujia, Fan Xi, and Amelie Jiang. The pictures made by these artists create a void between images and ideas; they have reserved a seat in the hopes that the viewer will fill this void.
Weng Fen is the most internationally influential Chinese photographic artist. A work from his Sitting on the Wall series was used for the Centre Pompidou's poster for the "Alors, la Chine?" exhibition. Weng Fen's works focus on the sweeping demolition and construction that has taken place in the course of China's modernization, but they are the artist's personal interpretations, not documentary photographs. The wall is a symbolic division between the new and old worlds; it is a conceptual framework, but it also creates imaginative space for viewers. Where are we going due to these great changes? How do old memories and histories dissipate?
Ji Zhou's photographs are black, white, and grey, and the images are obliterated by grey dust. He used dust refine familiar scenes from our everyday lives into a simple and pure world, silent and profound. As a result, the pictures lose their narrative quality and are transformed into a stunning visual language in a vague time and space.
Yang Yong's photographs more often present his observations of interior emotions. In Anonymous Stills and On Edge women are his primary subjects. They are women Yang's own age who, like him, have put down roots in Shenzhen. In the last thirty years, this city has experienced in tense globalization and urbanization, and the loneliness of these women has increased in this process. In Yang Yong's works, "they wander all night, with nothing to do…Their dreams seem almost attainable, but are never realized."
Love Letters is considered one of Jiang Zhi's most important series. Jiang sprayed flowers with alcohol then lit them on fire, and in these images, open flowers burn in the flames. They present both the blossoming and withering of living things. Jiang once wrote, "I just want to make you happy, briefly, singing songs and talking, briefly." Bao Dong wrote, "Jiang Zhi always consciously exists at the confluence of poetry and sociology. He works to transform our familiar dailylives and social experiences into the text of an artwork, while maintaining the tension between the two dimensions of everyday experience and textual experience."
Liu Yujia's work is entitled MacGuffin, after something immaterial or non-existent, and the desire or suspense that it triggers. It was one of Hitchcock's trademarks. It is an unreal, purefacade, which forms the core of words, actions, and even the entire story. We will never know what the MacGuffin is or what it represents, we only care about what it "triggers." (Excerpted from Liu Yujia's personal statement)
Fan Xi's tree-themed works are comprised of more than one hundred trees in a single location, photographed from different perspectives in the same period of time. She takes these trees as small, localized details, piecing them together on a computer. When the data is processed, the real environment disappears, and the new image creates a virtual reality outside of nature. They "are not the real image; they are digital combinations that can be changed."
For Amelie, taking photograph is a type of surreal experience that more than a mere record; it is the spiritual cultivation moment by moment, and a way of poem composing. Cultivation and Poem is beyond description. She wish that every time the intersection between the space-time and she can leave something that functions as the fossil, and presents the indescribable mood to the largest extent. (Excerpted from Amelie's personalstatement)
The images made by these seven artists represent different types of constructive experiments. Through everyday objects that have been made unfamiliar, viewers come to know the personal experiences and emotions of the artists, and together with the artists, they cast off rules and restrictions and move towards freedom.
About the exhibition
Dates: Mar 25, 2017 – Apr 29, 2017
Venue: Tang Contemporary Art, Bangkok
Courtesy of the artists and Tang Contemporary Art, for further information please visit www.tangcontemporary.com.
Related posts: