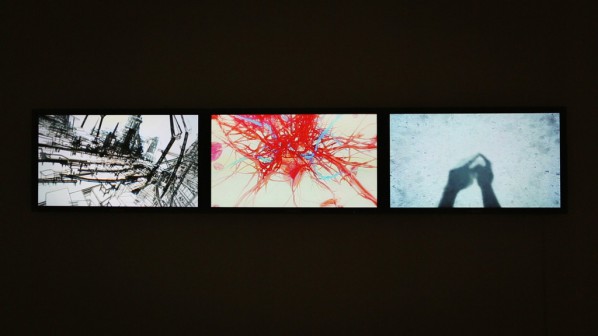 March 16, 2014, hosted by Suzhou Jinji Lake Art Museum, co-organized by the New Media Department of Sichuan Fine Arts Institute and the White Box Museum of Art, "Empty Shadow – Zhang Xiaotao's Works 2009-2014" was presented in Suzhou Jinji Lake Art Museum. It collectively showcases 71 works of painting, video, animation, installation and theater performance by the artist since 2009. It is the initial important contemporary art exhibition of the year held by the museum, and also the largest solo exhibition by the artist in recent years.
Director of the exhibition Zhu Qiang, curator Feng Boyi and artist Zhang Xiaotao attended the press conference on the day. Zhu Qiang initially said, the title of "Empty Shadow" made people think philosophically, and Zhang Xiaotao's work is rich in profound philosophy, both reflecting the thinking of social reality, containing an interpretation of individual life philosophy. Meanwhile, Zhang Xiaotao had a large number of good works to fill the space of 1500 square meters, so that he became the first artist to hold a solo exhibition at the Jinji Lake Art Museum.
Feng Boyi thought Zhang Xiaotao was a representative artist that was born in the 1970s, from easel painting to various expressive ways including new media, animation, installation and performance, Zhang Xiaotao didn't develop in a single direction, but tried many styles, he was a case study for contemporary Chinese art. At the same time, Zhang Xiaotao's work was full of profound humanistic care, while "empty shadow" portrayed the creative style and realm in recent years. Artist Zhang Xiaotao said, he was over 40 years old, which made him feel tiny, and revealed a sense of boundless, "empty shadow" seemed to reflect his present feeling of life.
After the end of the press conference, Yin Weidong, Director of Suzhou Jinji Lake Art Museum, Feng Boyi, Art Director of Jinji Lake Art Museum, Zhang Jie, Vice President of Sichuan Fine Arts Institute, Pang Maokun, Sun Yongzeng, Director of White Box Museum of Art, Artist Zhang Xiaotao, art critic Wang Duanting, artist Liang Shaoji attended the opening ceremony. Yin Weidong, Zhang Jie, Pang Maokun and Feng Boyi also gave a speech.
Yin Weidong said, Zhang Xiaotao who served as the director of the New Media Department of Sichuan Fine Arts Institute, is an outstanding cross-media artist who is active in Chinese contemporary art circles. For the exhibition, Zhang Xiaotao used and processed multi-media visual elements to reflect his thinking on social reality, cultural ecology, and also a transformation and interpretation of art. He also hoped more good artists would be presented at the Jinji Lake Art Museum. As one of the representatives of the Sichuan Fine Arts Institute, Vice President Zhang Jie addressed the opening ceremony, Zhang Xiaotao was a thoughtful, cross-border artist, organically integrating his art with Chinese society, history and culture. There was a profound cultural foundation, a deep study of Chinese philosophy and western thinking, so that the works of Zhang Xiaotao could offer the audience lots to think about.
After the end of the opening ceremony there was a cross-media theater performance entitled "Empty Shadow", video "Sakya" and experimental music served a foil to the modern dance performance, it presented various contradictions and mixtures of the virtual and reality, desire and restraint, joy and loss. In cooperation with the paintings, images, animations of the exhibition hall, it offers the audience a comprehensive art experience. It reviews and summarises the creations by artist Zhang Xiaotao from 2009-2014, the process of his works shifted from painting to multi media in video, installation, animation, performance which fully presents the creation and thinking of Zhang Xiaotao.
In cooperation with the exhibition, Jinji Lake Art Museum launched a lecture entitled "Restructuring Fragments – About the Communication of New Media with the Internet" on March 14. The School of Arts of Soochow University launched a lecture and Zhang Xiaotao dialogued with the students on March 16.
Text by Zhu Li, Photo by Yang Yanyuan/CAFA ART INFO
Translated by Chen Peihua and edited by Sue/CAFA ART INFO
Related posts: