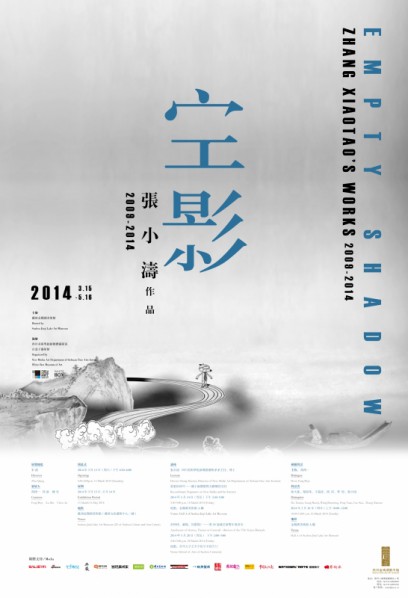 Hosted by Suzhou Jinji Lake Art Museum, co-organized by the New Media Department of Sichuan Fine Arts Institute and the White Box Museum of Art, "Empty Shadow – Zhang Xiaotao's Works 2009-2014" is about to be presented in Suzhou on March 16, 2014. Zhu Qiang serves as the director of the exhibition, and Feng Boyi, Lu Xin and Chen An serve as the curators.
Yin Weidong, Director of Suzhou Jinji Lake Art Museum wrote in the exhibition preface that, Zhang Xiaotao's exhibition themed "Empty Shadow" is the first large scale solo exhibition of a Chinese artist to be held at the Jinji Lake Art Museum. It covers the representative works of painting, video, animation, installation and theater performance art by the artist. In between a real and virtual emptiness, the creative context of Zhang Xiaotao's art is arranged and on display. It doesn't only intuitively display the works by Zhang, but also reflects his thinking on the current social reality, cultural ecology, and is also a kind of transformation and interpretation of the art.
For the exhibition, Zhang Xiaotao uses and processes multi-media visual elements to set a series of visual tension, and the tension is not only reflected in a natural object and scene, but also to place the whole atmosphere in a saturated horizon on the mirror of life, and the process of his works shift from painting to multi media to the use of video, installation, animation, performance. The entire structure of the show is a kind of multi-voice ensemble keynote of an Oriental picturesque image or the heteroglossia resonant melody around a mood.
About Zhang Xiaotao
Born in Hechuan, Chongqing, China in 1970, Zhang Xiaotao graduated from the Oil Painting Department of Sichuan Fine Arts Institute in 1996; from 1996 – 2009 he taught in the Southwest Jiaotong University, Chengdu; since 2011, he has been the director of the New Media Department of Sichuan Fine Arts Institute, associate professor, master instructor; and currently he lives and works in Beijing and Chongqing.
Zhang Xiaotao is an outstanding cross-media artist that is active in Chinese contemporary art circles, the creative forms cover painting, photography, animation, installation, etc., whose work has always focused on our spiritual torture and struggling behind the compressed modern myth of today China. It is a unique and complex Chinese experience mixing hope with destruction. He uses cross media to pay close attention to the paradox between social upheavals and personal rethinking, and trying to convert this personal experience into public experience. The concept of "virology" is pathological and sociological, personal and social, and each generation encounters different difficulties, so that he tries to reflect these complicated reports of "pathology". For his "micro" narrative researching method, the famous German critic, Manfred Schneckenburger commented that he was "an amazing artist".
He was interviewed by Japan's NHK in 2004, and the "Character" column of CCTV, making a feature film to introduce his artistic achievements in 2010. And he won the "2008 Chinese Young Artist of the Year Prize", "2011 Asian Best Technological Animation Award", etc. His works are collected by important international and domestic art museums, foundations and collectors.
About the exhibition
Duration: March 16 – May 16, 2014
Venue: Suzhou Jinji Lake Art Museum (F2 of Suzhou Culture and Art Center)
Courtesy of the artist and Suzhou Jinji Lake Art Museum, translated by Chen Peihua and edited by Sue/CAFA ART INFO.
Related posts: