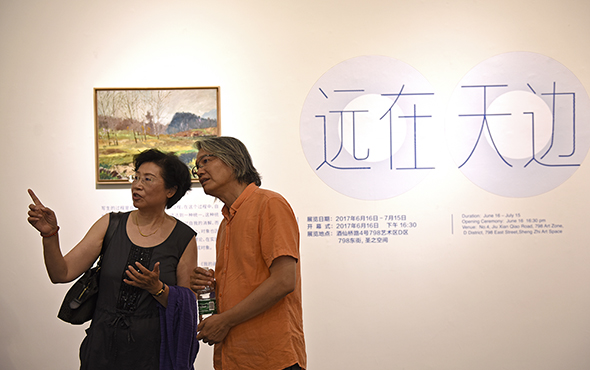 On June 16, 2017, "Endless Horizon" – Landscape Oil Painting Exhibition by Yi Ying & Liu Bo opened at the SZ Art Center. The exhibition is divided into two parts with one part showing the sketches finished in the sketching base at CAFA – on the outskirts of Beijing Huanghua Town, the other part shows the oil paintings of landscapes and characters from the North of Shaanxi and Tibet byProf. Liu Bo.
The exhibition was co-organized by the CAFA and SZ Art Center, Fan Di'an, President of CAFA was the Academic Advisor, and Chen Meiling was the curator. The exhibition has more than 50 recent oil paintings by Prof. Yi Ying and creations by Liu Bo. The exhibition is entitled "Endless Horizon", which encompasses the landscape paintings, including the cool and refreshing mountain scenery and songs of a pure land by the two artists, as if bringing the audience from Beijing in summer to a distant quiet and open space.
Fan Di'an, President of CAFA wrote in his preface: "Both Yi Ying and Liu Bo are senior professors of CAFA, their research, creations and teaching have led to great achievements in the fields of art history and design but their painting talent and their ideas in painting practice have never been eliminated, so they still adhere to painting while being engaged with professional scholars, working hard in both fields, showing a valuable sincerity and dedication. Accumulating for a long period, they have created a considerable amount of works, and also shown a distinctive style. This style is not a reference to a form of art history, but stems from nature and language, temperament and character generated from the heart." Except for their own work, Yi Ying and Liu Bo enjoy the happiness and fun brought by the painting, which results in this exhibition.
Yi Ying has taken pleasure in sketching an oil painting over many years, while he has undoubtedly become familiar with the historical changes of oil painting and the evolution of various schools, as a researcher of art history. But from his paintings, in addition to the feelings of scholars, people are more able to see his true and instant dignified feelings when he faces nature, when he started to draw.
"Yi Ying's painting is like a poet who sings and walks in nature, mountain villages, wild slopes and riversides, taking the flowers and grass that exude a simple glory … the painted scenery does not only contain the rural breath but also shows the fresh artistic conception which is far away from the hustle and bustle, showing the cordial heart of the object of painting… It's certain that Yi Ying's paintings are also the results of Prof. Yi's vision and accomplishment."
– Fan Di'an's review on Yi Ying
Liu Bo goes to Tibet alone every year, he spends a considerable time on the painting and mainly sketches Tibetan people. His journey of "pilgrimage" and the works of oil painting are soaked with a pure color and also show the value of people and nature as being interdependent.
"(Liu Bo) From the scenery to the portrait, it is not only a transformation of the theme, but also a change of style. In the early landscape paintings, he uses the common style of the 1980s, but this is gained through the pursuit of the power of life and self-realization. Although I have never seen the work at that time, I believe that it is a simple, juvenile and primitive performance full of vitality. When he picked up the brush again, he experienced the pursuit of struggling with the frustration and success of life, the painting has become a youthful memory, returning to the original face when he started to paint, so his style is simple, intuitive, full of passion and a psychosomatic experience.
– Yi Yingping's review on Liu Bo
As Prof. Tan Ping, Vice President of China National Academy of Arts addressed the opening ceremony said: "Starting to paint again helps them to find the starting point of their early study in fine art." "Endless Horizon" exhibition by Yi Ying & Liu Bo is an exhibition for the two artists Yi Ying and Liu Bo, who "have experienced the pursuit, struggles, frustration and success of life", to pursue the most primitive true face of painting. It is this sincere and simple emotion that gives the audience a true and warm artistic experience of seeing as an "endless horizon", but actually being close at hand.
Edited by Zhong Yuwei, translated by Chen Peihua and edited by Sue/CAFA ART INFO
Photo by the organizer  
Related posts: