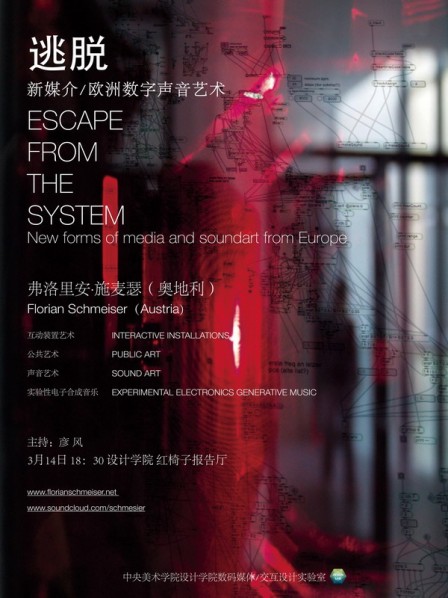 Florian Schmeiser(Austria) made an excellent speech about his sound art at the Red Chair Lecture Hall of Building 7, CAFA, at 18:30 on March 14, 2013. The lecture was organized by the School of Design, CAFA, and presided over by teacher Yan Feng. By displaying a large number of Florian's works, the audience gradually learned the progress of digital art in Europe.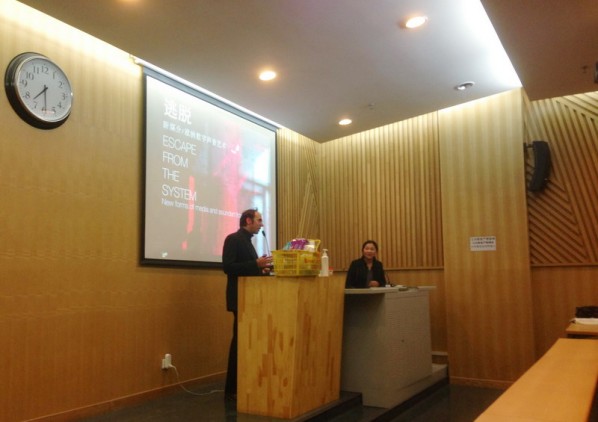 At the beginning of the lecture, Yan Feng said, he was glad that Florian accepted his invitation and Florian was an outstanding contemporary artist in Austria, always capable of embodying his understanding of philosophy and sociology through his works, hoping that through the lecture, the students could get a better understanding of the development of contemporary art in Europe.
Florian began his lecture after expressing his thanks to Yan Feng. He came up with Duchamp's famous work "urinal", as well as one that was readily captured, comparing the differences with them, Florian thought that everything was capable of being art in the contemporary art world, from the perspective of its history, while the restrictions of the art venue were very important. Considering it as a prologue, he talked about his own artworks of sound art and interactive arts.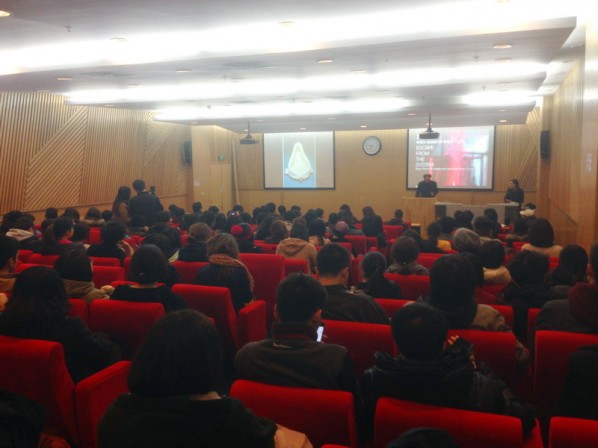 By displaying a few photos of a supermarket to the audience, he referred to his sound installation, which used a bar code scanner, scanning the barcode on the goods, different sounds that were continuous and varied, were heard. It was interesting that he brought the installation to the hall and practiced it, scanning the goods in a basket one by one, and sounding wave after wave. He said, it could be said to be an instrument of his invention, a product was a musical score, when a bar code was a note, by scanning,one could play a variety of music. The works had been performed at schools and shopping centers at the same time in Vienna, customers could "play" different voices through the use of their purchased products.
In addition, Florian also introduced another six works of public sound art. "Vibration" is displayed at a park at the center of Vienna, setting six speakers in a place of 400 square meters, broadcasting a collection of six artists' music, produced by a software synthesizer, and it is rich without being repeated. "Temporary Residence" is an installation set at a capsule hotel in a bus station in Vienna, where people lay down to watch TV and listen to music. "Liberal Austria" has political overtones, as Austria was carved up at the end of World War II, the boundaries between the different territories are still very obvious, the artist chose to erect a microphone and speakers on the border, along with the music of Johann Strauss, pedestrians could yell their own ideas of Austrian politics and history by using the microphone.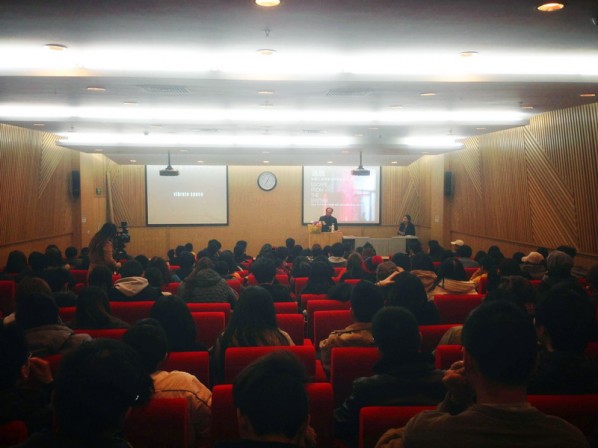 "Winterreise/ Winter Journey", a works broadcasting the classical music "Winterreise/ Winter Journey" by Franz Schubert, the artist set up a mobile cart, in the Vienna Garden, when a man approaches, the car will automatically play music and light up. "No money" is also a works of high interaction. It is also a cart, but is filled with a variety of recreational facilities, such as audio speakers, generators, microphones, cookware, and so on, he hopes that this works and is capable of satisfying the tourists, while reducing their overheads, which was proved to be true, and attracted hundreds of people every day. "Generated Music" has no real form, through the software created by the artist, a variety of information from a computer can be compiled into different sounds, choosing several forms of files, he respectively showed it to the audience.
Finally, Florian said frankly, his works were originated from both the abstract imagine and real life. He expressed his hope that all the students present could relax in their own works, and think about the multiplicity of art. The lecture ended with a song he wrote and recorded this year, and the applause of the audience.
Text by Sun Tianyi and translated by Chen Peihua/CAFA ART INFO
Related posts: