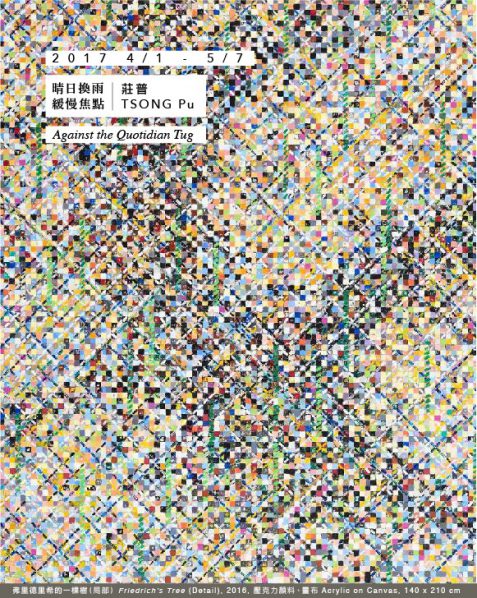 The exhibition includes the artist's signature grid paintings as well as five new installations. Born in Shanghai in 1947, Tsong Pu settled in Taiwan with his family in 1949. In 1973, Tsong went to the La Escuela Superior de Bellas Artes de San Fernando de Madrid and stayed in Spain for eight years. In 1981, he returned to Taiwan and became one of the founders of IT Park gallery and forerunner in geometric abstract art. A versatile artist, Tsong's oeuvre ranges from painting, sculpture, photography to conceptual and installation art.Tsong Pu's grid paintings began as a way to rebel against abstract expressionism in the late 1970's. He divides his canvas by 1x1cm color squares and, one by one, he fills these squares by using a stamp. Here, Tsong equates the act of stamping to the cun technique in Chinese painting and the grid/canvas to the dimension of painting history. Through the process of making these paintings, Tsong attempts to make his mark in the evolution of art. In recent years, he has furthered the grid concept in his "white paper" series, which are paper works that are also divided by grid, but instead of stamping, he tears each square diagonally. These works thus show the interplay of light and shadow seen in sculptures, as well as various shades of white. At the same time, the heaviness of the metal bars, located here and there on the image, creates an interesting contrast with the lightness of the paper.

The five installations in the exhibition play off the paintings, so that audiences are invited to experience his work in colorful three dimensional forms. "To me, creating art is a straight-forward yet rhythmic and orderly act of expression. It is like transplanting rice seedlings, methodical and automatic. Looking back once I am done, I see an overall beauty that is filled with joy," said Tsong. Through meticulous arrangement, modification, reduction and simplification, Tsong transforms things in life into a metaphor, a comma, so that they become a poem.

About the exhibition

Dates: 01 Apr 2017 – 07 May 2017

Venue: ESLITE GALLERY

Address: 5F, No. 11 Songgao Road, Taipei 11073 Taiwan

Opening Hours: 3-5pm, Saturday, 1st April

Courtesy of the artist and ESLITE GALLERY, for further information please visit www.eslitegallery.com.
Related posts: