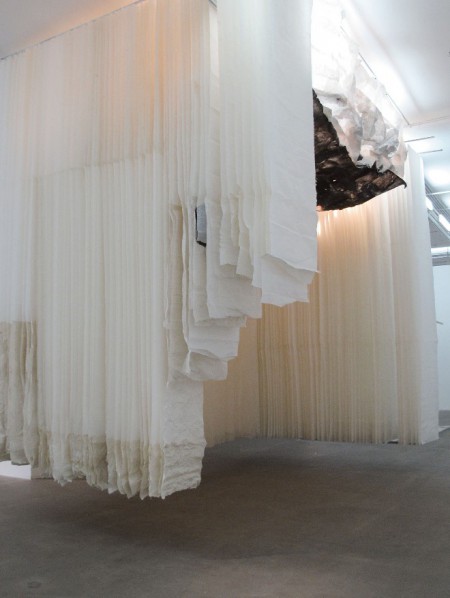 On 9 April, ESLITE GALLERY will present the solo exhibition of the Chinese artist in America, Lin Yan, presenting 30 works with xuan paper as the major material. This is her first solo show in Taiwan, and the exhibited works span 20 years from 1996 to date. The viewers can witness the artist's experimental progress of transforming xuan paper into a creative material.
Lin Yan was born into a distinguished family of artists in Beijing in 1961. Her maternal grandfather, Pang Xunqin, and maternal grandmother, Qiu Ti, were the pioneers of Chinese modern art; her parents, Lin Gang and Pang Dao, were the first artists studying in Russia and nourished by Chinese high art education. As the third generation of the family, Lin Yan has inherited their aesthetic spirit since childhood, but she was confident to establish an idiosyncratic artistic vocabulary. After graduating from the Central Academy of Fine Arts, Lin pursued further studies at L'École National Supérieure des Beaux-Arts in Paris in 1985. Then, she obtained her master's degree from the Department of Art Studio at Bloomsburg University of Pennsylvania, USA. When her home country was mired in social turbulence, Lin was allowed to enjoy the freedom of creation in New York, committing herself to exploring and experimenting with the materials.
The decade 1994-2004 is recognized as "the black period" of Lin's creation, during which time her works stressed the subtle gradations of the color black. As she explained, "if one can orchestrate a single color's gradations, material variations, and tonal differences very well, a monochromatic work will not be monotonous, but rather colorful." Since 2005, she has turned xuan paper into her major material and created painting sculptures with architectural characters, which expands the aesthetic domains of contemporary art. In her hands, the conventional roles of ink and paper are innovated: wrinkling, breaking, tearing, and pasting become her creative vocabulary; the tradition of five colors of ink is given new life when the light and shadow in space come into play. In her conception, when all elements are subtly orchestrated, they will resonate with one another, releasing impressive energy. "A nuance of the paper in my hand resembles a painterly stroke—it is how a work narrates itself," thus Lin Yan describes the unique tactile sensibility of paper in her work.
In every course of creation, she is interacting with paper's arbitrariness and elasticity. She employs the fragile material to express feelings that are firm and flexible. As in such works as To Beijing (1996-97) and Hutong (2012), paper turns into films with memory capacity, inscribed on which are her affections for her homeland, culture, and history. The paper's delicate texture articulates "what the artist considers to be true and authentic." In 2013, the environmental pollutions in her home country moved her to create Sky the massive installation, struggling for people's right to healthy breathing and expressing their aspiration for better life. Envisioning her first solo show in Taiwan, Lin Yan considers that Taiwan is "an environment familiar with the tradition of paper but not with her works; an environment that is traditional but also open and free" She hopes that the viewers can "perceive the works through the lens of their own life experiences."
About the exhibition
Date: 09 Apr 2016 – 08 May 2016
Address: ESLITE GALLERY
Address: 5F, No. 11 Songgao Road, Taipei 11073 Taiwan
Opening Hours: 3-5pm, Saturday, April 9th
Related posts: