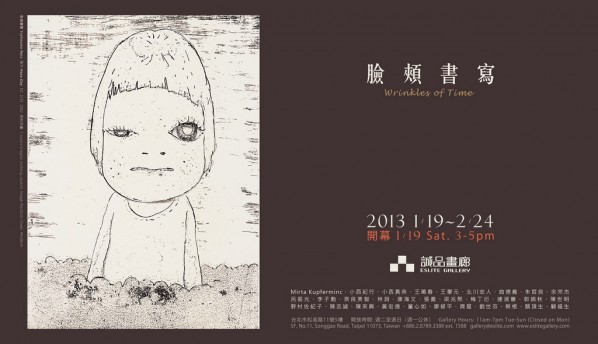 As the Chinese Spring Festival is approaching, Eslite Gallery invites Huang I-JU, Director of Big Bright Room Co. who won MA in Scenography from Central Saint Martins College of Art & Design to curate the group exhibition "Wrinkles of Time" themed with "returning home". Selected from the collections of Eslite Gallery in the past two decades, over ninety works will be on view at the exhibition showcasing the festive atmosphere and all kinds of amusements at home during the Spring Festival holidays. Spanning from 1984 through 2011, its current exhibit include works of 32 artists including Zhang Yi, Wang Panyuan, Yu Zongjie, Liao Xiuping, Gu Fusheng, Tsai Ken, Yan Dingsheng, Chen Zhicheng, Tang Haiwen, Qu Deyi, Mei Dingyan, Li Zixun, Lv Zhenguang, Zhu Zheliang, Huang Hongde, Chen Shih-ming, Guo Juanqiu, Lin Yuan, Wang Wanchun, Liu Shifen, Lian Shuhui, Liang Zhaoxi, Dong Xinru, Chen Laixing and Qi XING, international artists include Nara Yoshitomo, Toshiyuki Konishi, Mana Konishi, Hiroto Kitagawa, Sakiko Nomura and Mirta Kupferminc.
About the exhibition
Duration: January 19th -February 24th, 2013
Venue: Eslite Gallery
Address: 5f, No.11, Songgao Rd., Taipei 11073, Taiwan
Tel: 886-2-8789-3388
Fax: 886-2-8789-0236
Courtesy of the artists and Eslite Gallery, for further information please visit www.eslitegallery.com.
Related posts: