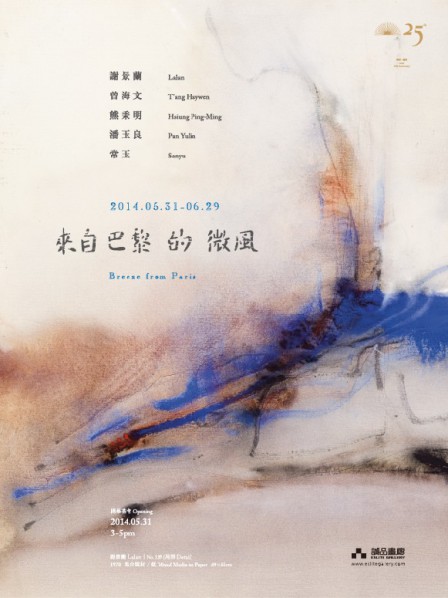 ESLITE GALLERY is pleased to present outstanding works of art by Lalan, T'ANG Haywen, HSIUNG Ping Ming, PAN Yuliang, and Sanyu in the exhibition "Breeze from Paris" from 31 May to 29 June.
The exhibition is mainly devoted to Lalan, a distinguished artist who had been active in France, however, is lesser known in Asia through her painting than her role as the first wife of Zao Wou-ki. Some 30 pieces of painting from different periods of Lalan's creative career will be shown, providing a comprehensive overview of her achievement in the field of art.
Born in 1921, Lalan was brought up in a scholarly family, where her gift in music was cultivated from a young age. At the age of 14, Lalan met Zao Wou-ki who would become an internationally renowned artist later, and married him a few years later. The couple moved to Paris in 1948 where Lalan continued her studies in music composition and modern dance while being Zao's muse. She took up painting after divorcing Zao in 1957 and had never cease painting till an accident took her life in 1995. Lalan started out creating abstract paintings with calligraphic signs under Zao's inspiration. However, she quickly developed a distinct style driven by her strong urge of self-expression. Spirit of Chinese traditional landscapes was brought into Lalan's painting during 1970's and the artist's accomplishments of music and modern dance also added graceful qualities of poetry and rhythm in her works.
Apart from Lalan's paintings, "Breeze from Paris" will also show abstract works on paper by T'ANG Haywen, works infused with feminine charm by PAN Yuliang, sculptures by HSIUNG Ping Ming and prints by Sanyu, representing the great era when cultures of Oriental and Occidental met and fruited into magnificent art.
About the exhibition
Dates: May 31, 2014 – Jun 29, 2014
Opening: May 31, 2014, 15:00, Saturday
Venue: Eslite Gallery
Artists: Pan Yuliang, San Yu, Tang Haywen, Xie Jinglan, Xiong Bingming
Organizer: Eslite Gallery
Courtesy of the artists and Eslite Gallery, for further information please visit www.eslitegallery.com.
Related posts: